Biden brings book tour, tales of Beau, to University of Delaware
About 500 students, longtime friends and political allies packed the student center for Joe Biden's talk with Lea Carpenter, a Wilmington native who grew up with Beau Biden.
Former Vice President Joe Biden breezed into his alma mater Thursday to promote his new book, spending an hour with a novelist, and family friend, to talk mostly about his late son, Beau, and the rest of his closest relatives.
The University of Delaware, about 15 miles from his Greenville home, was not on the 19-city itinerary of the former six-term U.S. senator and two-term vice president to promote "Promise Me, Dad." But earlier this month the school, where he earned his undergraduate degree and now home of The Biden Institute, announced he would be appearing.
About 500 students, longtime friends and political allies packed the Trabant student center for Biden's talk with Lea Carpenter, a Wilmington native who grew up with and was close with Beau Biden.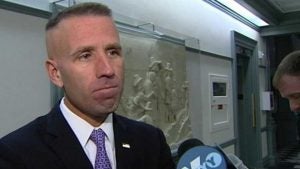 Joseph R. "Beau" Biden III died in May 2015 of brain cancer. He completed his second term as Delaware's attorney general in January of that year. Carpenter said the book "marries this incredible memoir of loss with a bird's eye view into the center of power."
Biden's time in the White House as Barack Obama's vice president was barely mentioned during Thursday's conversation, though. Instead, it was about Biden's family — his son Hunter, daughter Ashley, his wife, Jill, his grandchildren, his late parents, as well as his first wife, Neilia, and daughter Naomi, who died in a car accident in 1972 — but mostly about Beau.
From warning him sternly not to attempt a daring dive off a cliff during a family whitewater rafting trip, to chiding him humorously about being so long-winded on the campaign trail, to being the teenage boy whom Greenville moms didn't mind their daughters getting into a car with, Biden's recollections revealed his profound admiration of his oldest child.
Biden recounted how Beau signed up for the National Guard without first consulting him, only to inform him in a phone call.
"He said, I want you to pin my bars on," Biden recalled of their surprising 2003 conversation.
"What?" the then-senator said to his son, who was married with two young children.
But the decision was made, and Beau later spent a year in Iraq as a lawyer for the Guard.
"It was the proudest thing he ever did," Biden recalled. "To Beau, it was all about duty. I know this sounds corny, but he felt he had an obligation to do this. … It's the proudest thing he's ever done in his life, wearing that uniform."
Addressing a former solder in the audience, Biden also offered the highest praise to the young men and women who, like Beau, volunteered for military duty after the 9/11 terrorist attacks.
"This 9/11 generation is the most incredible generation in the history of the United States of America," Biden said.
About 340,000 Americans signed up knowing they were almost certainly headed into "harm's way" — to the "godawful landscape" of Afghanistan and/or the "vast stretches of desert" that dominate Iraq.
"They were the best-trained, best-equipped and most competent military force in the history of the world," Biden said. "And that's not hyperbole. They are the finest fighters in all of human history."
WHYY is your source for fact-based, in-depth journalism and information. As a nonprofit organization, we rely on financial support from readers like you. Please give today.