Behavioral health chief says Philly paves road to sobriety with treatment options
Morning Edition host Jennifer Lynn speaks with David T. Jones of the city's Department of Behavioral Health and Intellectual disAbility Services.
Listen
5:46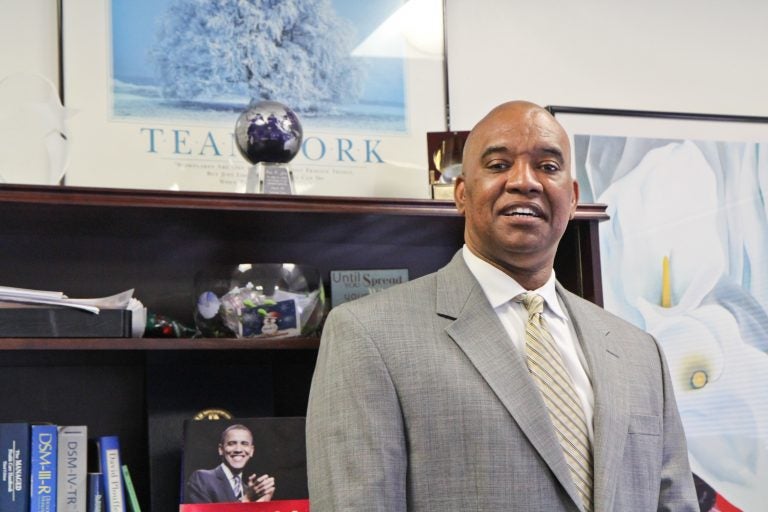 Last month, Philadelphia health officials were stunned by a sudden spike in nonfatal drug overdoses within one weekend.
Emergency rooms treated 165 people — more than twice the usual number. The Department of Public Health linked the cluster to heroin laced with two powerful drugs.
The city has been candid about its commitment to opening supervised injection sites, also known as comprehensive user engagement sites or CUES.
There, an individual can use drugs in a clean environment under the watch of social workers and other health care professionals. These sites save lives as they guide those struggling with addiction toward sobriety, some experts say.
David T. Jones leads the city's Department of Behavioral Health and Intellectual disAability Services. Last fall, Morning Edition Host Jennifer Lynn asked him about the prospect of opening the city's first CUES, and he said  the outlook was good.
Ten months later, they spoke again.
—
Why doesn't this city have a safe injection site yet?
We don't have an exact timeline in terms of when it will open. When we talked about this, we said six to 18 months. We're probably about six months in from that timeline.
But there isn't any one thing that's holding it up. I know that certain neighborhoods don't really want to welcome such a site. Why can't we have one of these tomorrow?
Yeah, I think that there are some hurdles that we have to overcome — in part, as you mentioned, where the CUES will be sited. There are other legal obstacles that we have to overcome. And the idea of really identifying what private entity will fund and operate it.
What are your thoughts about, maybe down the road, if the legal part works out and the location works out — there has been conversation about these sort of pop-up tent locations for CUES. 
We're committed to making sure that, once the CUES begin at the overdose prevention site, that it's brought up, and it's brought up correctly. That we are able to get the needs of those individuals met. Certainly in the future, there will be the opportunity to explore maybe more mobile sites. But I think, right now, the commitment is around doing it correctly from the onset.
And how many mobile sites or permanent sites will the city really need if you look at supply and demand? 
Certainly we will continue to look at what the needs are. What the research says is that you should develop the sites in close proximity to places where the illicit drug events are occurring. And so that certainly will be what factors into where we look and if we look beyond one, two — or in fact having mobile sites.
I want to talk to you about treatment on demand for addiction. If you could lay out a scenario in which someone is reaching for sobriety, but that desire to get clean is thwarted when there's no place to detox at the very moment that they're ready to make that step. 
I think what we want to do is make sure that our system is more ready for treatment on demand. People may feel like the only way to enter into treatment is to go through detoxification. And we're moving away from relying solely on detoxification and doing withdrawal management, which means that an individual could actually enter a treatment program and begin their detoxing within that treatment program.
That reduces the likelihood that — after detox — that they actually don't reach a treatment program and kind of fall between that gap. So from that perspective, it really is expanding our opportunity to get people when they're ready and get closer to treatment on demand.
One specific site that exists now is called Access Point. It just opened in the Northeast Treatment Center (NET) in North Philadelphia. Now this facility can treat people who want sobriety quickly. They don't even have to have ID to walk in and get help. How else has Access Point been filling a void? 
Regan Kelly, the president and CEO over at NET, has been a phenomenal partner. We went to work with them on developing this 27/7 Access Center. And it really is working out quite well. For individuals struggling with the disease of addiction — typically opioid use disorder — and they are ready to come in and begin the kind of recovery process or continue, they can go in and get treatment on demand.
We also have crisis response centers or CRCs. They also are available 24 hours, seven days a week, whether it's substance use disorder or mental illness. We want people to have the ability to go in and get the services and support they need around the clock.
How do you curtail a crisis like this? Do you ever feel like this is something that's kind of been rearing its ugly head for quite some time?
I think that we have certainly a substantial amount of work in front of us. I think part of what our strategy is working with people with lived this experience,  so that there are people who have through the process of recovery and through receiving really effective, evidence-based mental health treatment. They actually are coping and doing quite well. And those individuals, in turn, are coming back as certified peer specialists, certified recovery specialists, and helping in the community. We feel like having the community be a large part of the answer is really how we will curtail the epidemic.
WHYY is your source for fact-based, in-depth journalism and information. As a nonprofit organization, we rely on financial support from readers like you. Please give today.