Philly veteran's battle with ALS highlights troubling trend
Studies suggest that military veterans have a higher risk of developing ALS, though it's unclear why that's the case.
Listen
2:09
In a modern apartment high above Washington Square in Philadelphia, Chuck Schretzman has a room devoted to his three favorite things: his family, the military and football.
On the walls, hang pictures of his wife and three kids, and his diploma from West Point.
Along a deep window near a big flat-screen TV, sit a row of football helmets, which complement a stack of signed footballs resting on a stand next to the couch.
It's Schretzman's happy place. But it's also tinged with sadness. Nearly everything is a reminder of his life before being diagnosed with ALS, a rare, but deadly disease with no cure.
"I want to win. How do you win? In the military you have weapons. My weapons are my wife and my kids," said Schretzman, 53, during a recent interview.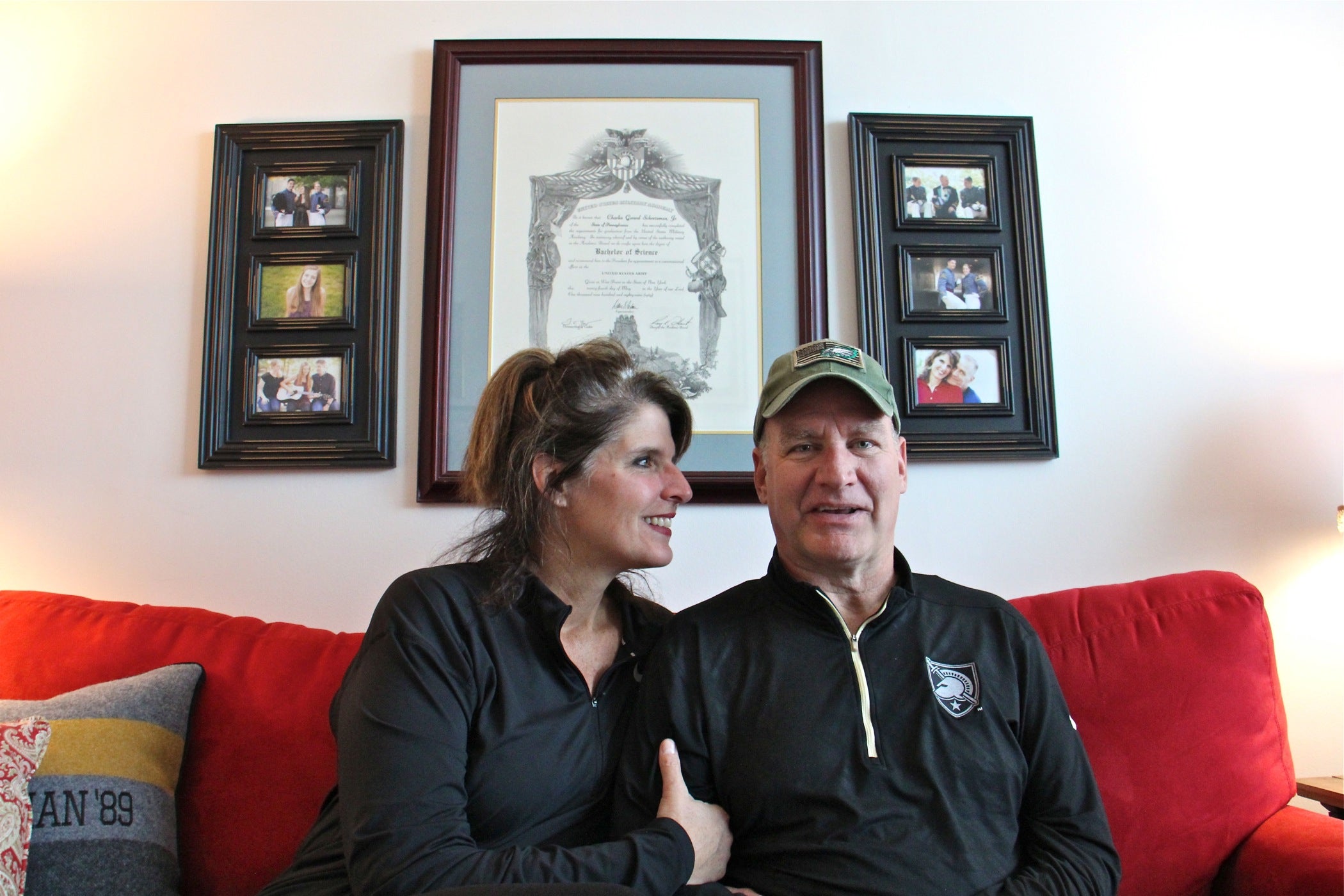 Schretzman got the sobering news in 2015, roughly a year after retiring from the Army after a 26-year career that included two tours in Afghanistan and two in Iraq after the 9/11 attacks.
He retired as a lieutenant colonel, then got an executive job with a maintenance company based in Montgomery County.
Until a few years ago, he was healthy.
"I never had surgery, never went to the hospital. I had a clean bill of health," said Schretzman.
Also known as Lou Gehrig's disease, ALS attacks nerve cells in the brain and spinal cord, robbing patients of their motor skills, speech and, eventually, the ability to breathe.
It's a progressive, degenerative disease, meaning the longer you have ALS, the worse it gets. The life expectancy for someone diagnosed with the disease is between two and five years.
Studies suggest that military veterans have a higher risk of developing ALS, though it's unclear why that's the case.
More than three years after diagnosis, Schretzman can still walk, but not well. He's lost a lot of muscle control in his right arm, his dominant one. His voice is distorted, and it's getting harder for him to talk without slurring his words.
For Stacy Schretzman, Chuck's wife and caretaker, it's been devastating to watch the "mountain of a man" she married slowly succumb to a disease that cannot be stopped.
"A lot of people lose people and then spend the next two or three years grieving," she said. "We're all grieving looking at him, deteriorating right in front of us."
It's been tough for Chuck Schretzman too. He used to be an outside linebacker for the Army football team. Now, he needs help opening a bottle of water.
Still, he doesn't regret his decision to join the Army. He loved every second of his service, and he misses being around soldiers every day.
"I would do it all again," he said.
Some time on Monday, Veterans Day, he'll use his motorized wheelchair to head to Washington Square. There, he'll quietly sit, as he often does, by the Tomb of the Unknown Soldier.
He loves the quote carved into the top of the war memorial: "Freedom is a light for which many men have died in darkness.
WHYY is your source for fact-based, in-depth journalism and information. As a nonprofit organization, we rely on financial support from readers like you. Please give today.