Ballot power: Ireland teaches us how to act like a progressive democracy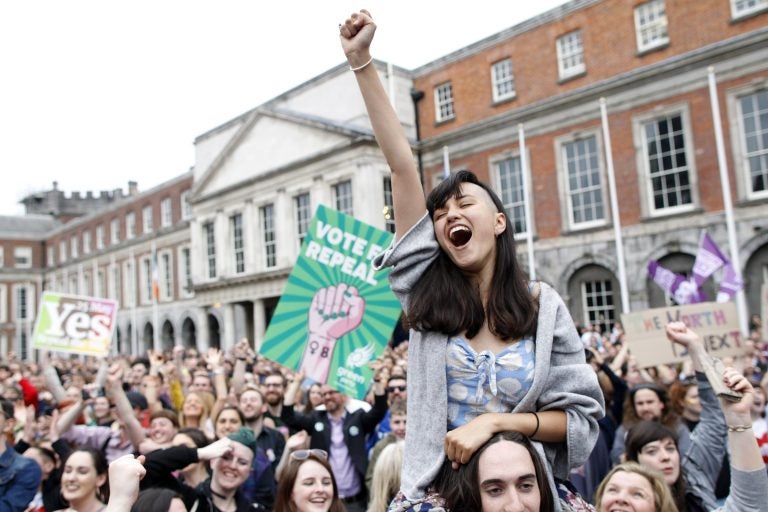 Put your hands together for Ireland! On the issue of abortion, this heavily Catholic nation is now officially more enlightened than America's Republican party.
Yes, folks, it's true. Whereas the GOP platform seeks to control women's bodies ("the unborn child has a fundamental right to life that cannot be infringed") and seeks a constitutional amendment that would ban abortion nationwide, Ireland this weekend voted in a 2-1 landslide to repeal its constitutional ban – and legalize abortion nationwide during the first 12 weeks of pregnancy. Without the impediments that American right-wingers keep trying to enact on a state by state basis.
In the words of the esteemed Irish columnist Fintan O'Toole, Irish voters – with a record 64 percent turnout – decided "to trust women and make them fully equal citizens." Imagine that: A social revolution at the ballot box, led by Millennial women (many of whom live overseas, but flew home to vote), and buttressed by a majority of voters in even the most conservative and rural regions of the country.
Unlike one particular country I could name, Ireland chose this weekend not to wallow in nostalgia for the past. Catholic church leaders had urged voters to keep the constitutional ban on abortion, but, alas, only 33 percent opted to make Ireland great again.
As I wrote in 1992, when I reported from Ireland as a foreign correspondent, "This is a country where condoms are commonly sold under the counter, where students are arrested for printing abortion information in handbooks, where anywhere from 4000 to 9000 women leave each year to cross the Irish sea, bound for a $400 abortion in Britain." And in Dublin, abortion counselors had to advertise their services "by scrawling their phone numbers in public toilets." Some of those strictures are looser now (especially condom sales), but Irish women by the thousands have still been leaving each year to get abortions in Britain.
Enlightenment came slowly. There was a ham-handed effort, in 1992, to loosen the constitutional abortion ban, but nobody liked it. The government-sponsored a referendum granting abortion rights only to pregnant women whose lives were in danger if they gave birth. Catholic church leaders church urged a "No" vote, because they feared that this tiny exemption would pave the way for broader abortion rights; those who supported abortion rights also urged a "No" vote, insisting that the exemption was way too tiny. The result: "No" won in a landslide and the blanket ban stayed.
So what has changed Ireland so radically in the last quarter century? Why is it now recognizing women as "fully equal citizens"? Why, just three years ago, did it become the first western nation to sanction, via referendum, the legalization of gay marriage? How is it possible that Ireland, of all places, now has an openly gay prime minister? Why this broader support for human rights?
On abortion, the landslide majority put a human face on the issue. In 2012, Savita Halappanavar, a 31-year-old dentist in Galway, on the cusp of a miscarriage at 17 weeks, was refused an abortion; according to her husband, they were reminded that Ireland was "a Catholic country." The fetus couldn't be disturbed because it still had a heartbeat. The woman had to wait days until its heart stopped beating before it could be removed in a hospital; one day after later, she died of septicema.
But, more broadly, Irish adults, particularly the youngest, have been actively freeing themselves from religious oppression, recoiling from the Catholic church's hypocrisy. In recent years Ireland has been rocked by church scandals that exposed its mistreatment of women and its molestation of children. One government report, released in 2009, concluded that Catholic school teachers in recent decades had terrorized as many as 30,000 children, that rape and molestation were "endemic," and that the rapists and molesters were routinely transferred, not fired.
As a result, church leaders lost their standing to defend the abortion ban and other symptoms of the status quo. Irish voters have made it clear that they can no longer abide authoritarian dictates. Gay people have benefited. Now women will benefit.
You know where I'm going with this. It's just nice to know that at least one western nation in 2018 is behaving like a progressive democracy. Perhaps another western nation, which votes in November, will be so inspired.
—
Last Friday, I tweeted: "In what way will Trump soil Memorial Day?" Sure enough, we found out.
Yesterday morning's offering: "Happy Memorial Day! Those who died for our great country would be very happy and proud at how well our country is doing today. Best economy in decades, lowest unemployment numbers for Blacks and Hispanics EVER (& women in 18years), rebuilding our Military and so much more. Nice!"
Gee. I always thought Memorial Day was about the vets, not about him. But I stand corrected because apparently, even the dead soldiers would love him. He has managed to put the ME into Memorial Day. Nice!