Baby jails: Political turning point, or pit stop toward tyranny?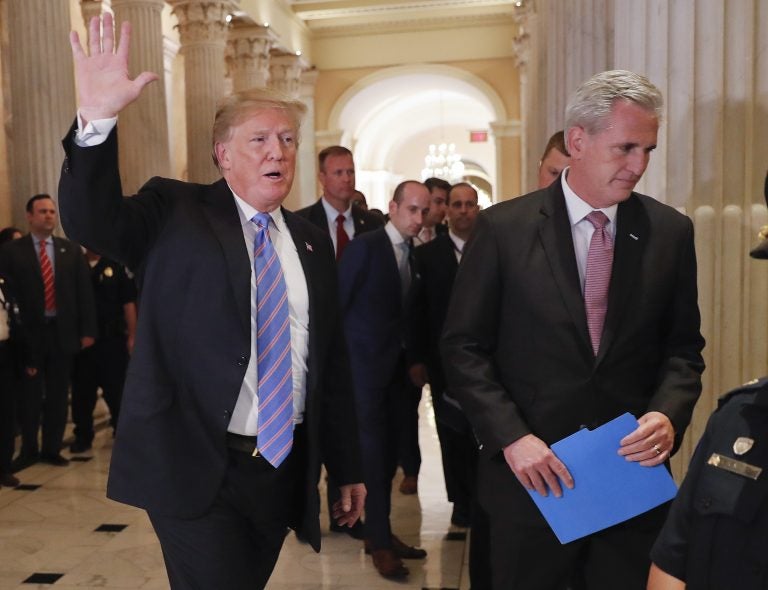 We appear to be on the precipice of something. I wish we knew what it was.
The upbeat news is that most Americans hate Trump's baby jails (his regime calls them "tender age shelters"), and we've already drawn a line in the sand. The racist authoritarian is under fire from the U.S. Chamber of Commerce ("This is not who we are, and it must end now"), the CEO-led Business Roundtable ("cruel and contrary to American values"), 19 Republican senators (who've signed a letter, with Democrats, demanding that the Justice Department immediately halt the severing of families), conservative talk host Hugh Hewitt (caging kids could become "the Republicans' new Katrina and the president's new Katrina"), Steve Stivers, who heads the House GOP's re-election effort ("There is nothing more important than family…kids need to be with their parents"), the president of the United Methodist Church's Council of Bishops ("To disrupt or sever family relationships is incompatible with Scripture and Christian tradition), the Pope in Rome, and all the others I can't squeeze into this paragraph.
So perhaps we've reached a turning point, the moment when our slow slide toward tyranny is irrevocably halted.
But the downbeat news is that Trump met yesterday with the House Republicans…and they sat in pliant silence. He took no questions, they demanded no answers. Then they left. How they manage to stand vertically without the support of vertebrae is a medical miracle for the ages and a tragedy for this teetering western democracy.
But their subservience was not a surprise, because after 16 long months of indulging Trump's scapegoating of minorities (including his new claim that immigrants "infest" America), his attacks on the free and independent press, his attacks on the western sabotaging of the western alliance in service of Vladimir Putin, his family profiteering in violation of the Constitution, his lavish praise of a communist dictator whose prison guards reportedly rape women and feed their babies to dogs, his fomenting of neo-fascist insurgencies in Europe, his multiple lies on a daily basis…after all that, why would we ever expect House Republicans to act as a co-equal branch of government and demand that he halt the jailing of babies?
Despite the looming threat to their control of Congress – incumbents in New Jersey, Pennsylvania, Virginia, and California are particularly vulnerable to a female-led suburban backlash on the immigration issue as well as health care – they're still offering little more than weasel words about Trump's inhuman crisis.
The Faith and Freedom Coalition, the right-wing House caucus that slavishly loves Trump, has crafted this toothless statement: "The separation of families illegally crossing the border is heartbreaking and tragic…We urge Congress to act now to end the separation of children from parents at the border…" But Trump is the one who ordered the separation policy, and he's the one who can stop it with a stroke of a pen. It's not Congress' job to bail him out of this jam; indeed, this Congress can't act speedily on anything stronger than Boy Scout resolutions. If Trump's right-wing allies had any guts, they'd say in a statement (or say to his face) that he needs to take responsibility for his own mess and to clean it up pronto.
The most optimistic scenario is that Trump and his enablers have finally gone too far and that they'll suffer politically; even Sen. Orrin Hatch, who recently lauded Trump as potentially one of our greatest presidents (go figure), tweeted today that the term "tender age shelters" is "a chilling phrase we will not soon forget." Conservative commentator Jennifer Rubin insists that Trump and his "anti-immigrant marionettes are alone on this one…They are not America…When the midterms come around, voters, we hope, (will) remember those who lack simple decency and send a message that those people should not be in any office, in any level of government."
But if you're inclined toward pessimism, Jeff Sessions will confirm it. His malevolence, in launching Trump's border policy, is matched only by his tin-eared ignorance. On Fox News the other night, he was asked to comment on the critics who've compared the policy to Nazism. The question was designed as a softball; all he needed to do was condemn his critics for using extremist rhetoric. Instead, he actually said this: "Well, it's a real exaggeration, because, in Nazi Germany, they were keeping the Jews from leaving the country,"
Hang on. The Nazis were trying to keep Jews in the country?
As Johnny Carson used to say, "This I did not know!"
Until Professor Beauregard taught me history, I had always believed that the Nazis made Germany "Jew-free" by shipping Jews out of the country and into the death camps of Poland. Gosh, it looks like the Holocaust Museum in Washington needs to overhaul its exhibits. But it seems more likely that Trump's leash around Jeff's neck is so tight that it has cut off oxygen to his brain.
Will our checks and balances be strong enough to disempower hacks like him? If not, I fear that this tweet from Peter Daou – a Democratic digital strategist, a Beirut-born American who grew up during a Lebanese civil war – could be prophetic:
"To future historians: It was June of 2018 when a national outcry couldn't stop Trump and his GOP sycophants from stealing screaming babies from their mothers' arms and caging them. When we could no longer stop that level of depravity, we knew we were on the path to tyranny."
WHYY is your source for fact-based, in-depth journalism and information. As a nonprofit organization, we rely on financial support from readers like you. Please give today.