Athenaeum of Philadelphia reopens after $1.6 million renovations
Despite remaining scaffolding, the historic building in Washington Square reopens to the public on Monday.
The Athenaeum of Philadelphia has been closed for five months to undergo a $1.6 million renovation. On Monday, with scaffolding still draped over its facade, the historic building in Washington Square reopens to the public.
The historic members library, established in 1814, has occupied 219 S. 6th Street since it was built 175 years ago in an Italianate Revival style. The National Historic Landmark building is a time capsule of the 19th and early 20th centuries, with original curved staircases and dark Victorian wallpaper.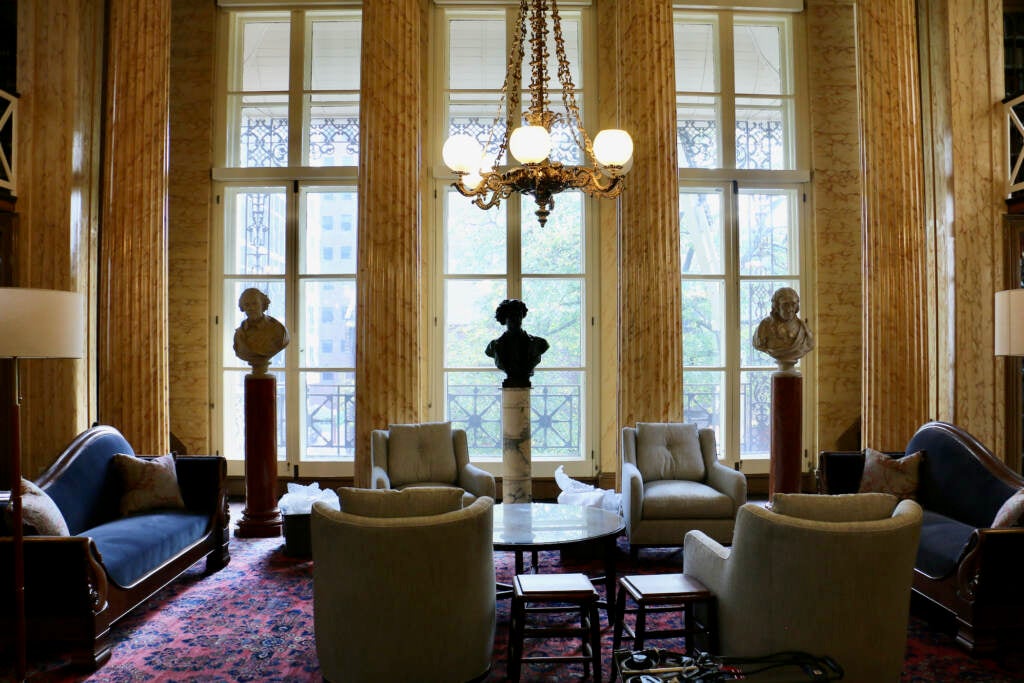 Its breathtaking reading room is a showstopper, with two dozen ornate columns holding up a 24-foot ceiling, the walls ringed with books. A wall of glass on the far end overlooks a garden area.
Much of the renovations went to updating the building's systems. Executive Director Beth Hessel said the building needed to be upgraded.
"We want it to evoke the history of the Athenaeum while still feeling like it's like a place where 21st century people want to spend time," she said.
Some of the first-floor rooms were so small that strangers would feel uncomfortable trying to work in such close proximity. Sitting in stiff, century-old straight back chairs did not encourage lingering. The lack of sufficient power outlets for laptops would practically chase visitors out the door.
Another peeve of Hessel's: Where were the books?
"Until now you had to go to the second floor to know we were a library. There were no books on the first floor," she said in front of the newly expanded lounge with antique bookcases. "This is thrilling for me."
The lounge area used to be walled off into three cramped offices, including Hessel's, which was the first thing people encountered upon entering the building.
"They'd see me working at my desk," she said. "This probably looked like a condo or an office building."
Some of the building's original interior walls were demolished to open up the space. Modern furnishings are sprinkled with antiques: visitors can sit in a sofa designed by Paul Cret, the early 20th century Philadelphia architect responsible for the Benjamin Franklin Parkway and the Rodin Museum.
In another corner is a chess table dating to the early days of the library. Hessel believes the table may have been a fixture of the Athenaeum since its founding 209 years ago. Chess has always been a lively part of the library.
"There were chess players here and in New York City that had ongoing games in the 19th century," Hessel said. "They telegrammed each other for the next move."
Across a hallway, the interior walls of an exhibition gallery were torn down to reveal original windows to the street. With glass treated with film to filter damaging sun rays, daylight is now drawn inside the room.
Those windows also send an outward message.
"By opening the windows, by creating the space, we hope it helps become clear that this is a space where things are happening," Hessel said. "It's a community."
The Athenaeum has about 1,300 members, who have access to about 70,000 traditional books and 80,000 ebooks. Hessel said that over the last few years membership has grown at a rising rate, with about 30 or 40 new people joining every month. She believes its popularity is growing due to a desire for direct interaction with a community of people, a desire that began well before the pandemic forced everyone to isolate for a time.
"The original mission of the Athenaeum when it started in 1814 was to create a space for conversation and leisure with a chess room, and learning with periodicals and a reading room," Hessel said. "We remain that today, as a community of people who care about arts and culture, literature, music, the built environment, history, all things Philadelphia."
The Athenaeum is reopening to the public with a gallery exhibition of a rare set of prints by Henri Matisse, the same French modernist artist whose work is currently on display in a major show at the Philadelphia Museum of Art, "Matisse in the 1930s."
Matisse collectors and Athenaeum members Francis and Michael Baylson have loaned 20 prints from "Jazz," a 1947 artist's book wherein Matisse developed his signature collage technique, of cutting colored paper into shapes and composing works by shifting them around.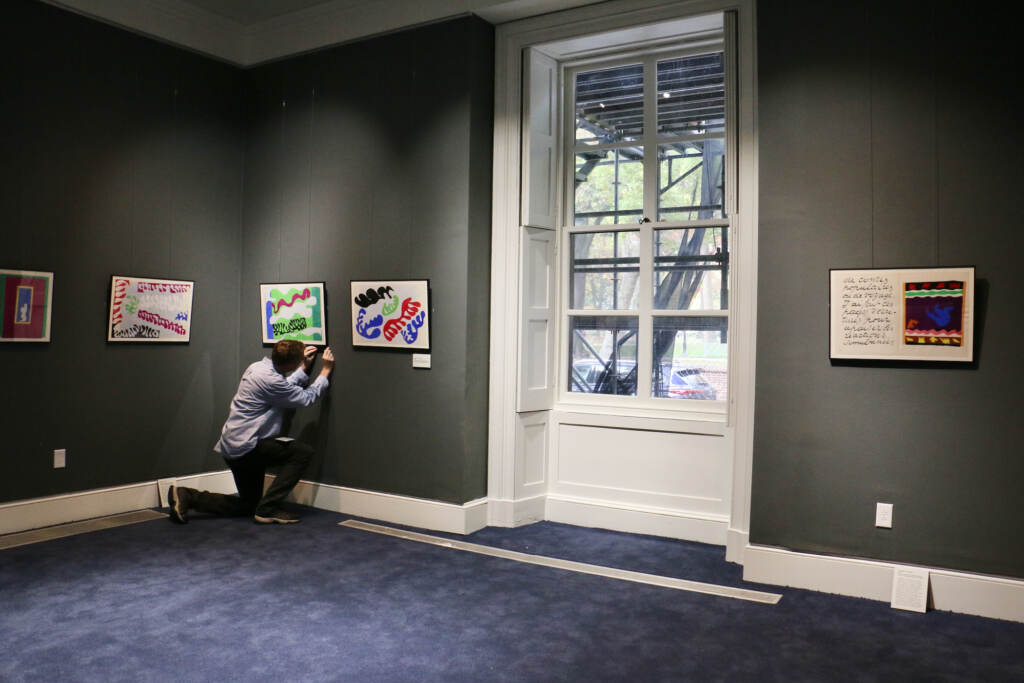 The works are geometric abstractions, including scenes of a circus, myths and fairy tales, lagoon landscapes, and even a funeral.
"Jazz" is not about music nor does it attempt to depict music, but rather is inspired by the improvisational nature of jazz. Mattise worked in collage in the 1940s after being diagnosed and treated for abdominal cancer that left him bedridden for long periods, unable to paint.
The Athenaeum library is known for its material related to architecture and design, particularly the built environment in Philadelphia. While collage art from a French modernist may seem out of place with the reputation of the Athenaeum, Hessel disagrees.
"We think this is a great fit with the Athenaeum," she said. "It is a book and we're a library. We're celebrating all different forms of the book."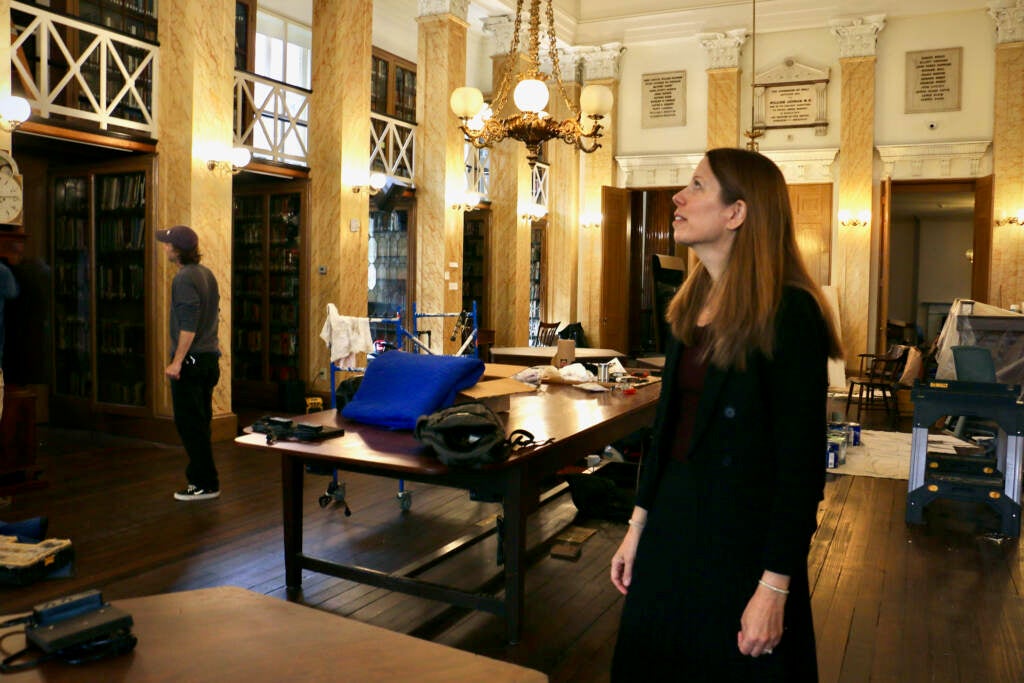 The exhibition of Matisse's "Jazz" ties into the larger Matisse exhibition at the Art Museum, and will come down at the same time, on January 29.
Visitors, both members and non-members, can see the Matisse exhibition for free. Non-members can take guided tours of the building, attend programming events, or buy a day pass to explore the space and the collection on their own. Memberships vary from $35 annual dues for students, to $75 for younger adults 18-35, to regular subscribers for $150 per year and up.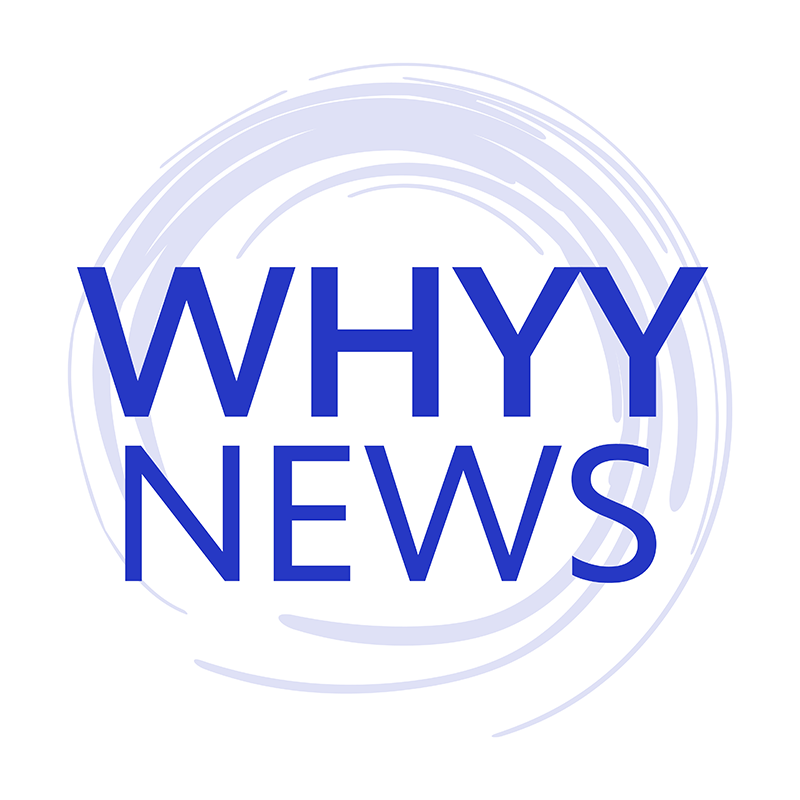 Get daily updates from WHYY News!
WHYY is your source for fact-based, in-depth journalism and information. As a nonprofit organization, we rely on financial support from readers like you. Please give today.