At this dinner series, the dining table is a global crossroads
A Philadelphia couple with an interest in food history explore different cultures through traditional recipes.
Listen
4:29
Details
Faemily Table Dinner Series: Cheesesteaks
August 4, 7:03pm – 9:03pm
1220 S. 51st Street, Philadelphia 19143
Dinner is a sliding scale donation, $13-39
"Welcome home, welcome home," Frances Rose Subbiando greets me in her soothing lilt when I arrive at the house she shares with her partner and three roommates in Southwest Philadelphia. It's the first time I've been here, but I do feel at home, trying to stay out of the way as Frances Rose and partner Acorn Swiggum bake plantains and steam okra for a dinner they're hosting here tonight.
On the menu is a taste of 18th-century Philadelphia, and anyone interested in ethically sourced foods and good conversation is welcome to join. It's part of a series of meals through which Frances Rose and Acorn, both cooks and plant-lovers, have been tracing the migration of ingredients and cuisines across the globe.
"We're traveling the world around our dining table," says Frances Rose, who describes herself as a community cook and community hearth-keeper, "allowing us to feel into the foodways, the migrations — both forced and chosen — of people, plants, cultures, cooking techniques."
Tonight's meal is a little special. It's the culmination of a leg on this culinary journey that has followed African cuisine through the diaspora.
Over the past few months, drawing on research and local cookbooks, Frances Rose and Acorn have hosted dinners inspired by West African traditions, then crossed the Atlantic into the Caribbean for dinners themed around Haitian and Puerto Rican flavors, then followed the slave trade into the American South. Now they've landed here, for a cuisine not typically associated with Philadelphia: Creole, a blend of European and African cultures more commonly linked to New Orleans.
But, says Frances Rose, who draws heavily on the research of food historians Jessica Harris and William Woys Weaver, Philly was a Creole city too.
"In the 18th century this was the shipbuilding capital of the 13 colonies, which meant lots of ships, both slave and trade, coming from Africa, coming from the Caribbean," she says. "There were many black people here in the 1700s, both enslaved and free. So these foodways, these ingredients, these flavors, they all came too."
Today, Southwest Philadelphia is home to many African immigrants. Eritrean and Ethiopian restaurants are mainstays of the local culinary scene. Yet, even as far back as the 1700s, says Frances Rose, plantains were for sale on Philly's street corners. While I watch, she pours a roux of butter and flour over green plantains, covers with cheese, and slides it in the oven to bake.
Acorn puts the finishing touches on some ginger beer. There are soft wheat biscuits and pepper pot soup, a rich, spicy dish served all across the Caribbean, with local variations.
Philly pepper pot is credited with sustaining General George Washington's troops at Valley Forge during the Revolutionary War. Historically it featured turtle or tripe, but we're eating it with pig trotter today – yes, that's pig foot.
There's okra and callaloo, too, the greens of the amaranth plant. They were grown at the Sankofa Community Farm in Bartram's Garden, which focuses on plants of the African diaspora. I watch a heaping pile of greens go into a pan to steam. Then I'm shooed out of the kitchen. Soon the guests will be here.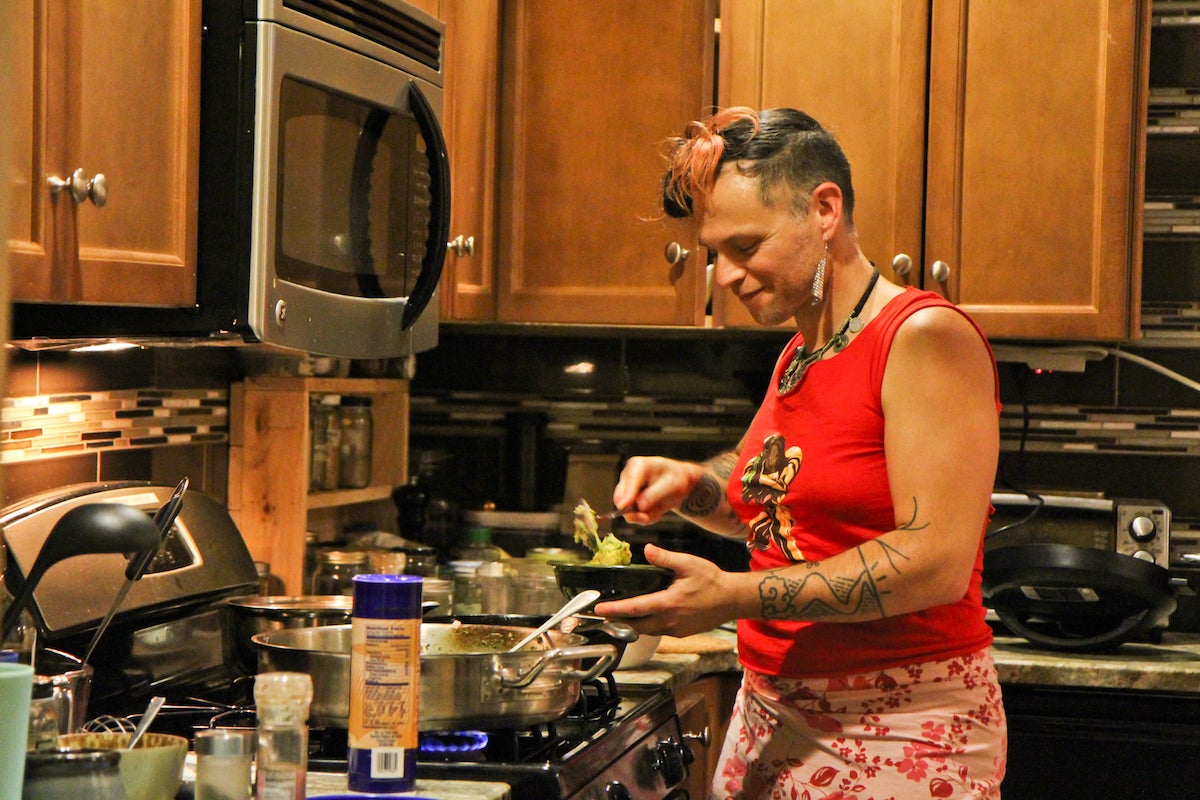 Tonight, they are mostly friends, which is how this dinner series began. Called Faemily Table (the "fae" is a nod to "radical faeries," one way Frances Rose and Acorn identify themselves), the series grew out of the many ways the pair have dedicated themselves to ethically sourced foods.
They run a community-supported kitchen where they turn donated produce that would otherwise go to waste into free meals for community meetings and individuals in need. They recently started a worker cooperative called K is for Kitchen — a small business through which they offer their services as private chefs, teach cooking classes and sell prepared foods like gluten-free sourdough or spicy black bean salsa.
"Almost anything around food, we make it, we consult about it, we talk about it, we eat it, it's delicious," laughs Acorn.
When launching their business, a mentor recommended they ask their friends what food services they wanted or needed. Their reply?
"'We all eat out, we have money in our budget to eat out, we'd love to eat at your house,'" recalls Frances Rose. "So that was how it started. We didn't even used to tell people what we were having for dinner, it was just, come over, make a reservation, you'll eat what we're eating."
Now, it's an eclectic mix each time, with up to 13 people around the table. They host about two such dinners a month.
"The group is always different, always strangers at the table," says Frances Rose. "Our friends, our family, people we meet in the city who are excited about the idea of the thing."
Acorn and Frances Rose ask for a sliding scale donation between $13 and $39 for a multi-course meal, and a willingness to be present and open to meaningful conversation. Before we eat, Acorn leads us all in deep breath.
"A family meal is a beautiful thing, or it can be a beautiful thing," says Acorn. "For a lot of people it has a traumatic history, or there's triggers about it. But to be able to come together in a loving space and share and eat and slow down is really special."
The cuisine is special, too. The baked plantains are sweet and savory, with a creamy texture like a dense custard. The pepper pot is rich and smoky, and with a sweet kind of spice that stays on your palate. Everything is topped off with old-timey water ice: blueberries pureed, frozen, and frequently stirred in the freezer, so they were light, flakey, and rich with flavor.
The next Faemily Table is on August 4, and will feature homemade cheesesteaks with grass-fed beef. (Though the cooks will do their best to accommodate any diet — vegan, gluten-free, you name it.) After that, the series crosses the Atlantic again, back to Europe, and will continue roaming world cuisines before landing at last back in Sicily. Make your reservation here.
---
This article is part of a new effort recommending things to do in the Philly region. Tell us what you think.
WHYY is your source for fact-based, in-depth journalism and information. As a nonprofit organization, we rely on financial support from readers like you. Please give today.