At first meeting, new Philly school board turns to old hand for leadership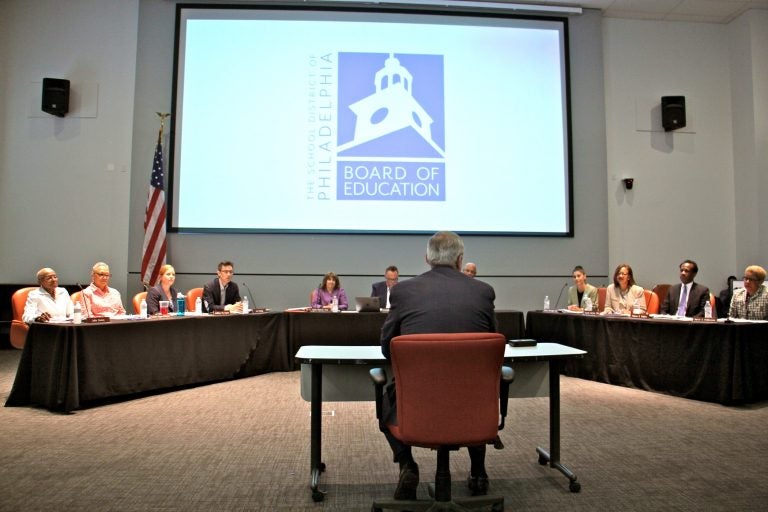 In its inaugural meeting, Philadelphia's new Board of Education expressed fresh optimism while turning to a familiar face for leadership.
By a unanimous vote, the nine board members chose former School Reform Commission chairwoman Joyce Wilkerson to as the first board president in this new era.
Though some members worried aloud about the optics of choosing the former chair of the School Reform Commission as their new leader, they were ultimately won over by Wilkerson's knowledge, know-how, and integrity, they said.
Mallory Fix Lopez said that as a parent, she was skeptical of the "big, bad SRC."  But she — and other board members — said they came to "develop incredible confidence in her leadership."
Wayne Walker was elected to serve as the board's vice president by a 5-4 vote. Walker's backers cited his business experience, believing he'll help the district chart a smart financial course.
Four members, including Wilkerson, backed Julia Danzy, a lifelong government worker in human and social services, citing the need for someone who had first-hand experience with the myriad challenges faced by the district's students and their families. But all of this, played out in public, was amicable.  
In many ways, the nearly four hour meeting felt familiar.
Nearly 40 commenters spoke, some to welcome the new board, but many to address the same topics that dominated SRC meetings: charter schools, support (or the lack of it) for teachers, the quality of district leadership, and more. Local debates du jour — such as the fate of Strawberry Mansion High School and the plan to bus young children out of the overcrowded Mayfair School — also came up, sometimes in heated speeches from irate community members.
Many of the speakers made it clear they would continue to be careful watchdogs on the actions of the new body.
The biggest change was the body that heard those concerns: a collection of nine volunteers appointed by Mayor Jim Kenney, who heeded community activists in spearheading the dissolution of the SRC and the return to local control. Kenney attended the meeting, along with several members of City Council, including Council President Darrell Clarke, but spoke only briefly to thank the new members for serving and reiterating his position that the future of the city depends on public schools providing a quality education.
Though some advocates wanted Philadelphia to install an elected school board, city leaders essentially defaulted to the arrangement that preceded the SRC: a nine-member body appointed by the mayor. Under a charter change approved last fall, City Council will have more input into future appointees.
Though the evening was full of pomp and anticipation, the new Board of Education did not take any major votes at its first meeting. It merely approved a future meeting schedule and okayed some routine, short-term borrowing.
Each new member, many of whom are unfamiliar faces on the education scene, also delivered introductory remarks. Few of those comments addressed education policy specifics, and instead focused on establishing new energy around the long-beleaguered board.
Audience members also heard remarks from a cavalcade of local officials other than Kenney and Clarke, including Councilwoman Maria Quinones-Sanchez, Councilwoman Helen Gym, Councilwoman Jannie Blackwell, and Councilman Derek Green.
"In 2001, I spoke at the last formal meeting of the school board. Today I'm proud to speak at the first reconstitution of this board," said Gym, who rode to office on the strength of her education activism and opposition to the policies of the SRC. "The greatest challenge you face as public officials is to restore and retain the public trust."
The board also announced it will form four subcommittees: a finances and facilities committee, a student achievement and support committee, a policy committee, and a district partnership and community engagement committee. In open session, board members volunteered for roles on those various committees, and gave the reasons for their choice. Wilkerson, as board president, said she will announce committee assignments by the end of the week.
The board is now actively seeking a nonvoting student member. Superintendent William Hite, who serves as a nonvoting secretary-treasurer to the board, said applications are due on Aug. 13 and an appointment will be made by Aug. 31. Applicants must be a rising junior or senior in a district or charter high school.
Below are excerpts from each board member's opening remarks. You can read the full comments here:
Julia Danzy
"Throughout my career, I worked tirelessly in the field of social services to enhance the life chances for our children and families. However, today I am even more worried for our children who seem to be forgotten and seen only as problems and not as assets. I worry about some in our community and governing bodies that seem more inclined to invest in prisons than in schools. I worry about some of our businesses who seem to be more focused on present gains than future growth and sustainability and I worry about some of our parents who seemed to have collapsed and given up on the struggle to gain a good education for their children."
Leticia Egea-Hinton
"We must be optimistic while being realistic about the work ahead and what is needed to continue to move the school district forward. Our schools reflect the diversity of our city, yet should provide a system of education that centers around quality and equality regardless of location."
Mallory Fix Lopez
"My fear is that most people like me — 30 somethings starting families — will never see what I see. 30 somethings that are privileged — like me — to look elsewhere for schooling or to move out of the city completely. They won't see what I see because the local neighborhood school often times isn't even looked at as an option. This has to change."
Lee Huang
"Pray for us, root for us, listen to us, and yell at us. We have quite a task ahead of us. But I can't think of a more important one to devote time and energy to. So together, let's get to work."
Maria McColgan
"While I am confident in our ability and passion as board members, and hope, that over time your trust in us will grow, we cannot do this alone. We look forward to working with every Philadelphian who is willing to roll up their sleeves to work with us to achieve the goal of excellent, innovative education. In our listening tour sessions, we heard you loud and clear and have incorporated the thoughts and feelings shared with us into a committee structure that will allow for dialogue, community engagement, transparency and input. We want you to know that our only goal is to act in the best interest of our children to improve education in Philadelphia. We hope that we can rely on all of you in the upcoming years to help us carry out that mission."
Chris McGinley
"Being a member of the Board of Education is a particular honor for me because I have lived a lifetime of service in education and my family has a four-generation commitment to the success of the schools and the school district. In my long association with the school district, I have seen prior boards of education who were powerful advocates for children with seemingly tireless amounts of energy for engaging with the public. I know that this board is capable of doing the same and that this board is up to the task of governing the school district and advocating for all children. I know from my experiences and from my work as a professor that urban school districts with progressive boards and stable district leadership make the most progress. So, I look to the future with optimism, tempered by my experience and dependent of the collective good will of this board and this city."
Angela McIver
"We must unapologetically embrace democracy at a time when democracy is under attack. We must embrace protest and dissent and recognize that it is the highest form of patriotism. Protest and dissent is how we regained a locally controlled school board! We must encourage freedom of speech and freedom of the press to enact these principles of democracy. We have an opportunity to train future citizens and should be intentional about building critical thinkers and civic participation. Our country is at a pivotal moment in history and we must choose to fight for our democracy. It will take all of us to fight for this. Public education is democracy in action."
Wayne Walker
"This new chapter for Philadelphia's public education system is exciting! We, as Philadelphians, now have control over the governance of our schools. And what we do together will determine our success for tomorrow. I am ecstatic to a part of this maiden voyage which benefits both our citizens and our city. All told and all counted, we are one. Thank you for including me in that number!"
Joyce Wilkerson
"A few weeks ago, I heard Gov. Rendell characterize the change in governance this way: He said the dissolution of the SRC and its replacement with a Board of Education is like changing drivers when the car is running out of gas. While there are many things our Board of Education can and must do, we can't pretend that this new governance structure alone can fix the problems our schools face. The board alone cannot fix the school funding crisis that Philadelphia and schools across the commonwealth face. The Board alone cannot fix a charter school law and funding formula that is recognized as one of the worst in the nation."