Artist's take on women in trouble on display at Philly Fabric Workshop and Museum
In her largest solo show, Suzanne Bocanegra takes over the Fabric Workshop and Museum in Philadelphia with four installations about women in trouble.
When encountering the six costumes on handmade dress forms arranged on the eighth floor of the Fabric Workshop and Museum in Philadelphia, a visitor may wonder if these things are meant to be worn.
They resemble 18th century peasant dresses – the kind layered with petticoats and aprons – assembled from scraps of old theater costuming, some found lacework and crochet, straw, doll heads, paste jewelry, small pieces of artwork strung up with string, and at least one bath mat.
"There are a couple of bath mats," said artist Suzanne Bocanegra. "I'm really into dollar stores."
Each dress is accompanied by a small object on the floor: a spinning wheel, a weaving loom, piles of colored beads, a piece of art made by one of Bocanegra's children, as though she stole it from the refrigerator door.
"When you make art, it's not like a crossword puzzle, and you've done the last word and, 'Oh! It's done!' There has to be a lot of intuitive decisions and chance," she said. "The last thing I want to make is something really easily explainable."
On the surface, "Poorly Watched Girls" is easily explainable. Bocanegra is reacting to an 18th century French ballet, "La Fille mal gardée," about a poor farm girl who falls in love. Her mother does not approve of the young man, but she fails to watch her daughter closely enough, giving the girl wiggle room to visit her paramour.
Bocanegra is also thinking about the audience watching the girl, who represents a cleaned-up, romanticized version of rural peasant life. She seems to be kicking at a class-based culture that exploited women, particularly poor women.
"Rich people love the images of shepherds and people spinning and all that stuff," she said. "The ballet appeared just before the French Revolution, portraying all these peasants doing peasant things. Who goes to the ballet? The rich royalty."
Then Bocanegra's revolutionary fervor takes a turn.
"All those contradictions I find endlessly fascinating, in part, because I love that stuff. I love the spinning wheels and shepherds, all that stuff," she said. "Even though I was raised to know better."
Bocanegra grew up in Texas, and spent summers on her grandparents' farm. She says her grandmother never liked the hardscrabble farm life — and tried to instill in her granddaughter that there were other choices.
While a resident artist with the Fabric Workshop, she created the dresses and set pieces to accompany the ballet the way she imagines it, somewhere between pastoral simplicity and a soiled and expressive abstraction of textiles.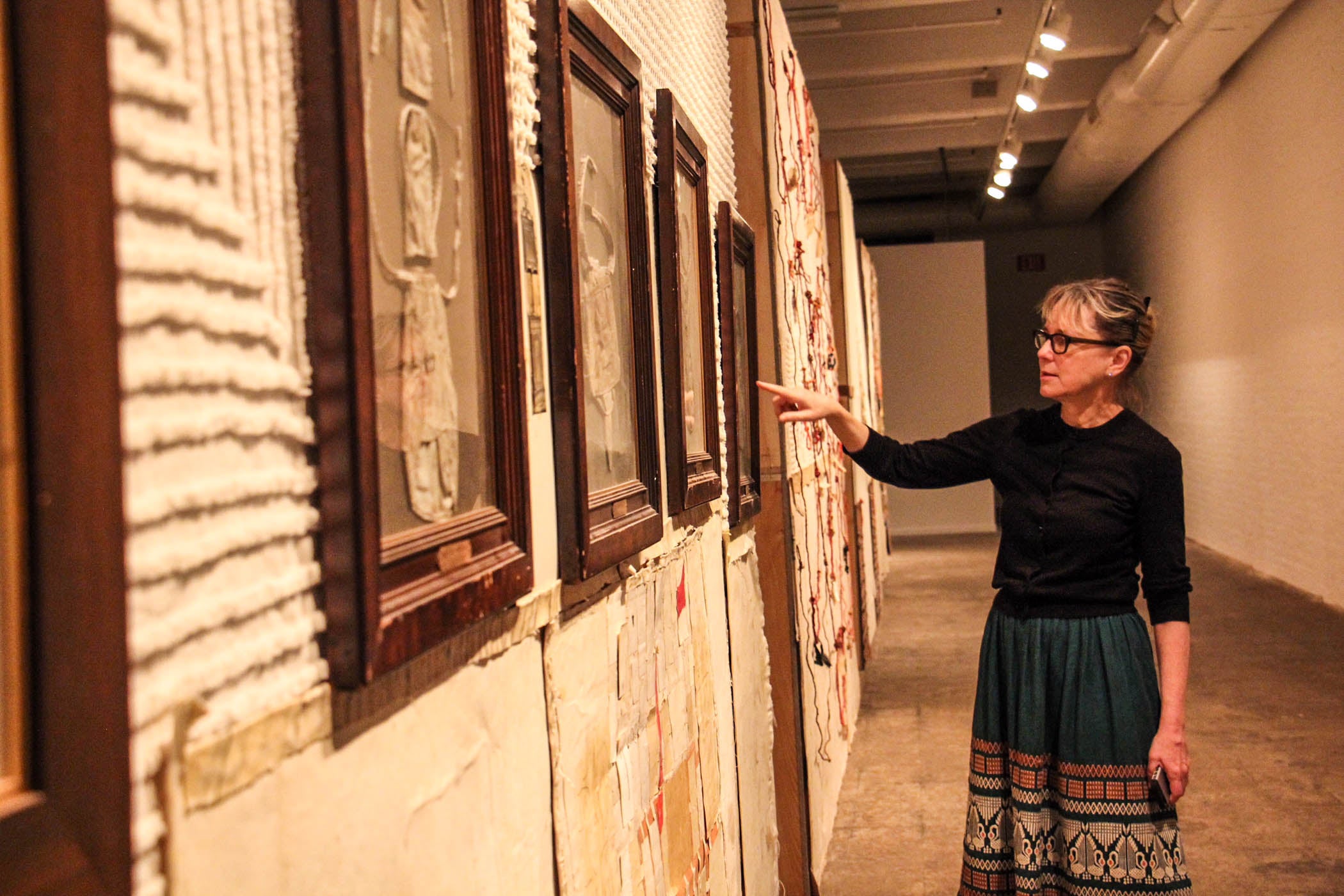 For her first exhibition in many years (she has been more focused on theatrical performances of late), Bocanegra took over three floors of the Fabric Workshop to present four distinct installations related to women in trouble.
Down a few floors from "Poorly Watched Girls" is "Valley," a multi-channel video installation of larger-than-life projections of women performing Judy Garland's test for the film "Valley of the Dolls."
Garland was originally cast in the campy 1967 film, but was cut before production wrapped. It was during a low point in her life (she died two years later from an overdose of barbiturates), and reasons why she was let go — or quit? — are unclear.
Bocanegra re-created Garland's "Valley of the Dolls" costume test by asking 12 women performers of various ages and racial backgrounds to mimic Garland word for word, gesture for gesture, wearing Garland's costumes, which have been re-created by the Fabric Workshop.
The result is a gauntlet of poised and powerful women paying homage to a towering talent who was brought down by an entertainment industry that exploited her.
Inspirations from grandmother, slain nuns
One the ground floor of the Fabric Workshop is "Lemonade, Roses, Satchel," a video starring Shara Nova, a singer from the art-pop band My Brightest Diamond. Nova is dressed in one of Bocanegra's peasant dresses – reminiscent of the eighth-floor installation – while singing about lemonade, roses, and a satchel of money.
When Bocanegra's grandmother, who suffered from early onset dementia, repeated phrases over and over, she wrote down what her grandmother's words.
"I thought, 'Wow, Grandma is just like Gertrude Stein,' " she recalled, having just been introduced to Stein's repetitive poetry.
Out of the mouth of Nova, accompanying herself on autoharp, the repetitive phrases do not sound out of place as a pop song. In reality, they are the words from a deteriorating brain.
Bocanegra is sometimes asked if hearing her grandmother's words upsets her: " 'Oh, how does it make you feel when you hear that? Does it make you sad?'
"Not at all. I feel that circumstances were what they were, this was who she was, and this is happening to her," she said. "It was a way to make it beautiful."
The final room of the exhibition is almost like a shrine. The walls are ringed with small pages torn from "A Guide to the Catholic Sisterhood in the United States." Each page has a description of one order of nuns, its requirements for admission, and a photo of its distinct habit. Bocanegra calls it "baseball cards for nuns."
Bocanegra presents them as characters in a 1956 French opera, "Dialogues of the Carmelites," in which all the sisters of a convent during the French Revolution were beheaded (true story). Each photo from the catalog of American nuns is finely embroidered, as though costumed for the stage.
The room is filled with music, written by Pulitzer Prize-winning composer David Lang (Bocanegra's husband) who asked hundreds of women to complete the sentence: "When I am alone …" The answers became the lyrics, sung by another Pulitzer winner, Caroline Shaw.
"Poorly Watched Girls" will continue until Feb. 17. Near the end of the run, on Feb. 8, Bocanegra will perform one of the theatrical lectures that she has become known for, sharing the stage with actress Lili Taylor.
"Farmhouse/Whorehouse" is, again, about her grandparents' farm, which was located across the street from the Chicken Ranch, an infamous brothel later depicted in the film with Dolly Parton, "Best Little Whorehouse in Texas."
WHYY is your source for fact-based, in-depth journalism and information. As a nonprofit organization, we rely on financial support from readers like you. Please give today.