Art installation adds color to new Cheltenham and Ogontz Bus Loop
Art in Transit artist Nancy Blum added a splash of color to SEPTA's Cheltenham and Ogontz Bus Loop last week with the installation of her latest floral sculpture.
Blum, the recipient of a SEPTA Art in Transit grant, lives in East Kensington but has done public art installations in transit centers around the country, from Minneapolis to Charlotte, N.C., New York City and Seattle.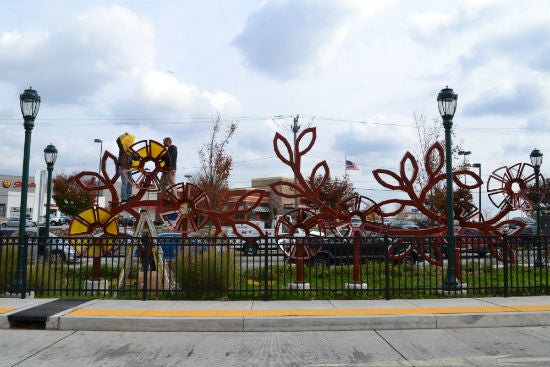 Like all of her art, the installation at Cheltenham and Ogontz avenues is inspired by floral elements. Blum said flowers are often seen as ephemeral and delicate, but she wanted to show their strength.
"I kind of feel like they're going to rule the planet soon enough," she said.
Blum said while she was installing the piece she received positive reactions from curious passersby and bus drivers who loop through the Cheltenham and Ogontz loop, which was renovated through a $3.4 million project in 2011.
Marsha Moss, public art consultant for SEPTA, said the installation is at an important intersection that serves as a gateway from the northern suburbs to Philadelphia and further south.
"It's a good area but doesn't have anything specifically beautifying," Blum said of the intersection. "I was really hell bent on making sure the piece added color, which isn't always easy with sculpture."
The sculpture holds 98 resin flower petals that hold, reflect and transmit the natural light as it changes by the hour, season and weather condition.
Blum said she was grateful to collaborate with other local artists on this project, especially Independent Casting, Inc., the Port Richmond-based fine art foundry and fabrication shop that built the final product.