Art Commission rejects proposal to use city office buildings as billboards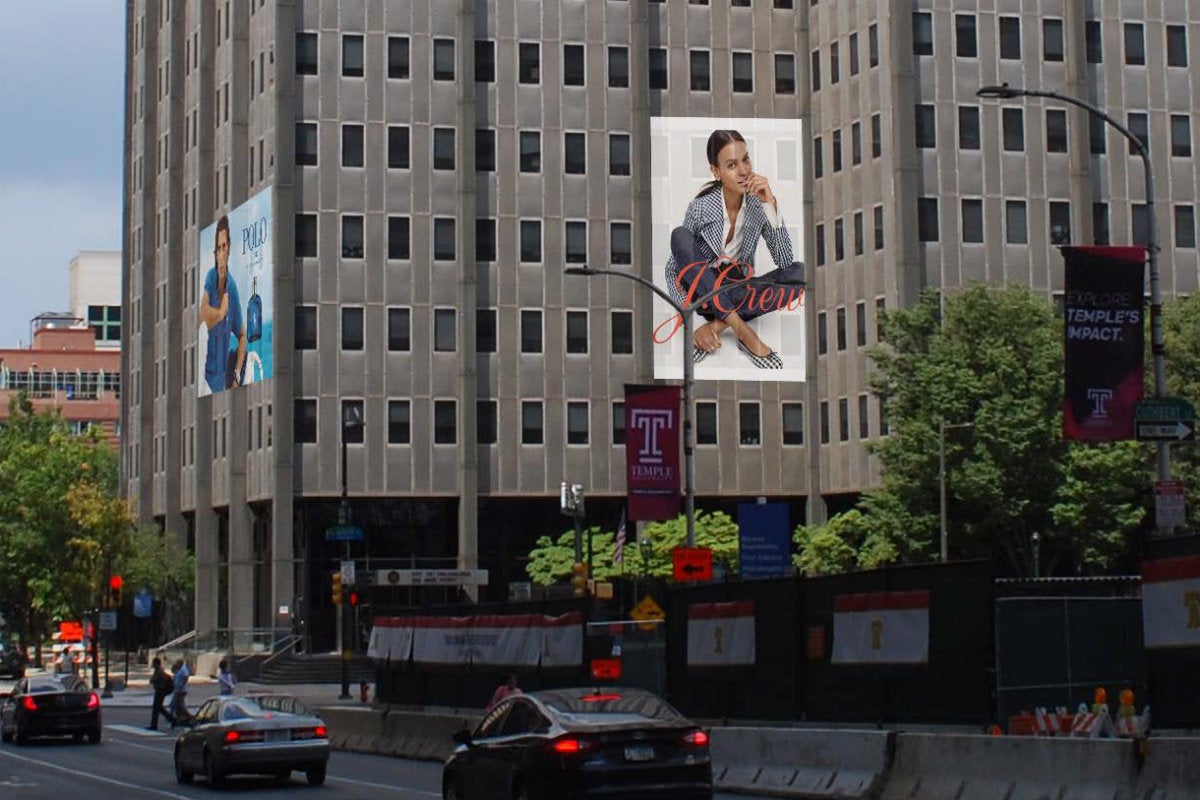 A proposal to use the city's Municipal Services Building and One Parkway as advertising backdrops met with bitter opposition at the Art Commission's Wednesday meeting.
The proposal comes three years after City Council passed legislation that would allow advertisements to be placed on municipal buildings and vehicles. In 2014 a Request for Proposal went out detailing all the potential publicly-owned edifices available for signage. Now the first proposals have come back, with three possible placements on the Municipal Services Building and two on One Parkway, where the Arts Commission considered the fate of the plan.
Although both the Kenney administration and City Council president Darrell Clarke have enthusiastically backed the proposal, which could net the city as much as $500,000 annually, all other testimony given at Wednesday's meeting argued fiercely against the idea. Commissioners generally shared these skepticisms, with three voting to reject the proposal outright and the other six merely voting down this version. The New Jersey firm Interstate Outdoor Advertising, which presented the renderings of the proposal, will return to address the commission's concerns that the proposal doesn't respect the integrity of the architecture.
At this point, the Commission is all that stands between the advertising proposal and reality.
Jeffrey Gerber, president of development at Interstate Outdoor Advertising, seemed to anticipate the unpopularity of his firm's proposal as he presented. He stressed that putting advertising on municipal buildings was a concept that began in City Hall.
"It's very important the commission understand the background here," said Gerber. "We stress that these applications are the result of a public-private partnership. The project at these exact locations was initiated and shaped by the city. We have all spent considerable time and resources on the project."
The five advertisements on the municipal office buildings would not be digital, or even illuminated in anyway. Instead, they will be crafted of a vinyl mesh material fixed to the buildings. On the Municipal Services Building, there would be ads overlooking JFK Boulevard and Arch Street. (All three would be elevated 125 feet—about a third of the way up the building—and all would be at least 25 feet high.) One Parkway, or 1515 Arch, would have one ad facing 16th Street and one facing the Benjamin Franklin Parkway. The renderings made the signs look brighter than they would be in reality, making them appear almost Blade Runner-esque in contrast to the utilitarian grey concrete of the buildings that house Philadelphia's municipal bureaucracy.
Structurally speaking, Gerber noted that the signs are very light and won't add any weight to the buildings. Gerber said it would cost between $20,000 and $40,000 to installing the fastening devices and between $2,000 and $6,000 for the vinyl mesh scrims, and afterwards there would be almost no maintenance cost.
The city enjoys a veto of sorts over the content of the ads. Every copy must be submitted to the managing director for approval, and no alcoholic products or "sexually-oriented businesses" products may be advertised.
Gerber says Interstate has received the informal approval of PennDOT, which is asserting its control of outdoor advertising proliferating across the city, but that he must secure local permits prior to getting their official sanction.
After Interstate Outdoor Advertising's presentation, criticism began immediately.
"This would establish a very sad precedent for city owned property," said Marsha Moss, who sits on the steering committee of the Design Advocacy Group. "One wonders, why would the city bother to retain outstanding architects to design outstanding buildings if they then defaced them with advertising."
Richard Gross of the Center City Residents Association and Mary Tracy of Scenic Philadelphia registered extreme discontent with the proposal, as did Patrick Grossi of the Preservation Alliance for Greater Philadelphia.*
"These two buildings in particular I know are not to everybody's taste," said Grossi. "But they are undeniably midcentury landmarks designed in the early 1960s and they were intentionally designed to project confidence and staged at a time when the city was shrinking."
Arts Commission chair Alan Greenberger then read several letters from the public, which also expressed disapproval of the project—with the notable exception of supportive, similarly-worded letters from the Kenney administration and council president Clarke. Both emphasized that the advertisements were an opportunity to raise badly need funds for the city without raising taxes.
In an era when state governments have been retreating from their commitments to urban areas, and the federal government largely abandoned the field long ago, other municipalities have also tuned to advertising on public buildings as a source of revenue. Gerber named Trenton, Atlantic City, New Orleans, and Chicago as examples of central cities where his firm's outdoor advertisements have been placed on municipal buildings.
But this argument found little purchase among the Art Commission members.
Robert Roesch, a sculptor who has sat on the commission for years, said he's been supportive of outdoor advertising on Market Street, because of its commercial nature. But this case, he insisted, is different.
"What I love about Washington D.C. is its pristine central area of government," he said. "It just makes me proud. But when you start slamming signs up on our government building it's going to look awful. I'm not saying you shouldn't have signage, but you should go back to the drawing board and hire some people who actually have a creative view on how to do that."
Roesch represented the Art Commission's more moderate wing, in that he expressed willingness to allow them another opportunity. Others like landscape architect Jose Alminana were not so forgiving.
Interstate Outdoor Advertising's next opportunity to present revised designs could come as early as next month's commission meeting. The company is limited in its options, however, as their contract is only for these buildings—although Greenberger noted that the public land around the structures could also be incorporated into the design.
Besides the five advertisements proposed on Wednesday, there have been other responses to the city's request for proposal. But according to Greenberger no interest has been expressed in any locations outside of Center City.
* Disclosure: Mary Tracy sits on PlanPhilly's Advisory Committee.
WHYY is your source for fact-based, in-depth journalism and information. As a nonprofit organization, we rely on financial support from readers like you. Please give today.