Armed with data on Philly's litter problem, Mayor prepares for slow political battle over street cleaning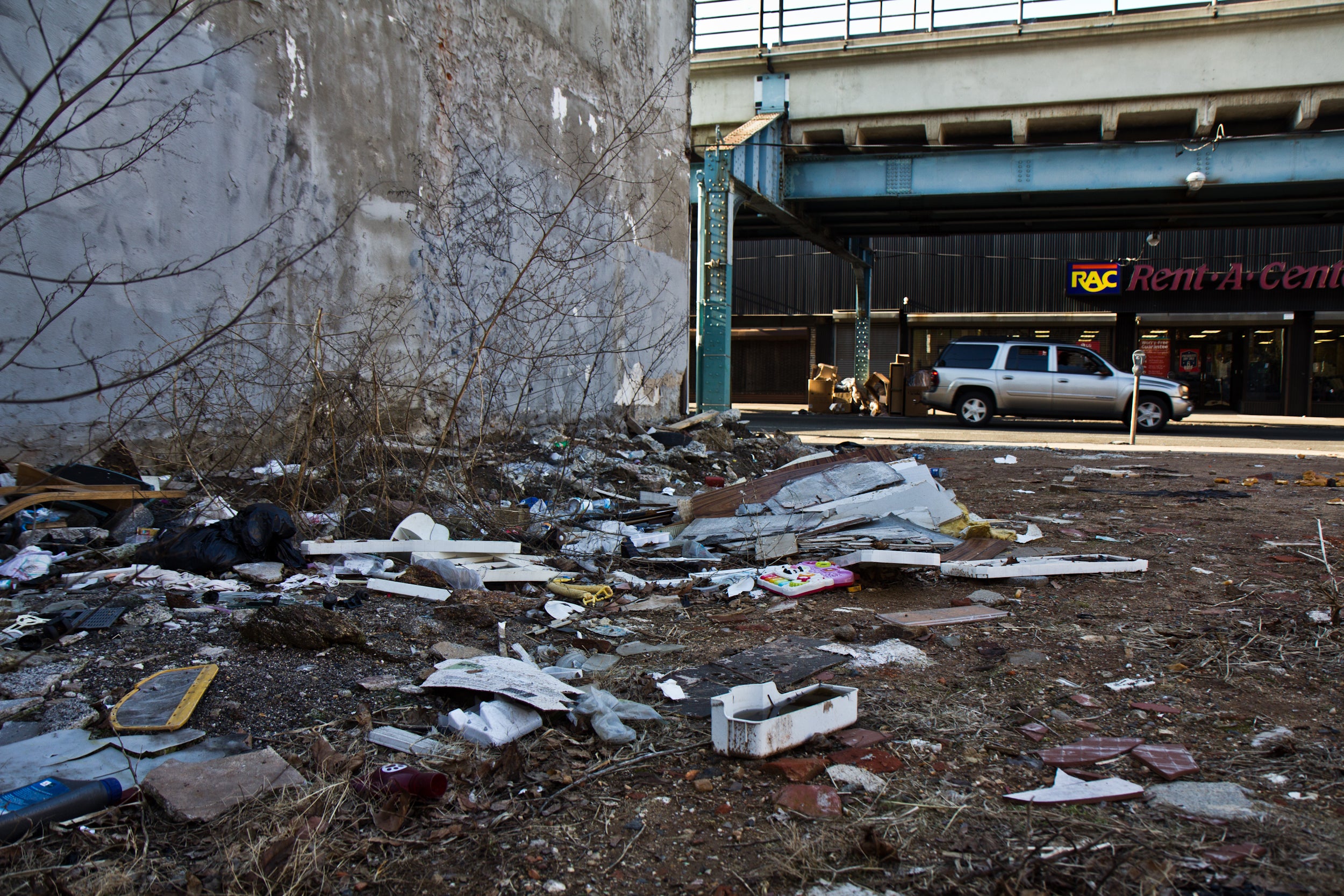 Mayor Jim Kenney remains committed to a street-sweeping program, but don't expect to see any cleaners on your block anytime soon. The city declined on Thursday to comment on a specific timeline for a program or a pilot.
"The Mayor was always clear that this would be a very difficult program to enact because of the need for neighborhood buy-in," said city spokesman Mike Dunn. "Without that, we're unable to roll it out citywide, and there are challenges providing it only to certain neighborhoods where the buy-in does exist now."
The news comes on the heels of the release of a new data mapping tool that shows that most of the city's trash is litter that could be picked up by one person — or more effectively, by street-sweepers. Philadelphia is one of few major American cities where local government doesn't support regular residential street-cleaning services.
The interactive, geo-located Litter Index maps the heaviest concentrations of litter and illegal dumping in the city's poorest neighborhoods. City surveyors ranked the 3200 block of North 3rd Street in Fairhill as Philadelphia's dirtiest block. Significant amounts of street debris were also found clustered in sections of North and West Philadelphia. In a leafy section of the Northeast neighborhood of Mechanicsville, surveyors found the city's cleanest block: 1200 Cabell Road
Dunn named three major obstacles to rolling out the brooms on residential blocks: a lack of "citywide buy-in; the impact on parking and overall cost." A program would require people to move their cars periodically to make way for the sweepers.
"It is not an easy process, it's not very simple to do street sweeping in every neighborhood," said Nic Esposito, Zero Waste, and Litter Cabinet director. "It just needs to be thought out a little bit more; we're just not going to start running street sweepers tomorrow."
The Litter Index released by the interdepartmental initiative run by Esposito assigns a sanitation score to every block in the city using data collected by canvassers who surveyed neighborhoods from August through December of 2017, estimating the amount of litter they saw. The ratings span one to four, one being little to no litter and four being trash on a scale that would "require heavy machinery and a large effort to remove," according to the legend. Esposito said he was surprised to find more parts of the city ranked between one and two and fewer scored with fours.
"If we're going to do some street sweeping — knowing that street sweeping is probably going to be effective in the areas with twos — then OK: What do the twos look like? Where do we see all this stuff," Esposito said. "Having this data — having an understanding of what the needs are — is what allows us to make better decisions as we make those investments into how to keep the city clean."
The Index provides the city with the most complete data set on litter ever collected, Esposito said. Until now the city relied on 311 complaints to understand the problem. But with the new data tool, all of the cabinet's participating departments — Streets Department, the Community Life Improvement Program (CLIP), Philadelphia Parks & Recreation, Philadelphia Water Department, the School District of Philadelphia, and SEPTA — can share information and collaborate on solutions. It's too soon, he said, to say exactly what those solutions will be. But he said the tool would guide the cabinet's strategies for reaching the city's Zero Waste goal — to divert waste from landfills and incinerators 90 percent by 2035 — by establishing a baseline and showing exactly what resources neighborhoods need and which areas need them most.
"It's going to be an extremely powerful tool for the operating departments," Esposito said.
"They're going to be able to share this information, and to look at — through the maps that we've created — a certain area and say OK, what's happening on the parcels or the properties that we're responsible for managing — whether its a vacant lot, a street or a park— and what's happening in the surrounding areas that's contributing to this problem."
Terry Williams is the president of the Eastwick Friends and Neighbors Coalition and has spent many hours cleaning streets in his community. The index is a good idea, he says, but he disputes the scores assigned to the blocks in his neighborhood. "There is a lot of short dumping down here," Williams said. The vacant Pepper Middle School has become a magnet for illegal dumping, and they usually find piles of tires or mattresses near 86th Street. On the map, the blocks around the school are scored with 2.6 and 3.3, but the neighborhood average is 1.5.
Still, Williams thinks the tool will be useful for neighbors because it allows them to see where the problems are, share information through commenting function and automatically connect with 311. As long as they can navigate the digital interface, that is.
"I'm a little concerned for people who are not used to being online, it may be a little difficult for folks who are not used to navigating websites," Williams said. Esposito said the Litter Cabinet will do outreach to communities helping them to use the tool.
Williams agrees with the Litter Index's motto "a litter-free city starts with you." He said he disciplined his children not to litter and he believes everyone is responsible for our environment and should be accountable to neighbors. But he remembers back in the day the city used to do a lot of street cleaning. Not anymore.
"They should get back to that," Williams said. "It really benefits the neighborhoods of Philadelphia," Williams said.
Others say the Zero Waste and Litter solutions aren't nearly enough to address the problem.
"I just think it's a lot of smoke and mirrors," said Raymond Gant, a 60-year-old North Philadelphia resident and founder of The Ray of Hope Project (TROHP), a community organization doing cleanups.
The city has offered a lot of information for residents to connect with cleanup resources, but Gant said that what neighborhoods hunger for is more enforcement, more consistent cleanups, and more resources to organizations like his. Gant was surprised to see many of areas where TROHP has been working for years, are ranked between 1 and 2.
"They know that doesn't work, with [just] the residents coming out to clean, so there has to be a different approach to getting this neighborhood cleaned up," Gant said. "The approach my organization has taken is to bring volunteers in and then possibly start a pilot program that could start putting former inmates back to work into these neighborhoods. That's something that's doable."
Esposito, for his part, says that the city's work is only one piece of the puzzle and that people like Gant will always play a key role in maintaining city streets.
"The city government can't do everything for everybody, nor should we rely on the residents to do everything," Esposito said. "We have to work together."
The survey will be repeated each year to help the city determine strategies that work and places where progress was made.
In the spring, the Streets Department with support from Esposito's cabinet plans to start meeting with residents, organizations and city agencies to create neighborhood litter plans to discuss what's the best way to tackle trash problems in their areas — including street-sweeping.
Correction February 26, 2018:
A photograph with an earlier version of this article was published in error. The photo showed a parcel of property on East Tioga Street that is private property and not included in the Litter Index. It was replaced.
WHYY is your source for fact-based, in-depth journalism and information. As a nonprofit organization, we rely on financial support from readers like you. Please give today.