Applying to a Philly charter school? This new website wants to make it easier
Listen
1:48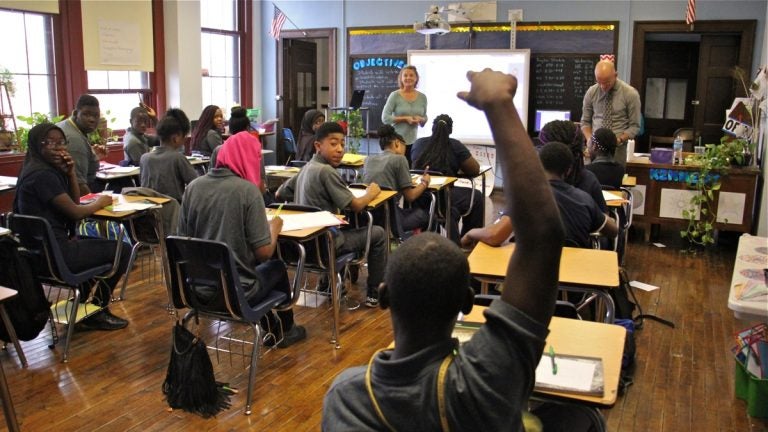 For years, trying to get your kid into a Philly charter school has been a byzantine hassle. Each school has its own application, own deadline, and own response window.
Apply Philly Charter aims to fix that.
Starting Friday, parents can apply to most of the city's charters by going to the Apply Philly Charter website and filling out one basic form. With the click of a few digital boxes, a child can simultaneously enter dozens of charter-school lotteries.
The initiative's backers say they're increasing access and helping parents. Given the dismal lottery odds at some city charter schools, they say, many families feel they have to apply to a bunch of charters to ensure they get in somewhere. Now more city parents can do that quickly, easily, and without the kind of extra legwork that can be difficult for working families to manage.
In this initial year, 73 of the city's 108 charter campuses have agreed to participate in the Apply Philly Charter application process. That includes all of the city's major charter networks. Parents who want to apply to any of these schools must go through Apply Philly Charter website, although there is a phone option for families who lack internet access.
The charters under this umbrella now all have the same application deadline of Jan. 28, 2019, and they're required to run their application lotteries and respond to all applicants about the results by Feb. 19.
It's the closest thing to enrollment standardization the city's growing and diverse charter sector has ever seen.
But it's not universal.
There are holdouts, most of them single-school, "mom and pop" charters. Some were scared off by the logistics of switching to an all-online format. Others bristled at the idea of an all-charter collaboration, weary about ceding their autonomy.
Outside the charter sector, there's some skepticism about the school-reform nonprofit managing the initiative, Philadelphia School Partnership (PSP), and its considerable influence on the city's schools scene.
And as some of those skeptics recall, PSP is no stranger to the idea of creating a more unified application process for Philadelphia parents.
Starting in 2012, PSP, working within a now-defunct group called the Great Schools Compact, floated the idea of a universal enrollment system that would unify the application processes for district-run schools, charter schools, and, potentially, parochial schools. PSP seeded the exploratory effort and would have helped manage the enrollment system had it come to fruition.
The idea got far enough to prompt a City Council briefing and a vetting before the School Reform Commission. It also prompted backlash from traditional public school advocates queasy with the idea of a private entity running a unified enrollment system. Chief among the skeptics was Helen Gym, who now serves in City Council. Gym worried openly about how the move might boost PSP's influence over education in Philadelphia, especially given the organization's support of school choice and, specifically, charter schools.
The first universal enrollment push failed, though PSP's executive director Mark Gleason doesn't believe public opposition or education politics contributed to its downfall.
"For a lot of reasons, we never got that off the ground," said Gleason. "There were some reasons that really had very little to do with the project, like the budget crisis that was hanging over the school district, as well as a number of technical and logistical concerns about the process itself."
PSP stepped away from enrollment reform for a few years, but picked up the thread again a year and a half ago, said Gleason.
The nonprofit spent between $200,000 and $250,000 to build the website and will spend between $200,000 and $300,000 promoting it this year, Gleason said. Maintaining Apply Philly Charter and the staff to supervise it will run around $250,000 annually, he added. PSP will pick up that tab this year and next, but participating charters may have to pay a per-pupil fee after that.
This latest endeavor is less ambitious than the enrollment plan PSP backed in 2012-13 and less ambitious than the universal application processes that exist in other cities like Denver, Newark, and Camden. In those cities, families use one application to apply for space at district and charter schools alike and list their preferred schools in order. An algorithm then matches each student with a school. PSP's original universal enrollment idea would have potentially pulled in Catholic schools, making it even more comprehensive than existing models.
Apply Philly Charter is a significantly slimmed-down version of that original vision.
The website allows families to apply to as many charter schools as they want with a single online form, but it does not include district or parochial schools. Charter schools then field those applications, run them through their school lotteries, and reach back out to applicants to tell them whether they've secured a spot. There's no matching process and families will sort through their acceptances much they same way they always have, by dealing individually with each school.
The philosophy behind Apply Philly Charter, though, hasn't changed much since PSP first dipped its toe in the enrollment reform waters. Advocates of all stripes admit it's difficult for families to navigate the myriad school options that now exist. Running dozens of separate application processes only exacerbates the problem. Many say this fractured landscape disadvantages those without the time or wherewithal to fill out multiple forms. Some charters have even been accused of making their application processes intentionally burdensome to weed out low-income families.
"There's no question that the more complicated the process is, the more families that have the least resources, the least flexibility, are at a disadvantage," said Gleason.
Some critics see universal enrollment as a way to subtly boost charter application numbers, and to further embed these publicly-funded, privately-run schools in the education landscapes of their respective cities. But participating charters say they already have more applications than they'd ever need. Apply Philly Charter is simply a way to make things easier for the average parent trying to navigate the city's increasingly complex education system.
"It's not self-serving at all," said Rae Oglesby, spokesperson for Mastery Charter Schools. "It's all about making it easier for families in Philadelphia to find a school that's best for their child."
Mastery, Philadelphia's largest charter network, also has schools in Camden, which runs a more sophisticated universal enrollment system. Because of that experience in New Jersey, Mastery would be open to broadening Apply Philly Charter, said Daniel Bell, director of school operations.
"We've seen success with it," said Bell. "We're always interested in finding ways we can partner together with schools around our city to try and figure out ways that we can provide the best possible education and service to our families.
PSP expects more charters to sign on next year, perhaps bringing the total number of participating campuses as high as 100. There's also talk of unifying the application response process, so parents hear back about school lottery outcomes in a less scattershot way.
Gleason's also still intrigued by the idea of folding in parochial schools.
"We think there's room to go forward and make more progress," said Gleason.
For PSP's critics, though, that's the worry. A common charter application today, they say, could become a revived universal enrollment effort tomorrow.
"The possibility is there that it goes towards the [Newark model] where not only is it a common application, but now we're going to start placing you," said Robin Roberts, director of Parents United for Public Education.
Then there are the concerns of charters who chose not to participate, all of whom will continue to use their own, school-specific application processes.
Noah Tennant, CEO of Boys Latin Charter School, agrees with the principles of Apply Philly Charter, but worried switching to an all-online format would confuse some applicants. The school in Southwest Philadelphia will consider participating in future years.
"I really applaud the effort," said Tennant. "It's important for us to see schools as a sort of cooperative, collaborative ecosystem. We're all serving the same kids."
Administrators at Community Academy of Philadelphia Charter School in the Juniata Park section of North Philadelphia also worried about an online-only process, but CEO Joseph Proietta's says their concerns ran deeper than that. The charter movement, Proietta argued, is rooted in the idea of school-level autonomy, and collaborative efforts like Apply Philly Charter, even if they seem benign, chip away at the original intent of the sector.
"Every time we give up our autonomy, we lose something," Proietta said.
Community Academy is one of the city's oldest charters, and Proietta believes there's been steady movement toward charter unity over the decades, movement he doesn't appreciate.
"We aren't a system," he said. "The fact is we are individual schools and we're actually in competition with each other, and to pretend that that's not the case is silly."

To find a full list of schools participating in Apply Philly Charter click here.
---
The following schools are not participating in Apply Philly Charter and still have their own application processes:
Architecture and Design Charter School, Boys Latin of Philadelphia Charter School, Christopher Columbus Charter School, Community Academy of Philadelphia Charter School, Eastern University Academy Charter School, Esperanza Academy Charter School, Folk Arts Cultural Treasures Charter School, Franklin Towne Charter Elementary School, Franklin Towne Charter High School, Harambee Institute, Imhotep Institute Charter School, Independence Charter School, Independence Charter School West, Inquiry Charter School, Discovery Charter School, Keystone Academy Charter School, Khepera Charter School Mathematics, Civics and Sciences Charter, Philadelphia Academy Charter School, Philadelphia Electrical and Technology Charter School, Philadelphia Montessori Charter School, Philadelphia Performing Arts: A String Theory Charter School, Preparatory Charter School of Mathematics, Science, Technology and Careers, Sankofa Freedom Academy Charter School, Southwest Leadership Academy Charter School, Philadelphia Charter School of Arts and Sciences, West Oak Lane Charter School, and YouthBuild Philadelphia Charter School.
—
Correction: The original version of this article incorrectly named the Great Schools Compact.