Another apartment building on the way to West Philly's Baltimore Avenue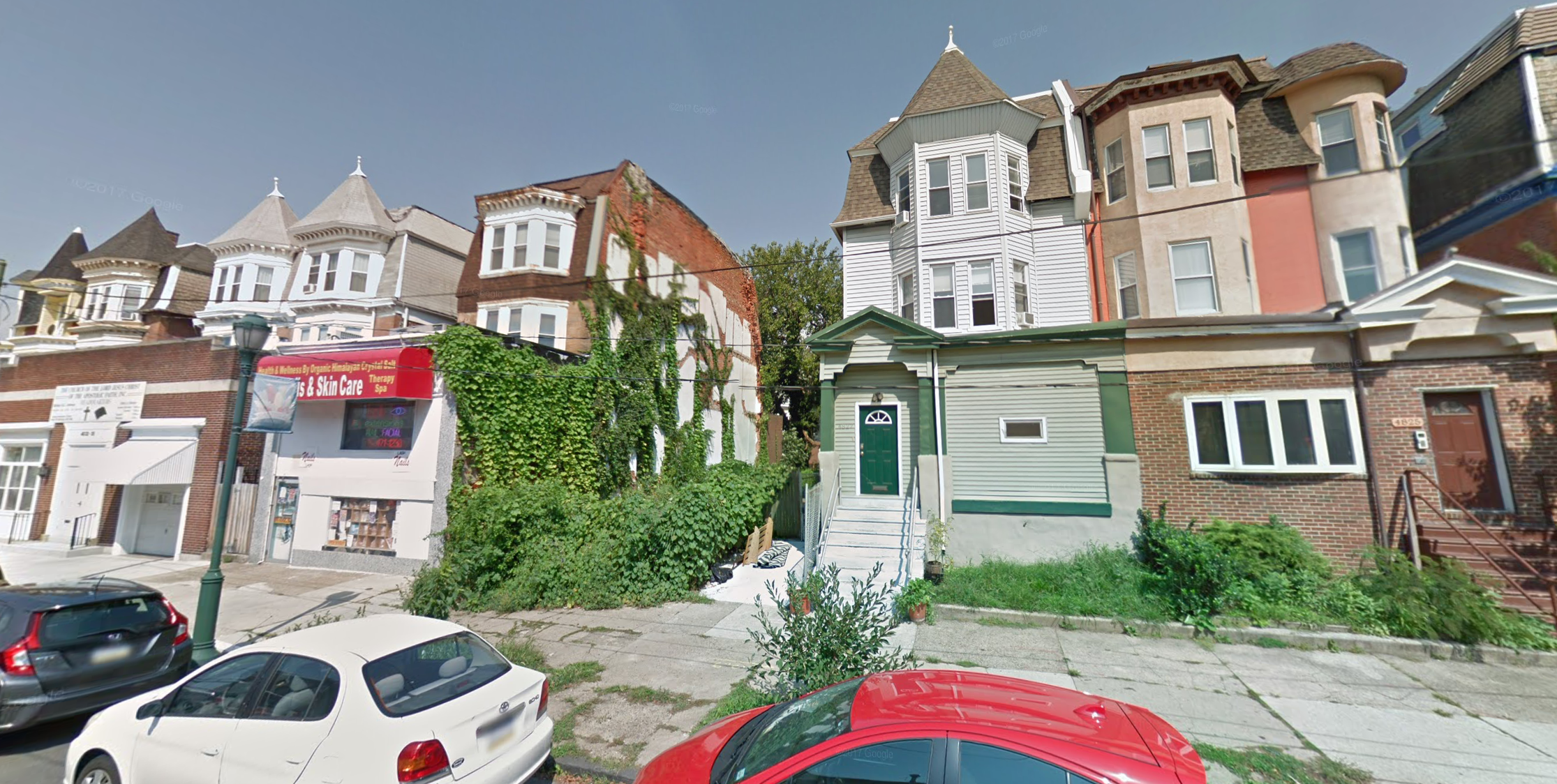 The Cedar Park Neighbors zoning committee will review a revised proposal for a four-story, five-unit apartment building at 4829 Baltimore Avenue Tuesday, West Philly Local reports. The site, which has been long vacant, is currently zoned RSA-3, which only allows single-family structures. The owner has requested a variance for multifamily construction. When the developers, Access Property Management, presented plans last month, the zoning committee requested they go back to the drawing board and "slim down the building so it would encroach less on adjacent buildings." Zoning committee chair Shawn Markovich agreed that the lot didn't need to remain a single-family home, but expressed concern about overbuilding with five units.
The developer will present the revised plans and elevations at 7pm tonight at the Calvary Center on 48th and Baltimore Avenue. Neighbors are encouraged to attend to voice opinions on the proposal or contact Cedar Park Neighbors if they cannot attend.
Bike lane swap awkward, advancing too quickly
The city's plan to switch the bike lanes on Spruce and Pine Streets to the left side, while well-intentioned, is "advancing too quickly to assess whether it will achieve its stated goals — and could ultimately fail to make the streets safer for cyclists and others," writes Rick Ketterer, in an op-ed for the Philadelphia Inquirer. Ketterer, who serves as co-chair of Society Hill Civic Association's Complete Streets Committee, argues that OTIS "opted for a quick, highly visible lane change while not acknowledging its limitations or potential risks" forcing "civic associations, bike advocacy groups, and citizens alike [to respond] to a plan with limited information and whose basic blueprint had been pre-determined." Ketterer recognizes that OTIS's focus on the "blind spot" on the right-hand side is "relevant," but "not sufficient to ensure that safety will be improved." in addition to an information gathering and conducting an objective study, Ketterer also calls for an adjustment in the process to include key stakeholders "before, not after, fundamental decisions are made…[which] is essential to fostering community understanding and buy-in, something missing from the current approach."
Philly 18th in the country in spending in multifamily construction
Speaking of multifamily construction, how does Philly stack up in the current multifamily construction market? Pretty good, according to a new report from Apartment List. Shannon Rooney, a real estate blogger contributing to the Philadelphia Inquirer, points to national and local development numbers from the report: nationally, spending in the multifamily construction sector is up nearly four times what it was in 2010 and locally, "between 2000 and 2016, developers in Philadelphia spent $8.3 billion on multifamily construction, [which] puts the city at 18th in the country in terms of raw spending and 21st in the country for per-capita spending on multifamily construction." in fact, Rooney writes, multifamily projects now comprise a 16 percent increase of all new residential construction in Philly. Check out the full report here.