Aiming to raise awareness about drugs, DEA hosts summit for Philly kids
DEA says community outreach efforts — including sponsoring after-school and summer programs — are as vital as its law enforcement mission in addressing the opioid epidemic.
Listen
1:31
To help combat the epidemics of heroin and opioid abuse, Philadelphia's division of the federal Drug Enforcement Administration hosted a summit for more than 350 elementary students from Kensington — the area of Pennsylvania officials say has been most affected by drugs.
The event at Temple University on Tuesday included games, hip-hop dance lessons, and a play.
Fourth- and fifth-graders from five elementary schools thronged the university's Student Center to hear speakers, learn to breakdance and watch Temple theater majors perform a play created from poems by the young guests.
Gabriella Rios, 10, said her favorite part was the play that used her line — "It smells like chocolate-covered strawberries" — as one of the openers.
"The most important thing I learned today was that there's a lot of things that can happen when people are on drugs," she said. "I also think that if we had a world without drugs, it would be a much better environment and a place where we could live and no one would be hurt and have nothing to worry about."
Shawnette Brown, who is Gabriella's teacher at Alexander K. McClure Elementary School, called the event "phenomenal."
"It's an excellent program," she said. "I'm so glad that my school is a part of this. I love the support that the DEA gives the schools in Philadelphia."
It's important for kids to learn how to avoid poor decisions, said Brown, who teaches fourth grade.
The presentation by the Temple theater students was particularly well done, she said.
"The students at the [elementary] school had to write poetry. [The Temple students] took that poetry and put it into a play," Brown said. "So the kids were able to kind of hear their voice come through in this powerful way, and it sent a positive message."
She recognized lines from her students' poems.
"I was like, 'Oh my goodness, that's my students.' And it's just really nice for them to see that they have a voice."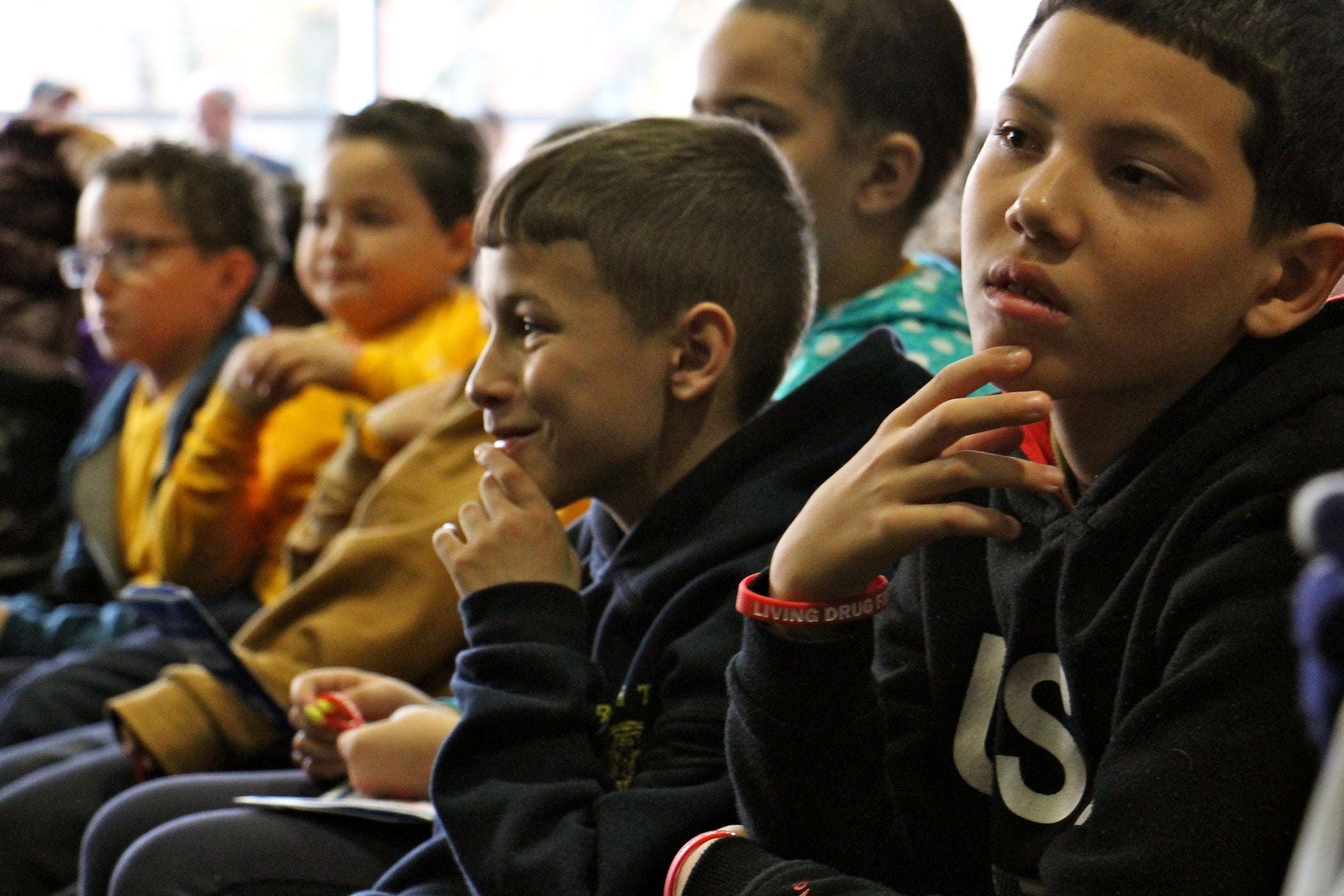 Special Agent Patrick Trainor, public information officer for the DEA's Philadelphia office, said the DEA started its "360 strategy" in Philadelphia two years ago. The three-pronged approach to opioid abuse includes law enforcement, regulation of doctors and community outreach.
"We have to engage people in the community and be open to some partnerships that we wouldn't normally pursue to just raise people's awareness about this," he said.  
Trainor, who said DEA has always worked with schools, said officials recently realized the summit was needed to help address the growing opioid crisis.
"What we're doing here today is offering a message of drug awareness to elementary school kids from Kensington, and no area has been impacted more in the commonwealth than Kensington," he said. "Just make them aware of the dangers of drug abuse and, hopefully, make good healthy choices as they go forward."
The DEA's community outreach efforts —including sponsoring after-school and summer programs — are now as vital as its law enforcement mission in addressing the opioid epidemic, Trainor said.
"We recognize that a lot of these kids have to walk through, and walk past, people who are selling drugs, people are using drugs, people who've experienced overdoses," he said. "And these children have to see this every day." 
Trainor says the Kensington area is disproportionately affected. In 2017, Philadelphia had 1,217 drug overdose deaths.
"Not all of those occurred in Kensington, but a significant amount of them did," he said.
DEA agents went to the schools and rode with the children on the buses to Temple for the summit that included a demonstration of Bensalem Police Department dogs sniffing out drugs, a quiz and games.

"It's really fun. It's entertaining and I would really like to come here again," said Ahanexi Rosario, a 9-year-old student at Isaac A. Sheppard Elementary School.
Temple football players chatted with the students during their lunch break.
"They were teaching us to avoid drugs and how to stay away from them," she said.
Ahanexi says she enjoyed everything, but her favorite part was the play.
Damien Rivera, also a fourth-grader at Sheppard, thought the event was "awesome."
"I never even knew that pills were dangerous to people," the 11-year-old said, referring to prescription drugs.
DEA officials plan more youth summits in Allegheny and Westmoreland counties in Western Pa. and Delaware.
The other schools that attended Tuesday were: Mariana Bracetti Academy Charter School, Bayard Tucker Elementary School and St. Veronica Elementary School.
The event sponsors included Community Anti-Drug Coalitions of America, known as CADCA, SpArc and the Philadelphia Police Department. 
WHYY is your source for fact-based, in-depth journalism and information. As a nonprofit organization, we rely on financial support from readers like you. Please give today.