Advocates call to strengthen Land Bank Strategic Plan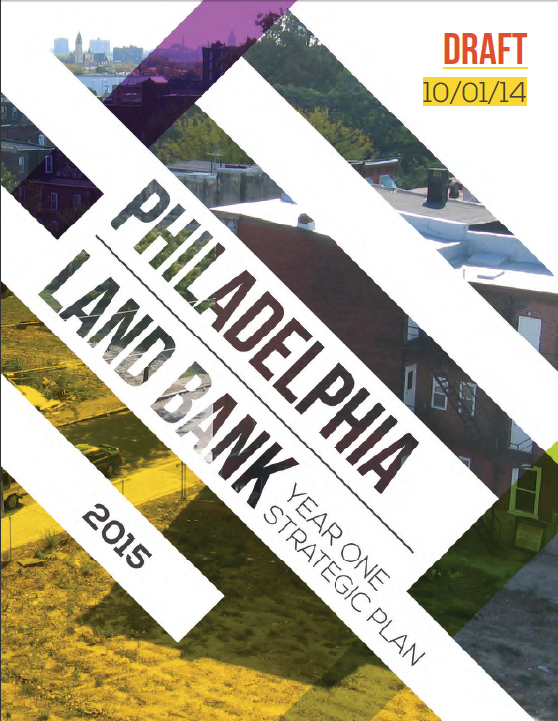 Land Bank Strategic Plan Draft – Public Hearing: Wednesday, October 15, 2014 at 3pm.
WHERE: 1234 Market Street, Mezzanine Level
COMMENT: Call 215-448-3107 to register to testify. In lieu of testimony you may submit written comments to john.carpenter@phila.gov.
The fledgling Philadelphia Land Bank is the city's best chance to put the lion's share of its vacant and tax-delinquent properties into responsible hands for new uses. The citywide effects could be profound, from stabilizing blocks and stanching the tide of creeping blight to large-scale opportunities for food production and housing development.
As PlanPhilly's Jared Brey reported earlier this month, the city released a draft of the Land Bank's Strategic Plan developed by Interface Studio, the document meant to guide the Land Bank's launch and the first five years of its activity.
It's an incredibly important plan, laying out a vision for the Land Bank as a tool to stimulate equitable development, promote urban agriculture and community greening, and stimulate private investment. It envisions putting individual vacant properties back to productive use citywide and it also establishes focus areas where different end uses, such as affordable housing, should be explored. It is intended to build transparency, predictability, and accountability into the operations of the new Land Bank, all tough goals to meet given Philadelphia's track record for smart and fair land disposition.
Last October I wrote that a strong strategic plan was one key to getting the Land Bank right. In particular the clarity of the plan's goals are an opportunity to provide a definitive framework for the Land Bank's decisions, making choices about vacant property less transactional and more transparent.
The strategic plan is the chance to establish a process that helps counter-balance the politics that historically surround vacant land disposition. The Vacant Property Review Committee (VPRC), comprised of appointees by City Council and property-related agencies, has traditionally has operated outside of public scrutiny. That committee remains a part of the Land Bank's process, but its actions are now pushed into the spotlight thanks to provisions in the land bank legislation requiring its agendas and minutes to be published. (They are currently found on City Council's website.)
Given VPRC's past lack of transparency, and the political influence over that body, it is even more important to have abundantly clear goals and targets for the Land Bank's work as well as open records.
So, is the strategic plan strong enough?
I put that question to several active members of the Philadelphia Land Bank Alliance, the diverse coalition of advocates who fought for the land bank, including some involved in shaping the strategic plan this summer.
All of the advocates I spoke with applauded the vision and spirit of the strategic plan, developed on an extraordinarily tight timeline by capable consultants in conversation with many stakeholders. It is, as many said, a good start. On Wednesday, October 15 the public will have its chance to offer input about the draft strategic plan during a hearing, held at 3pm at 1234 Market Street.
While there is agreement that the strategic plan is an important step forward, most expressed hope for further fine-tuning and improvement before the plan makes its way to City Council later this year. Questions linger particularly when it comes to the Land Bank's goals, policy clarity, and how to measure its relative success. Many operational questions will be solved as the Land Bank develops its policies. But some fear this draft of the strategic plan is missing a chance to maximize the Land Bank's transparency and accountability.
"The most important pieces of the puzzle are the properties," said Beth McConnell, Policy Director at Philadelphia Association of Community Development Corporations (PACDC), which helped organize the Land Bank Alliance.
The draft strategic plan does not mandate that the entire public inventory of approximately 8,000 uncommitted vacant properties be transferred to the Land Bank. That could present an issue of fairness and uniformity, which is already a problem given the patchwork of agencies holding vacant property, each with their own processes for disposition.
"We don't want a situation where we have four landholding agencies [not including the Philadelphia Housing Authority], or a different process in different parts of the city," McConnell explained. "Nor do we want a situation where the Land Bank only gets the low- or no- value properties that are really hard to find new owners for, turning it into a land 'holding' agency rather than one that is getting properties out the door and into private hands."
Think of a strategic plan as a roadmap, showing different destinations and ways to get there. The Land Bank Strategic Plan lays the land bank's goals and offers guidance about possible end uses, but it does not yet contain targets that will help direct the Land Bank's actions and inform the Land Bank Board, VPRC, and City Council's as they weigh competing priorities for different properties.
"This plan has a lot of good intentions but it is not specific," said Nora Lichtash, director of the Women's Community Revitalization Project, and a partner in the Campaign to Take Back Vacant Land (now Campaign for Affordable Communities). The plan, she said, is not clear enough in terms of how the Land Bank will meet the goals established in the legislation and the plan.
The Land Bank is intended, for example, to support the creation of affordable housing across the city, and it encourages the inclusion of affordability in areas where housing prices are rising. Those are solid objectives, and the plan goes so far as to review how many units of affordable housing have been added in recent years, and how many developers built them. It currently stops short of setting a target for how many units the city should aim to add through Land Bank activity in the coming years, based on that analysis of units added in recent years and the areas of opportunity.
Lichtash said she wants to see the plan set targets for different kinds of affordable housing created, and greater specificity about what level of affordability should be pursued where. Such benchmarks would give the plan weight and provide much clearer guidance for proposals evaluated by the Land Bank.
When the final strategic plan is submitted to City Council it will contain targets for specific uses as well as acquisition and disposition, but those have not been set publicly. Reasonable targets make it possible to measure how the Land Bank is meeting its mission year over year. Without them the annual reports will just be an accounting of how many gardens were preserved, side yards conveyed, or market-rate and affordable units created.
As Lichtash put it, "How else are we going to know what needs to be remedied the following year unless there is a goal?"
That sentiment was also echoed from the perspective of the Building Industry Association of Philadelphia's president Anne Fadullon who noted the plan "doesn't seem to set the bar very high as far as setting short and long-term targets for success."
The plan, she said, deserves credit for attempting to balance multiple interests, "but it leaves much to be determined in the operational phases of the land bank."
Add to that the uncertainty surrounding the future of agencies that govern and regulate land use, from the possibility of a reorganized Department of Licenses and Inspections to the proposed creation of a consolidated Department of Planning and Development, and there's even less certainty about the land-use context the Land Bank will be operating in.
"The plan creates a strong vision, but it will need to be operationalized with concrete policy and practice," explained McConnell. "The disposition policies in the [plan's] appendix create some welcome new changes, but more work needs to be done to make them stronger. We were hoping to see acquisition policies as well, but they were not included."
To that, McConnell adds, PACDC "would like to see a stronger plan for how the Land Bank will maintain the properties in its inventory. There is mention of the various city departments and programs that play a role (CLIP, L&I, the Land Care programs) but doesn't include a plan for ramping up maintenance and coordinating it so that we're doing a better job with public properties that may remain vacant for some time."
Gardens, sometimes considered interim uses, did gain ground in the draft strategic plan. The plan makes clear that public and community-oriented uses are priorities, not just possible highest-and-best-uses.
Attorney Amy Laura Cahn of the Garden Justice Legal Initiative at the Public Interest Law Center of Philadelphia applauds language in the draft plan saying the Land Bank will support the preservation of long-tended gardens, many of which started informally as interim uses but have become community institutions despite murky legal footing. But, Cahn cautions, the plan is less absolute in its expression of support for new gardens. Language there is "should" instead of "will" support. One policy measure that she'd like to see included going forward is a framework to support leases for gardens as interim land uses.
Another significant upside, Cahn pointed out, is that the robust data analysis to support the plan paints a clear and more complete picture of vacancy citywide. "The whole planning process got us further into understanding where the vacant land is," she said. Now the question is: Will the Land Bank's data be open data?
The vacancy data used for the strategic plan may be imperfect, but that set is probably the best we've got right now and it should be continually improved.
McConnell notes that the city really needs a robust and unified vacant property database "that includes both public and private inventory, as well as the condition of the properties, and it needs to be regularly updated and shared by all City departments."
The strategic plan mentions updating the data sets over time, but it doesn't outline the kind of shared and comprehensive inventory that McConnell envisions. Such a public inventory would be another boost for both transparency and accountability.
Despite these questions, advocates remain optimistic that the strategic plan can be strengthened, in the hopes of giving the Land Bank the best foundation possible to make progress combating vacancy in an clear and predictable way.
"Hopefully the plan will get better before it goes to a City Council hearing, and I believe it will," Lichtash said.