Activist Asa Khalif announces run for Philly City Council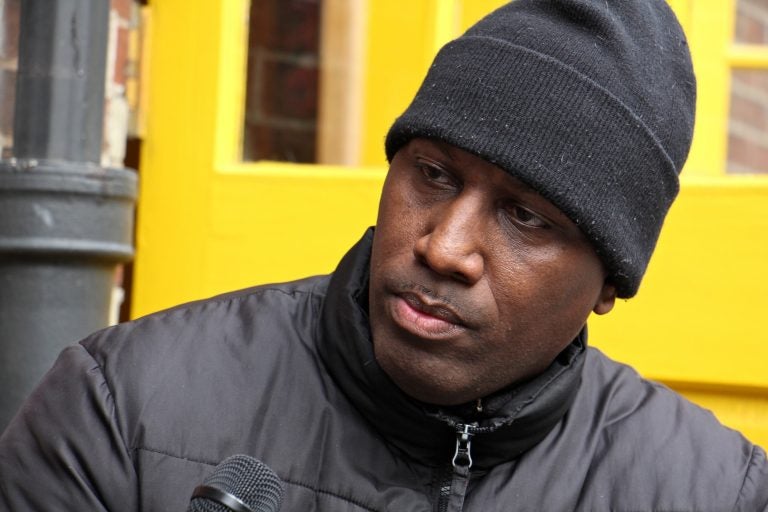 This article originally appeared on PlanPhilly.
—
Local activist Asa Khalif is throwing his hat into the ring for one of Philadelphia City Council's seven at-large seats. All 17 seats — there are 10 seats elected by district — come up for reelection in a May 2019 primary. Politicos expect the race to be competitive with a number of new contenders competing for district and at-large seats.
Khalif appears to be among the first of those to officially declare. The 48-year-old known throughout the city for his boisterous, high-profile protests says he plans to run "the people's campaign on steroids," and bring activism to City Hall. He is expected to make an official announcement on Tuesday evening.
Khalif, a Philadelphia native, said in an interview on Monday that he is "sick of these damn politicians" and seeks to lead differently. He said the city's current leaders are out of touch with residents affected by gun violence, low-quality education, poverty, lack of jobs, and unaccountable policing.
He said his campaign will inspire people to demand more from City Council candidates.
"People will go and ask, 'where are you on these situations? This is where Asa stands where do you stand,'" he said. "Now, since they're running around like rats trying to get votes, this is the perfect time to ask them and call their asses out."
Khalif said he expects to release proposed policies targeting unemployment, police accountability, and LGBTQ protection on his website Tuesday.
He has also started raising money, he said. Campaign donors are "friends and some celebrities that reached out," and there are five fundraisers planned, he said.
"Once I made the confirmation that I'm going to do this, privately to them," he said, "'they [said,] 'OK, whatever we can do to help you, Big Bro. Because you have been consistent. You've given your life to this.'"
For better or worse, Khalif is known throughout the city for his attention-getting protests of racism and police brutality. Philadelphia Magazine listed him 41 out of 100 of the city's most influential people, higher than John McNesby and Richard Ross, as a pair, and Attorney General of Pennsylvania Josh Shapiro.
"I've been an activist since I was 13 years old," he said. "I don't know anything else other than being an organizer and activist."
Last summer, Khalif drew ire from Fraternal Order of Police president John McNesby for leading a protest, along with activist Isaac Gardner, outside the home of then officer Ryan Pownall, who shot and killed 30-year-old David Jones during a traffic stop.
Pownall has since been fired and charged with third-degree murder, a first in nearly two decades.
A week after the demonstration, McNesby referred to the protestors as a "pack of rabid animals" during a Black the Blue Rally. The comment brought national criticism.
In November 2017, Khalif was arrested while demonstrating at the Attorney General's Center City office, demanding answers on the A.G.'s investigation of the deadly police shooting.
According to reports, Khalif was charged under the name Earl Pittman with institutional vandalism, defiant trespass, harassment, and disorderly conduct.
In April 2018, a judge reportedly assigned Khalif to non-reporting probation as a result of the charges. The probation order came just days after the organizer led a demonstration at the Center City Starbucks where two black men were arrested after a white manager called the police on them for what ultimately turned out to be waiting.
A photo depicting Khalif holding a bullhorn to his mouth, facing a Starbucks employee went viral on social media.
Khalif said that a seat in City Council would not stop his activism.
"I'm not a politician," he said. "I'm an activist. I'm an advocate. I'm never going to be a politician. I am the fly in the ointment. I am here to push the politicians to let them know and to remind them that the people are coming back to take over these jobs now."
Khalif's attention-grabbing demonstrations have drawn criticism from some of his activist peers.
Black Lives Matter Philadelphia released a letter in April denouncing Khalif, claiming his "actions have, at times, endangered and compromised other activists and organizations."
The letter also clarified that Khalif is not affiliated with the national Black Lives Matter Movement, as the now-defunct Black Lives Matter Pennsylvania is not an official chapter, and is not qualified to speak on their behalf.
The groups also scolded the media for "unethical laziness" for uplifting Khalif as a leader in Philadelphia social justice.
"Anyone who is making noise," said Khalif in response to his critics. "Anyone who is consistent, who's really doing the work, they're going to always have those type of individuals to come and hate."
Khalif's rhetoric may seem tough on current city officials, but he said he is willing to work with "anybody who wants to work to make things better for the community. There will be an open door policy, he said, "for everybody to come in."
Correction: An earlier version of this article misidentified the group that released a letter about Khalif in April.