A show of support for Philly Muslims
A longtime Christian, Candice Chieffo converted to Islam and began wearing a hijab about a year ago, so devoted to her new faith that she wanted to wear the head covering even as hate attacks against Muslims rose nationally.
It didn't take long for the haters to turn their hostility toward her. Chieffo, driving her car, had stopped at a stop sign when two construction workers apparently on their lunch break approached. At the time, President Trump's campaign — brimming with anti-Muslim rhetoric — was kicking into full gear.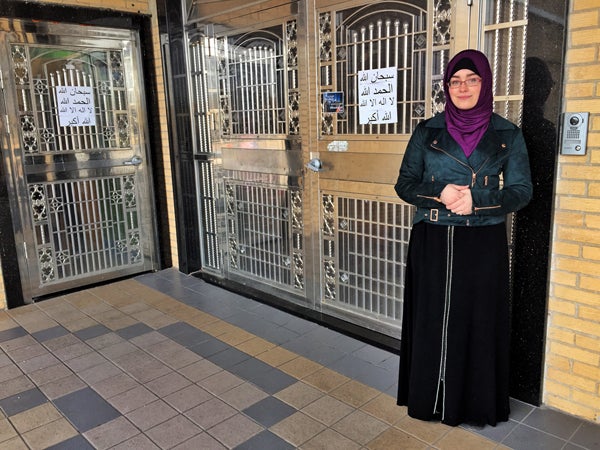 Candice Chieffo converted to Islam and began wearing a hijab about a year ago. (Dana DiFilippo/WHYY)
"They looked at me and then threw their food and drinks on my car," said Chieffo, 21, of Rhawnhurst. "They started cursing at me, saying: 'Oh, go home, you terrorist, go home, we don't want you here, you're not welcome in this country.'"
Such harassment is what drove a small army of city, police and clergy leaders to the Muslim American Society in North Philadelphia Friday to show solidarity with the Muslim community, one week after Trump ordered a temporary travel ban that critics have decried as an unconstitutional "Muslim ban" and that has prompted protests nationally.
"Sometimes I want to cry, and they're not fake tears and I don't have an acting coach," Mayor Kenney said, of Trump's recent actions affecting Muslims, immigrants and refugees.
The mayor — a longtime defender of the Muslim community — pointed at more than 100 Muslims who gathered for afternoon prayers and told them: "You are America. Hopefully, a generation from now this will be a bad memory… I am telling you: We will get through this."
City Councilwoman Maria Quinones Sanchez, police Capt. Mike Cram, and others also stood to voice support for the community.
"My parents were both refugees from the Holocaust. I know what it means when America's borders are closed," said Rabbi Mordechai Liebling, director of social justice programs at the Reconstructionist Rabbinical College. "Islamophobia is no different from anti-Semitism. It destroys democracy."
Jacob Bender, executive director of the Council for American-Islamic Relations' Philadelphia chapter, handed out Know Your Rights cards and urged anyone encountering harassment or hate attacks to contact them for help.
Chieffo, for one, deeply appreciated the sentiment.
"It's really beautiful, because you finally see people standing up for us and supporting us," she said. "I have hope that people will come through and come to their senses. It (harassment) has made me stronger in my own faith – now I wear the abaya, the traditional Muslim garb, all the time. Because I want to show people this is my faith; I'm not afraid of anything. And it's not something you should be afraid of either."
Anwaar Ahmad, 21, of Northeast Philadelphia, agreed: "This has always been a country for immigrants. I don't think (Trump) can really do anything. Most of us have citizenship. There's nothing that he can take from me that I'm really worried about."
WHYY is your source for fact-based, in-depth journalism and information. As a nonprofit organization, we rely on financial support from readers like you. Please give today.