A familiar Philly development dilemma hits Mount Airy
"The ritzier sections of Chestnut Hill and Mount Airy look pretty much the way they did 50 years ago…until now," writes the Philadelphia Inquirer's Inga Saffron.
With two completed mid-rise apartment buildings on Germantown Avenue and several more in development, Mount Airy's commercial district has benefited from new shops and a fresh supply of younger residents and millennial families. But the proud Northwest Philadelphia enclave "always thought of itself as a built-out place," Saffron writes, making the neighborhood wholly "unprepared for this onslaught of new development." Between 2000 and 2016 when the Westview Apartments opened, Germantown Avenue saw zero new buildings rise. So in contrast to people in fast-changing neighborhoods like Spruce Hill, most Mount Airy residents "hadn't given preservation much thought" Mt. Airy USA's Brad Copeland admitted.
Which means the beloved historic neighbrohood was late in the game of preservation, and the need to protect the neighborhood's "culturally and physically distinct" mixture of colonial, Victorian, art deco, and modernist commercial buildings.
It's not too late. The timing could just right, given the Philadelphia Planning Commission's draft of its Northwest District Plan is scheduled to be released June 18. Ian Hegarty, the city planner overseeing the Northwest plan,told Saffron that that the plan will "suggest ways to protect the buildings that give Mount Airy its distinctive character."
"'What differentiates Mount Airy from other places in Philadelphia that have experienced development pressure is that it's been a couple of generations since it made financial sense to do a teardown'"Hegarty said. What's worrisome, Saffron points out, is that developers are now proposing just that: teardowns to cram more homes into the same footprint.
Can Mount Airy avoid the same fate that Spruce Hill or Roxborough faced, "where fine Victorian homes and churches are being ruthlessly cut down for their large buildings lots"? Will it learn from Jewelers Row, that "it's easier to make zoning changes than to put historic protections in place"? Saffron hopes that the Northwest district plan helps neighbors prepare with these lessons in mind.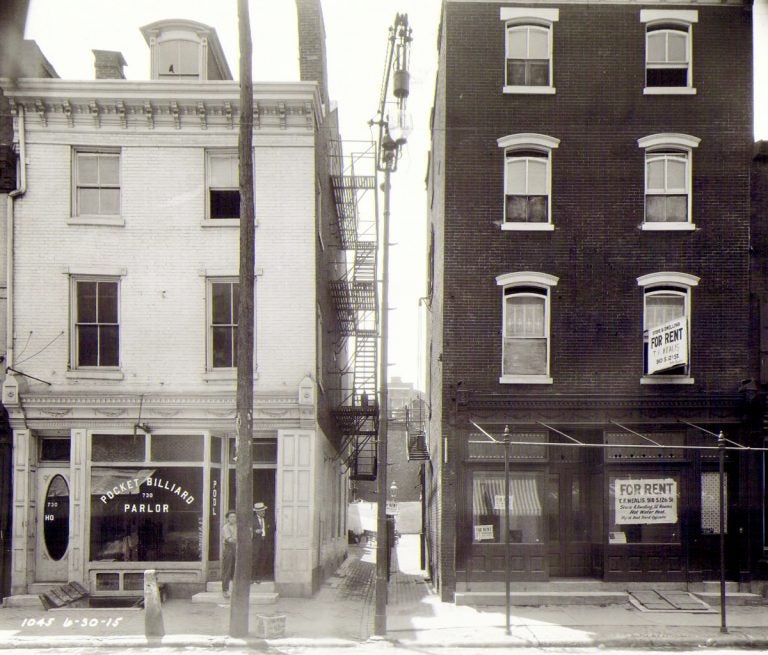 Local, living history lesson: The Tenderloin
Pop quiz with no wrong answer: What do you call the area north of Chinatown but south of North Philly? Spring Garden? Spring Arts? Chinatown North? Callowhill? By the Rail Park?…Eraserhood?
The neighborhood, once upon a time, had another name: "the Tenderloin." According to local historian Annie Anderson, the name "may have come from the cynical recognition that neighborhoods like this offered 'prime cuts' for everyone: sex, drugs, and gambling for the working class; graft and bribery for the police," WHYY's Jen Kinney writes. Kinney highlights two opportunities to get to know the history of the Tenderloin, a common moniker for vice districts and skid rows, with a talk at the Trestle Inn and a walking tour with Hidden City Philadelphia.
PSA: Annual Asian Heritage Festival goes from Chinatown to South Philly for the first time
Philly's 12th annual Asian Pacific American Heritage Month celebration takes place at Mifflin Square Park this year. The all-ages fest includes arts and crafts for the kids, a health fair with free services, and a nonstop lineup of live music and cultural performances—all completely free of charge. The festival makes a bold departure from its usual stomping grounds at Franklin Square Park in Chinatown (or the Tenderloin, depending on who you ask), where the free event coincided with the Chinese Lantern Festival (which remains open to the public during the day) in recent years. This year's Mifflin Square Park location emphasizes the geographic diversity of Philadelphia Asian American Pacific Islander community, highlighting a park that serves surrounding neighborhoods who speak more than 21 languages, including families of Southeast Asian refugees, Latino and African immigrants, and long-time black and white residents who don't have a lot of other options for green space in this part of South Philadelphia. Check out the event details here.

Love a good street festival as much as a festival in the park? WHYY's Jen Kinney also highlights three perfectly Philly street festivals to go to May 17 to 20.