This story originally appeared on PlanPhilly.
—
It is a miracle that Philadelphia works at all. The whole idea is implausible.
Before you can take something even as simple as a morning shower, a dozen different things must go right. The city's water-treatment plants pull from the Schuylkill and Delaware Rivers, clean the water of grime and germs, then pump it through a 3,200-mile maze of pipes that zigzag underneath the city. Service lines connected to the mains then draw the water into apartments and homes, where it's heated, thanks to gas and electrical networks just as massive and intricate as the water system, if not more so.
To take that shower, you need the water pumps to not fail, and the water pipes to not crack; the gas has to stay on, and the power lines to have to stay up. A single shower means a hundred things or more worked the way they were supposed to.
We expect that improbable string of successes to repeat itself, every day, for each of the city's 1,580,863 residents.
On Aug. 28, 2017, WHYY sent a team of reporters and photographers out to chronicle of just some of the myriad, routine affairs handled by local government and the 53,000 employees that work for the city, SEPTA, and other governmental agencies.
The weather was on the cool side for August. The skies were clear.
Crickets are chirping outside the Southwest Water Pollution Control Plant as Tony Davis monitors three different screens, keeping track of South Philly's water usage and the Delaware River's tidal flows.
Besides a steady buzz from the room's fluorescent lights, things have been quiet for Robert Moore, the operations crew chief working the overnight shift. It's still early, 5:32 in the morning. The night sky is just barely beginning to lighten. "As people wake up, and they start showering, washing — hopefully, they're washing, y'know what i'm saying? — and this flow is going to go up."
Once they wake, Philadelphians will send 325 million gallons of raw sewage to this plant and two others like it. That's enough wastewater to fill 492 Olympic-size swimming pools, and it's all lifted up into the treatment facilities by a set of simple open-air pumps.
Just outside the water-treatment plant, there's a monument to its raison d'etre: a small fountain shoots jets of sparkling clear water.
Before sunrise, 20th and Johnson streets
As dawn approaches, Zach Chapman grabs some paperwork inside SEPTA's Southern Depot and walks out into the yard, to the bus he'll be driving on Route 17. He is one of 368 bus operators about to drive out of the Southern Depot this morning. Chapman is a "morning guy" — he woke up at 4:30 a.m. to ensure he'd be on time for his run, which starts at 6:54 a.m. In a few weeks, he'll shift to an earlier schedule, a "nightliner," meaning he'll start getting up at 3 a.m.
The day starts with a safety inspection of the bus – making sure the air brakes and turn signals work, and checking for anything obviously out of the ordinary. Checklist in hand, Chapman circles his bus.
"What I do is go around and look for scratches, dents, marks on the bus, and then make the notation," he says. "That way, if I go out on the street, I won't get blamed for somebody's else mishaps, y'know?"
Chapman checks the air brakes and the turn signals, the stop lights, the doors, and the horn. All check out. "It's go time," he says, departing the depot right on schedule.
On an average weekday, SEPTA deploys 1,160 buses across its 111 routes, and all are inspected before they go out. Collectively, they pass 13,100 separate bus stops, making pickups and drop-offs at almost every one. Today, the transit authority sells 112,000 tokens, even as it is trying to wean riders off them. Only 4,199 Key cards were sold on Aug. 28, 2017, but 18,945 cards were reloaded.
The sun broke over the horizon at 6:25 a.m., chasing away the night sky's lingering darkness. It was one of those days when the moon remained visible long after dawn, a reminder of the celestial wonders still in motion, hidden behind the veil of the pale blue sky.
7 a.m., Juniata
Across town, Antoinette Simmons gets to work at the city Streets Department's Traffic Signal and Sign Shop at 7 sharp.
Over her 32 years there, Simmons guesses, she has made upwards of 100,000 street signs. Just about every street sign in the city is made here, even the temporary no-parking signs used for block parties and other events.
"There is something different all the time," says Simmons. "You have your street name signs, you have your stop signs, you have your one way, you have no parking anytime — there's always something for you to do, every day."
Philadelphia has a lot of signs: There are about 26,000 intersections, each with a minimum of four street signs per corner. Some intersections have double or even triple that. The Streets Department doesn't even try to keep track of the total number. When someone reports a sign missing or broken, it gets put on the work list. (If there's enough space on the sign – think streets with four letters or less in the name – a little Liberty Bell is added.)
In a room next door, temporary street closure signs are printed at a rate of 900 per hour. Every month, the shop makes between 10,000 and 15,000, says supervisor Shane Carmichael.
A Traffic Signal and Sign Shop employee works next to an assortment ready for use. (Branden Eastwood for WHYY)

A Traffic Signal and Sign Shop staffer works with lamp parts. (Branden Eastwood for WHYY)
Streets Department crews will pave three streets today, and mill and prep two more. Ninety-three potholes are filled, and 52 pavement ditches topped. Repair work continues on two bridges.
On Aug. 28, 2017, city employees use 20,185 computers running on five different operating systems, including Windows XP, which debuted in 2001. The Phila.gov website receives 29,991 visits, the average lasting 3 minutes, 55 seconds: 13,811 visits the Department of Revenue's real estate tax page, the most visited on the website; 3,319 go to the Department of Prisons' inmate-locator page, the fifth most visited. The city updates 37 publicly available datasets. The Revenue Department mails 39,840 letters, handles 63 investigations, and has three auditors out in the field.
Cyclists take 3,396 trips on Indego, the city's bike-share system. There are 71,495 sewer grates across Philadelphia; 21 have their covers replaced.
All normal for a typical Monday in August.
Just before 8 a.m., in Roxborough.
Daniel Simmons Jr. is preparing to leave the Sanitation Division's Northwest Transfer Station. He has his dream job; the same job his father had before him.
"I love it," says Simmons. "I wanted this job since I was kid."
Simmons drives a garbage truck.
"Where else you going to go, to just drive a truck all day and have fun? The hard part was throwing in the beginning, to get to the driving part."
He works with Domain Williams and Jason McNeil, who toss the garbage bags. Both wear long sleeves to keep the trash juice off their skin when they hurl leaky bags into the back of the truck.
The crew usually gets started on a route right around 7 a.m., but they're starting late today – a reporter is slowing them down. Sanitation pick-up crews like to get going early before the trash has time to stew for long in the summer sun. It's not just the smell: Hot bags are weaker bags, more likely to rip open and spill their festering contents across the asphalt.
Like Simmons, Williams likes his job. At least, most of the time. "As long as the weather is good, we're good," he said. "And if it's not good, we fight through it. Our goal is to get the trash out."
Today, the weather's good. It's cool for August, with a high of 77 degrees.
The city's larger trucks, like the one Simmons drives, make two trips in a day, filling up with 7.5 tons of trash each time. Across the city, sanitation crews will pick up 2,142 tons of trash today, and 358 tons of recycling.
Williams and McNeil look like the kind of guys who lift the equivalent of five Volkswagen Beetles a day, one garbage can at a time. "Good exercise, good cardio," Williams says as he tosses another bag into the back of Truck No. 165085, then pulls down a level to run the hopper, crushing the bag, which will soon be joined by hundreds more.
About 300 tons of trash picked up by this crew and others will go to the Northwest Transfer Station, dumped into an immense trench half a football field long. From there, tractor-trailers called packer trucks will back up next to the lengthy ditch to be filled with trash by massive cranes, like a filthy version of a boardwalk arcade game – only this crane manages to hold onto the four to six tons of trash it grabs in a single go.
It's oddly mesmerizing to watch the enormous claw grab bags of junk, old couches, and rusted hunks of metal, effortlessly pull them up from the pile, and drop them all into the press. Each trailer can hold about 19 tons, which are hauled to waste-energy plants outside the city to be converted into fuel and burned to produce electricity. Today, 806.65 tons of the city's garbage were disposed of this way, a normal amount for a weekday.
"It never stops," says James Bryant, who mans the crane. "This is all day. The first two trucks in, they start at 5 o'clock. When they get loaded, they go back out, get some more trash, take it back out, and then go back."
After six years on the job, Bryant says, he's gotten used to the smell.
Meanwhile, back in Juniata
At the traffic-signal shop, Nate Sherman hops in his work truck and makes his way to the corner of Kensington and East Sedgley avenues. On an average day, the city's fleet of trucks and cars will collectively burn 16,272 gallons of gasoline.
A traffic light was knocked down recently. Sherman's job is to put up a new one, a 20-foot C post sign, the kind of traffic signal pole that leans over into the intersection – 9 feet, exactly – to dangle the light close to the middle, like an old night watchman in the dark holding out a lantern.
"I love my job," Sherman says, "because I don't stay in one place."
The Streets and Traffic team works above and on the ground to repair a signal. (Branden Eastwood for WHYY)

The Streets and Traffic team works above and on the ground to repair a signal. (Branden Eastwood for WHYY)
"I've seen every intersection in the city, absolutely. North Philly, South Philly, Germantown, Northeast, I've been to all the intersections."
Good neighborhoods, bad neighborhoods — they've all seen traffic lights falter and cars crash into poles. It's Sherman's job to replace them. Today, 31 broken traffic lights are repaired; 85 streetlights are fixed, too. One hundred thirty-six light poles were knocked down the year prior, many by drivers who had too much to drink.
Sherman and his crew get to the intersection right at 8 a.m. Forty minutes later, the pole is up and it's time to test the signal. Electrician Joseph Kent calls out each color as he goes. "Red up! Green up! Amber! All good, all good."
A few minutes later, they're packed and gone. There are four more knockdowns to get to today.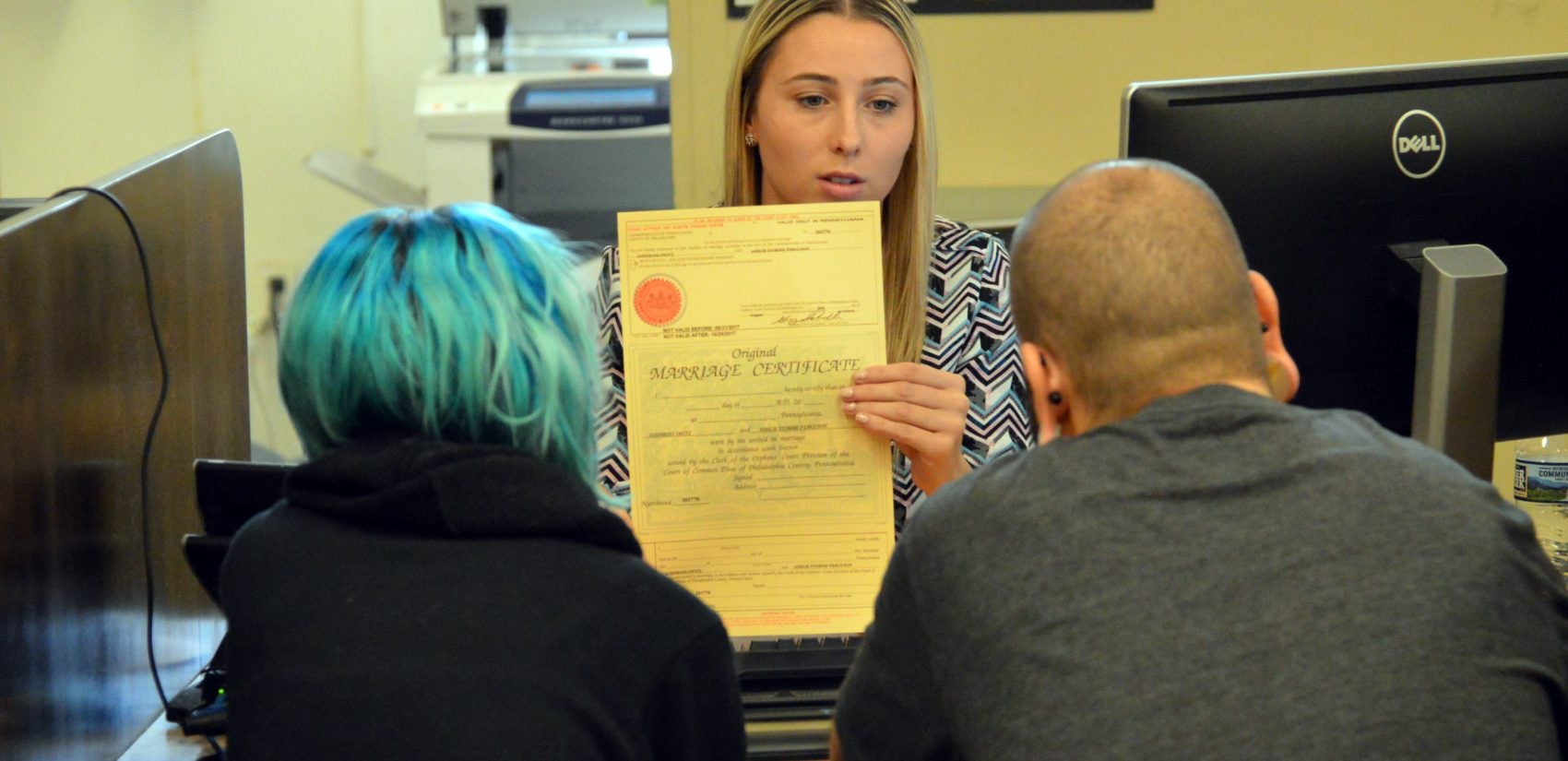 A little after 9 a.m., City Hall
The door swings open to the public, revealing an office adorned in red and pink hearts. Every day is Valentine's Day here, at the Register of Wills' Marriage License Office in City Hall.
Marriage-license clerk Lindsey Keenan helps couples navigate a bureaucratic hell of forms and fees, playing the role of Virgil to the Beatrices and Dantes of Philadelphia. Love may be boundless and everlasting, but marriage applications have rules and deadlines that can stymie even the most dedicated of couples.
"So, I don't even know half of how this is supposed to work," admits JohnRoss Switz, one-half of Keenan's first couple of the day. Switz and bride Ashley Ferguson made things official in May, after eight years together — but they but never got around to making things legally official.
"We're kind of late to the paperwork," says Switz.
"Yeah, we got married in Puerto Rico," adds Ferguson.
Where love is patient, the City of Philadelphia gives you 60 days to use a marriage license. And where love keeps no records of wrongs, the city issues fines: Keenan has Ferguson and Switz double-check everything, because fixes later would cost them $25.
Switz and Ferguson may not be the most traditional couple, but they're nowhere near the oddest Keenan has seen. "We've had a guy come in here with a doll, offer to pay us $700 to give him a marriage license. She had a wig on, a hat on, dressed up like she was a real person."
Most days, the office processes about 50 applications. Wednesday – three days before that most popular of wedding days, Saturday – is the busiest, and the office stays open late. Today, just 38 couples come in for licenses.
Others take a different kind of big step on this day – a few dozen of the 232,000 immigrants who call Philadelphia home.
At 9:44 a.m. on Aug. 28, 2017, on the first floor of the federal office building on Sixth Street, 54 of them are sworn in as U.S. citizens.
Mid-morning, on Market Street
The City of Philadelphia used to employ street sweepers — entire brigades of men armed with brooms and bags. But Philly's population declined over the years, sapping the city of tax revenues. The municipal budget exploded in the Seventies, and the federal government started to pull back support in the Eighties. The sweepers had to go.
Some street cleaning returned in the Nineties, but only in a few neighborhoods, like Center City, where businesses agreed to pick up the tab.
Formed in 1991, the Center City District now employs 125 street cleaners, guys like Taureus Lewis, who pushes a "green machine" armed with two heavy-duty, rotating brushes that grab whatever lies in its path.
Lewis gets up before dawn, 4:30 a.m. usually, to push this Zamboni-like-contraption up and down Market Street. Most days, he makes five loops between City Hall and Sixth Street. He's on his fourth round of the day, and in his 15th year on the job. His Apple watch says he's already burned 800 calories. On a normal day, he burns over 1,000.
That's a lot of litter to sweep. And no matter what, there's always more.
"In the mornings, it's terrible out here," he says. "It looks nothing like this – nothing… the sidewalks are just filled."
Between Lewis and the eight other green-machine operators, 720 garbage bags' worth of trash are picked up today. The pan-and-broom crews also sweep up a lot of litter, but they dump their collections into the city's garbage cans, so there's no estimate of just how much they glean.
Sometimes, Lewis says, people don't appreciate the work he does, how much garbage he and his coworkers pick up, the Sisyphean nature of their labor.
"In their minds, sometimes we're not doing anything, which is false. So, that's just basic," he says. "But you get your normal people out there who come out, and they thank you and stuff like that, which for me is more than a paycheck.
"I love it. When somebody comes by and says, 'Thank you for your work and what you do.' It's fulfilling. I love it."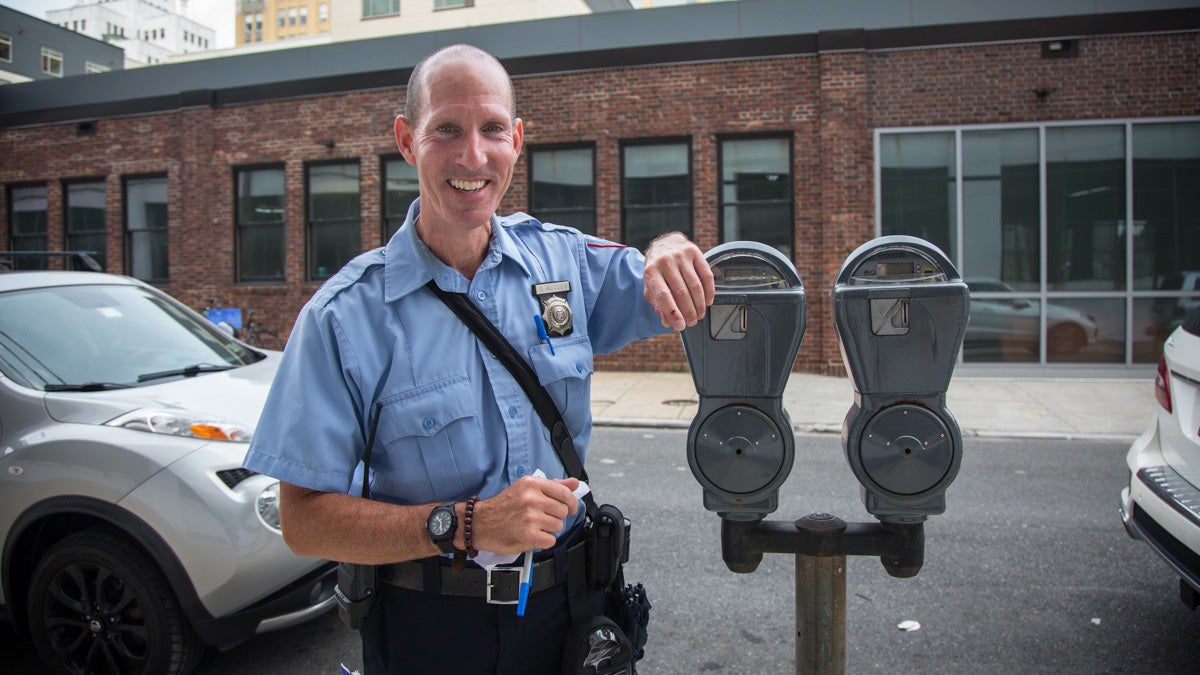 About noon, in North Philadelphia
Scott Rutizer also gets his steps in. He walks somewhere between 30 and 35 miles a day, "easily."
"That's why I'm so skinny," says the traffic-enforcement officer for the Philadelphia Parking Authority. "Look, you don't like the aspect [where] you gotta ticket people, but I just love the interacting with people, and I just love my job."
Walking down the 1100 block of Callowhill Street, Rutizer makes note of the time and which cars are parked. He'll be back in four hours, to issue tickets to any that are still here. PPA officers like Rutizer will issue 4,727 tickets on this Monday.
Just before noon, Daniel Walker of Saratoga Springs, N.Y., is waiting in line at the Parking Authority's impoundment lot in deep South Philly. In town for his friend's 30th birthday, Walker parked his car on Walnut Street the night before and woke to find it missing. The visit has cost him $175 and four hours more than he intended.
"I like Philly," Walker says. "It's just… you gotta watch where you park, y'know?"
On this day, the PPA tows another 97 cars to its impoundment lots. Its officers empty 164 parking kiosks and 3,218 single-space meters, collecting $56,263.57 in cash, and the Parking Authority takes in another $62,759 in credit-card payments. Officers also find four "slugs" in the meters – fake or invalid coins used to fool them. Throughout the city, the PPA monitors 1,000 parking kiosks and 8,938 single-space meters, zealously ticketing those parked cars that linger too long in a space.
Early afternoon, Broad Street and JFK Boulevard
In the heart of the Municipal Services Building, you'll find the city's "in-house Kinko's," as Gregg Buber, printing-service supervisor, describes the Central Duplication Office of the city's Records Department. The "Central Dupe," as everyone calls it, will pump out 28,300 copies today, everything from polling-place inspection cards (2,000) to the monthly newsletters of some of the city's 47 senior citizens centers.
That's a bit slow: The office typically makes closer to 50,000 impressions a day, and sometimes more than 80,000. But it's summer, and the week before Labor Day, so something like half the city government is on vacation, Buber explains.
At 12:43 p.m., things are slow on the ninth floor of the Municipal Services Building, too. "We only have seven right now," says Pat Murray, who issues block-party permits to city residents. "Usually, around 1 o'clock, they bombard us."
So far in 2017, the office has issued 4,855 block-party permits. Today, it will issue another 36. The office used to issue more, Murray says, before it went digital – closer to 8,000. But now, the police are more likely to revoke permits.
"If they just had a shooting on that Monday, and you [are] trying to have a block party on Wednesday, that same person might wind up coming back for whoever they [were] looking for, and that's why" the police pull the permits, says Murray. "I can understand that."
Joelle Miller doesn't expect any trouble for her Labor Day block party in West Philly. "We ain't having no liquor or beer," the "block spokesman," says as she invites a reporter to swing on by the festivities. "Just bring yourself. I got all the food."
Permit in hand, Miller thanks Murray, then turns to her supervisor and points back at Murray. "You got to give them more money," she says. "They need a raise."
Downstairs, in the lower-floor atrium, Craig Washington sits in line at 1:03 p.m., waiting to pick up construction permits. "This is my first time here," says the capital construction manager for University of the Sciences. "It's kind of like the DMV."
According to Daniel Rodriguez, customer-care manager for the Department of Licenses and Inspections, somewhere between 500 and 600 people will show up today to pick up permits or licenses in person. On Aug. 28, 2017, L&I employees will perform 654 inspections and issue 480 violations. The department will issue 104 business licenses, including 62 rental licenses, 18 large-food-establishment licenses, three motor-vehicle-repair licenses, and one bingo-operator license.
In another line, residents queue up to pay their taxes in person – 297 will pay that way today, adding $208,853.48 to the city treasury. Others will pay by mail or online, so the City of Philadelphia will gross $4,947,942.12 in taxes for the day. The Department of Revenue will issue 39,840 letters letting residents know what they owe, plus 2,945 delinquency notices.
On an average weekday, the Treasurer's Office will send out 1,274 checks to city employees, pensioners, and others owed money by the city. But today, not a one: they never print checks on Mondays.
Around 1 p.m., in Kensington
A little past 1 o'clock in the afternoon, a call comes over Kevin Carey's radio, one of 9,598 used by city employees. "Do you have a 30-18 there?" a dispatcher asks.
"Thirty-eighteen, that's the code for an overdose – heroin," says Carey, paramedic service chief for the Fire Department's Medic 8 unit, based in Kensington. He flips on his sirens and races to the scene. Medic 8 has already responded to six calls this morning, three of them overdoses. That's typical for a Monday morning.
An ambulance is already there when Carey arrives, but the patient has walked away.
"The dead who come back to life," Carey mutters, shaking his head. Police officers nearby responded to the call and gave the man Narcan – the nasal-spray opioid blocker used to treat overdoses. Once revived, the man left.
Most days, Carey's unit handles more overdoses than any other in the city. Today's no exception. Medic 8 will administer Narcan four times on Aug. 28; across the city, Fire Department responders will deploy the spray 15 times.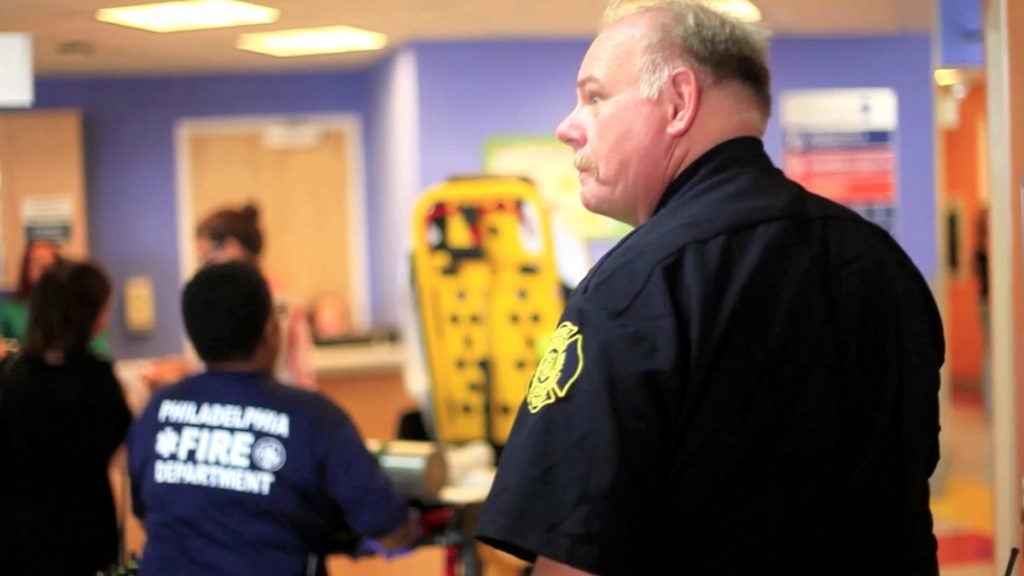 Philadelphia has long had a deadly relationship with heroin. The introduction of even stronger, synthetic opioids like fentanyl has only made things worse. An estimated 1,200 people overdosed in Philadelphia in 2017.
The Medical Examiner's Office will record six opioid-related, unintentional drug deaths today. Nothing out of the ordinary. It weighs on Carey.
"It's depressing," he says. "It means this whole branch of our society has simply lost hope with anything… It's sad."
Mid-afternoon, on Market Street
Mark Lasly sits before a wall of flat-screen monitors. It's 15:21, SEPTA time. Lasly and his colleagues have 1,465 cameras, each providing a live feed of station platforms and other areas. Add in about 20,000 cameras on SEPTA's buses and trains, and it's safe to say that whenever you're riding, somebody's watching you.
There are about a half-dozen staffers monitoring the live feeds at any given time. They tend to focus on the busiest stations, where there's greater potential for something to go wrong or the platform to get dangerously full. Tonight, the Phillies are playing at home, so the subway station near the ballpark will be a focus after nine innings are played. The Phils will beat the Braves, 6-1, a bright blip in an otherwise drab rebuilding year.
Over in North Philly, Emily Kehoe tramples through an overgrown back alley as a fierce-sounding dog locked up nearby barks like mad. Kehoe ignores the mutt and presses on, stepping over brambles and trash to a trap set the day before.
"There are leaves, buckets, tires, everything mosquitos like," says the mosquito surveillance and control technician for the city's Health Department. "I just saw this area yesterday, thought it'd be a good place for a trap, set one up, and we'll see if we caught anything."
She did – dozens upon dozens of Aedes albopictus mosquitoes, which like to breed in the small puddles that form inside old tires, discarded buckets, or broken bottles.
"It is an interesting job, that's for sure – like nothing I've had," says Kehoe, who has a master's degree in public health. "I'm crawling through alleys, looking in people's yards for standing water. I do get some strange looks, but once I explain that I'm here to help them get rid of mosquitos, they are fully on board… most of the time."
Kehoe is on the lookout for Zika, West Nile, and other nasty viruses spread by the bloodsucking bugs. Every day, the city readies itself for a dreadful tomorrow. Officials monitor the outbreaks of diseases and the predicted paths of distant hurricanes. If there is an emergency on this day, the city has 15,552 water bottles on hand, just in case. It's work that goes unnoticed. And everyone, including those who do it, hope that's the way things stay.
Later on, here and there
About once a month, Mayor Jim Kenney takes part of his day to meet with a group of school principals. It's late afternoon, in City Hall's Room 221.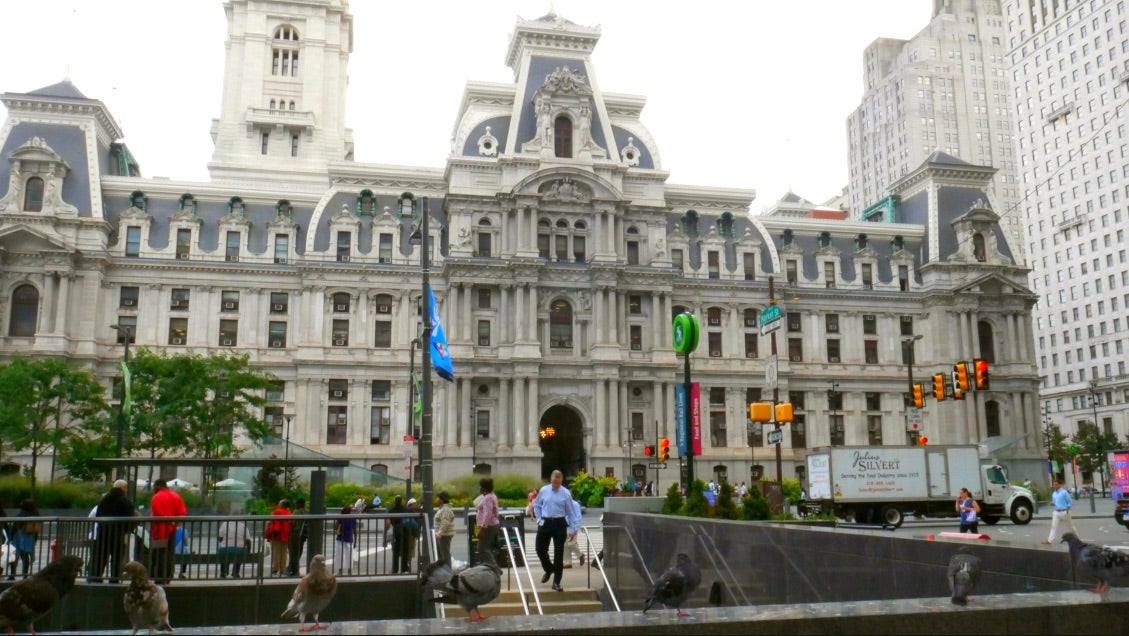 This is the mayor in his element. As outspoken as he is, Kenney hates the performance part of the job – the ribbon-cuttings, the groundbreakings, and other self-congratulatory photo ops most politicians love. Those are phony, and Jim Kenney is like Holden Caulfield, all grown up and made mayor. These meetings let Kenney stand in the bureaucratic rye and catch at least some of city's children.
The principals go around the room one by one, sharing some of the small but intractable problems afflicting their schools.
A South Philly principal tells the mayor how teens have turned her schoolyard into an outdoor BYOB, a place to drink away from parents' prying eyes. The police haven't been able to stop them – the kids sprint away in different directions once the cops show up.
Hearing that, Kenney makes a confession. "I recall doing that myself. It was Sharswood – you could go through, and if the police came through on the Ritner Street side, you ran out Wilson Street side," he admits. The room busts up in laughter.
The principal needs her school's fences fixed, and better lighting. Kenney directs an aide to put her in touch with a guy he knows, Frank, from the Department of Parks and Recreation. Parks and Rec has a lot of fencing material, Kenney explains, so Frank, he should be able to help.
This is the last of seven meetings on the mayor's schedule today. Before the principals, Kenney has a check-in with the Office of Transportation and Infrastructure Systems; a check-in with the Office of Education; a lunch meeting; a monthly meeting with the district attorney; a weekly meeting with Managing Director's Office leadership; and a briefing on Rebuild.
Though Kenney himself doesn't make any public appearances today, his communications staff is busy boosting his online presence: City-controlled Twitter accounts (there are 92) tweet 205 times, post to Facebook 75 times. In total, there are 213 social-media accounts controlled by the City of Philadelphia.
The mayor receives 13 emails from constituents this day. And despite all the electronic means of reaching him, Kenney also receives eight actual letters.
Around the same time the mayor is meeting with the principals, Engine 43 responds to a car on fire near 20th and Race streets. Using a 1 ¾-inch hose line, the firefighters put out the small engine blaze. The driver is fine. Her car is not — totaled.
Other than that, Engine 43 is having a relatively flame-free day: some reports of smoke and a few stuck elevators, but no fires. The engine company, plus the ladder and medic unit out of the same firehouse at 20th and Market, responds to 19 medical calls; the engine and Ladder 9 have eight fire runs. "It was a pretty typical day," says Capt. Drew Puliguise.
Across the city today, EMS units respond to 716 medical emergencies. The Fire Department has 122 fire calls. Only one is a structural fire.
Over at ACCT Philadelphia on West Hunting Park Avenue, Mana the cat is waiting for a new home.
Right after work, Kiera Fletcher picks up her son, heads for the shelter, and pays the $100 adoption fee.
"I want to teach my son responsibility," Fletcher says. And, with that, Mana becomes one of 13 felines adopted today.
No dogs are adopted, though.
After 6, in South Philly
At the East Passyunk Community Rec Center, Anthony Famiglietti watches over a half-dozen middle school kids he coaches in CYO basketball for St. Anthony of Padua. It's 6:09 p.m. and the sun is starting to fade, but there's an hour of sunlight left, and the sky will remain bright for another hour till after dusk.
This isn't a practice — just a shoot-around, open to anyone, not just the kids on the team. "Just playing around, having a good time; no whistles, no instructions," Famiglietti says. They do it every Monday.
Twelve-year-old Rocco's favorite player is Kyrie Irving, "because he plays like me," he says — not the other way around. Rocco demonstrates an in-and-out crossover. His friend Jacob's favorite player is LeBron James. But all the kids here say they Trust the Process.
East Passyunk Community is one of 156 city rec centers; there are another 266 playgrounds and 150 parks. On this Monday, 110 permits to use the fields spread across them all were issued, drawing an estimated 10,000 players and fans.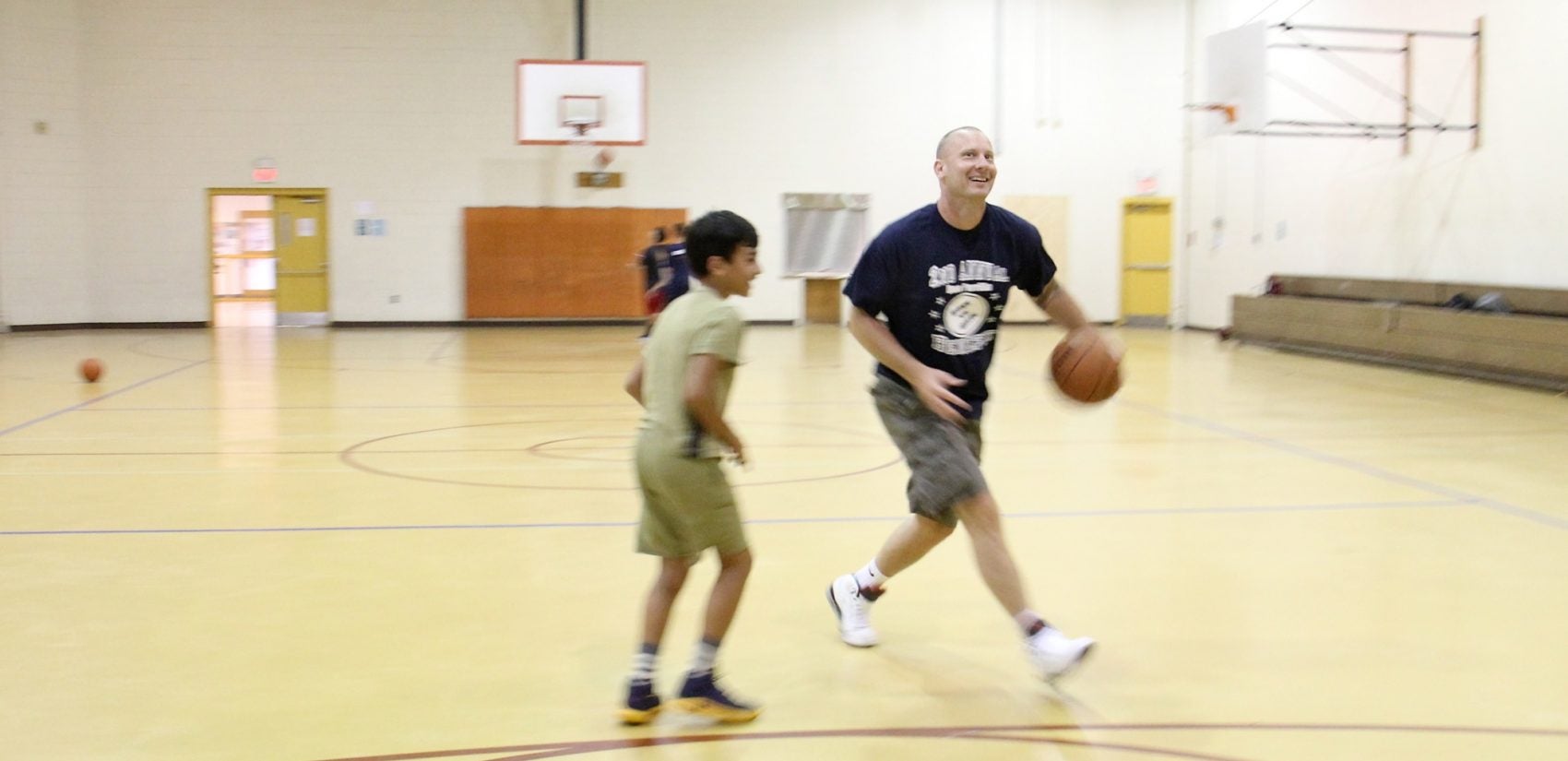 A few blocks away, on Broad Street, Renee Pokorny watches over a quietly bustling South Philadelphia Library. It's 6:50 p.m., almost an hour before closing time. An adult-education class is going on in the tech lab in the back. A few other patrons are using a bank of computers toward the front. Across the city, 2,585 residents log onto the computers at the libraries today. At least at this hour, there doesn't seem to be a single person just reading at this library branch.
Some children scamper about in a corner furnished in plush, low ottomans — the kind of kid-sized furniture that's fun to climb on. They're next to an original Maurice Sendak mural, relocated here from a friend's wall in New York by way of the Rosenbach Library.
On Aug. 28, 2017, 18,524 books (6,721 children's, 11,803 adult) are checked out at the 51 neighborhood libraries that are open — the city's three regional libraries are closed on Mondays.
Post-sunset, at Tasker Morris Station
A little past 8 p.m., the sun finally dips below the horizon. Below ground, the subway is lit fluorescently, as always. Only the slowdown of its circadian rhythms betrays the time: The turnstiles turn less often; the minutes between trains stretch out longer.
Just a handful of riders are still on their way home. Others are heading out to run errands or to meet dates, or visit friends. If it weren't for the roar of the trains, it would be almost silent, peaceful. Yet SEPTA Transit Police Officer Loyd Rodgers' head is still on a swivel. Though most on the trains look beat at the end of yet another Monday, Rodgers moves like an athlete moments after kickoff, energetic and focused. At 6 feet, 2 inches and all muscle, his jaw stern and his eyes alert, Rodgers projects a warning to would-be troublemakers far louder than the trains' dull roars: Don't even think about it.
On this patrol, no one does. It's a quiet night, the kind Rodgers prefers.
Every day, thousands of civil servants like Rodgers go out and do their jobs. And whether we know it or not, we depend on them. These are the men and women who work in concert to put on the daily symphony of the city, and most do so out of sight, as if from an orchestra pit. We notice the discordant notes — the thud from a pothole, or the rumble of brick falling off a school — and our boos quickly follow.
A harmonious performance rarely receives much applause. Yet day in and day out, the show goes on, and we take in the spectacle that is the City of Philadelphia.
Elana Gordon, Avi Wolfman-Arent, Tom MacDonald, Jennifer Lynn, Peter Crimmins, Jake Blumgart, Alan Yu, Emily Scott, Danielle Fox, Taylor Allen, and Maya Aphornsuvan contributed reporting to this article. Statistics were provided by the City of Philadelphia, the Philadelphia Parking Authority, ACCT Philly, SEPTA, U.S. Citizenship and Immigration Services, and the Center City District. Special thanks to the many public-information officers who helped make this story happen.
—
This project was inspired by a Philadelphia Inquirer article by Tom Ferrick called "From Dawn Until Dusk, a City Toils." In it, Ferrick said he set out to chronicle the routine activities of a city government on another routine day. That day was March 30, 1982.
WHYY is your source for fact-based, in-depth journalism and information. As a nonprofit organization, we rely on financial support from readers like you. Please give today.