9 rehabbed homes and a test of radical housing activism are coming to this block
Agency officials hope the new residents will occupy the homes by the end of the year — a fast timeline warranted by a growing affordability crisis compounded by the pandemic.
Listen
1:45
Shawn Hollis strolled down the 2900 block of Westmont Street in Strawberry Mansion like a proud tour guide, recalling the days of his youth on the cozy stretch where he grew up. The tall, husky, bearded 41-year-old, who also goes by Bigg Duke, then stopped to point out a vacant two-story, tan-colored brick house owned by the Philadelphia Housing Authority that he identified as his childhood home.
Hollis' parents raised him in the house with his three sisters, one of them his twin, he said. He slept in the basement of the two-bedroom home, while his parents and siblings occupied the bedrooms on the floors above, until he outgrew the space. He moved out in 1997, when he was 18.
"I feel like I learned a lot on this block, in that house," he said.
The rest of Hollis' family followed a few years later, he recounted, joining a slow exodus of neighbors from the tight-knit community, leaving empty houses behind. Now, the home of Hollis' youth stands along with 14 other PHA properties on the rowhouse block, all of them dormant and deteriorating for decades.
"Nobody lived in there before us, and nobody lived in there after us," he said.
Hollis' former home and eight other PHA houses on the block are now at the center of an agreement brokered earlier this month between housing authority officials and the OccupyPHA housing advocates who set up protest encampments recently cleared from Ridge Avenue and Benjamin Franklin Parkway.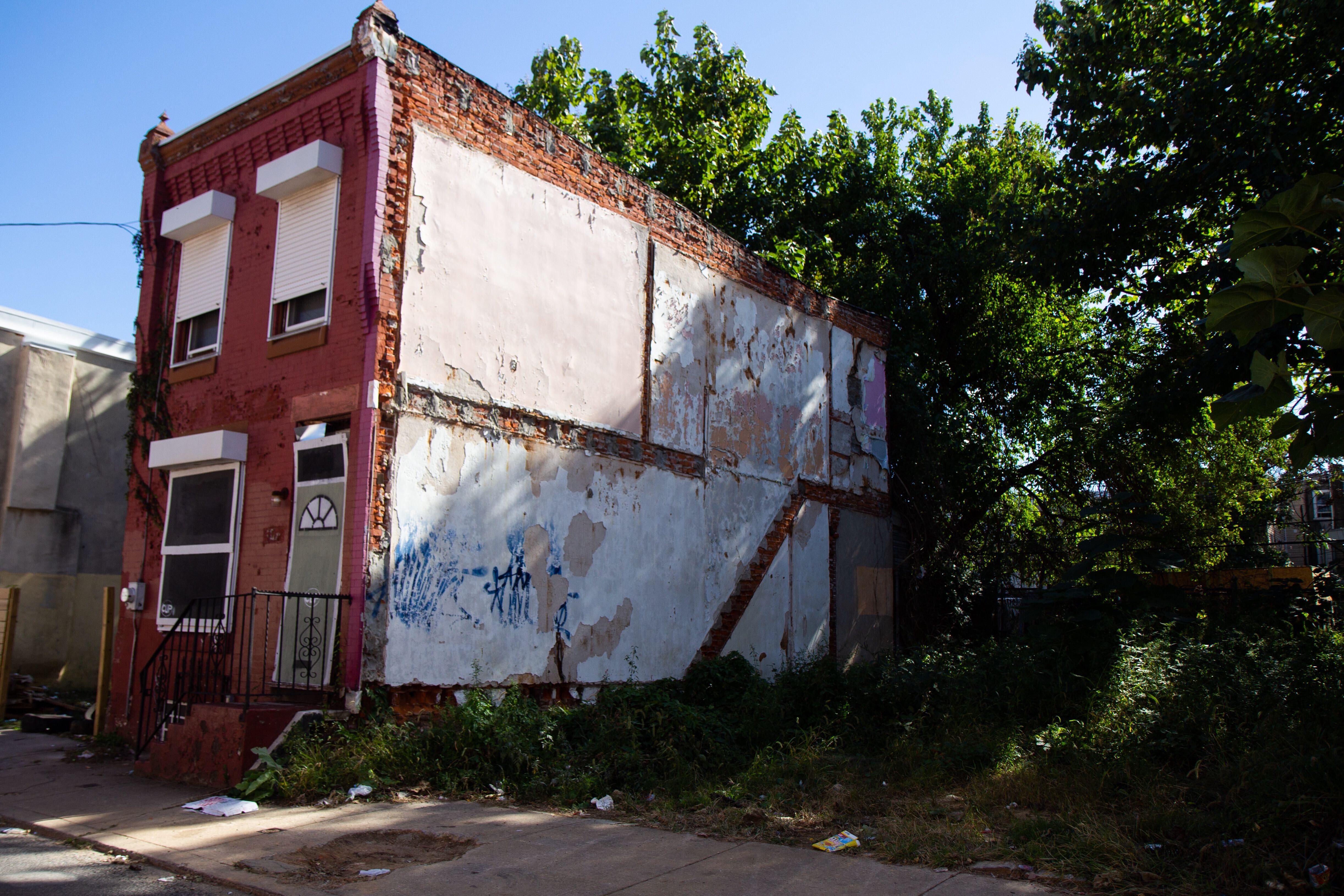 The homeless individuals, trained by the Building and Construction Trades Council, will rehab seven of the structures so people without housing can move in. Another two homes will go directly to the encampment organizers to rehab independently. Once all nine are fixed, they will be conveyed to a community land trust governed by a board and managed by the formerly homeless tenants. Agency officials hope the new residents will occupy the homes by the end of the year — a fast timeline warranted by a growing affordability crisis compounded by the coronavirus pandemic.
Kelvin Jeremiah, PHA president and CEO, estimates the two rehabs could cost the encampment organizers between $100,000 to over $250,000 per house — money they are expected to raise without PHA. The training from the program ought to give land trust managers a "running start," Jeremiah said.
"It gives them an opportunity to see what needs to be done for them to develop the requisite skill set to be able to manage it, to work on these units," he said. "But the rest is on them to develop and manage."
Jennifer Bennetch, leader of OccupyPHA, said the land trust will be run through a limited liability corporation called Philly CLT — an unusual arrangement, as community land trusts typically operate as nonprofits.
Philly CLT will be governed by a board of at least 11 people and maintained by the tenants themselves, Bennetch said. The group would operate the properties as affordable housing for at least 20 years, under the agreement with PHA.
While the arrangement is novel in many ways, it echoes a deal made in 1987, when housing activists took over 14 city-owned homes to protest homelessness and convinced then-Mayor Wilson Goode to fork over about 200 city-owned homes to a nonprofit called Dignity Housing that still exists today.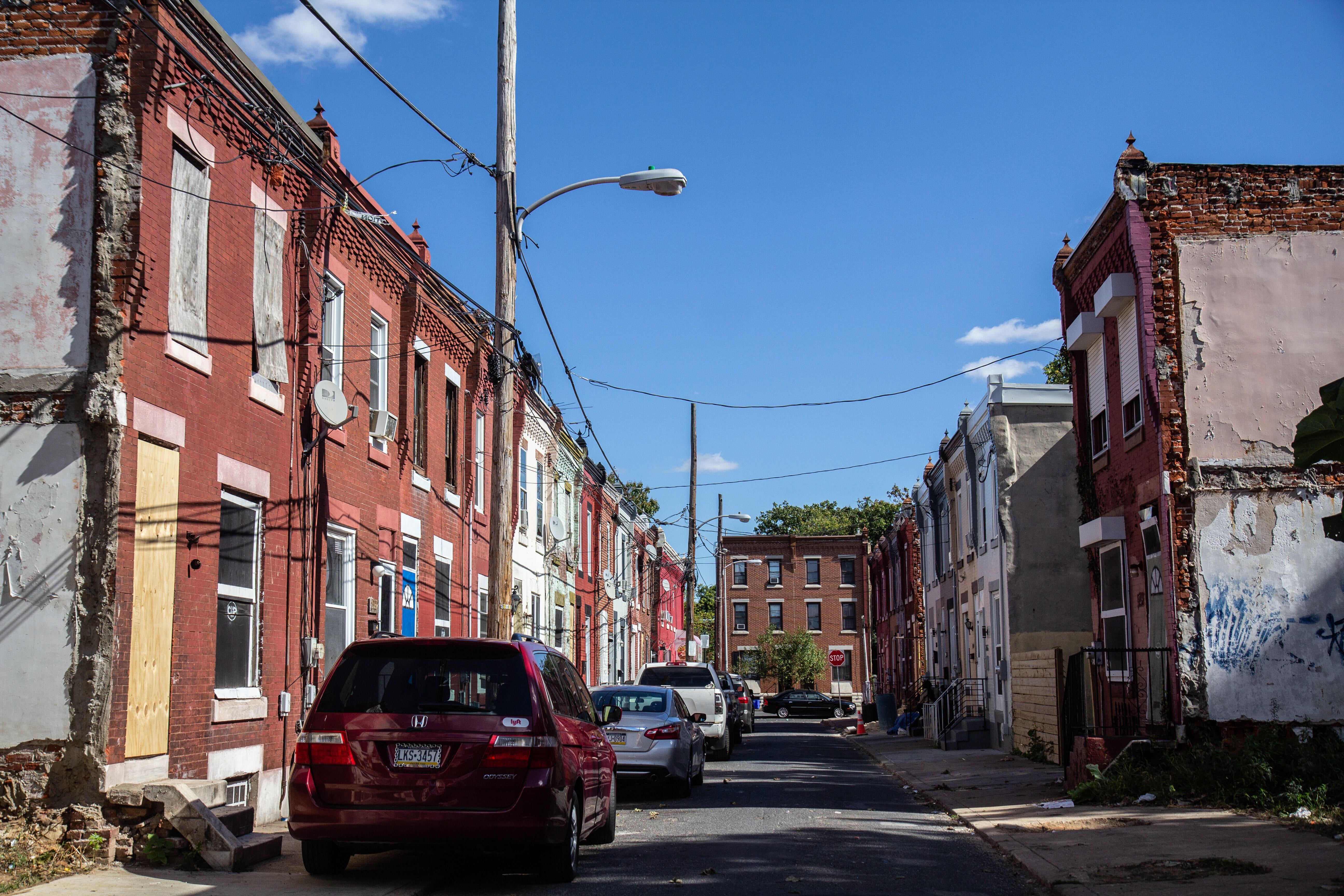 Ellen Jones has lived on Westmont Street for 35 years, she says, and used to work in homeless shelters as a field supervisor. Now retired, she welcomed the idea of new neighbors whose presence would result in fewer people sleeping on the streets.
"People become homeless for a lot of different reasons," said Jones. "If they clean the streets up and give people houses and people become responsible for the house, then I'm glad they're doing something."
Shaquana Artison is one of the former residents of Camp Teddy on Ridge Avenue who looks forward to a spot in one of the Westmont houses. The 26-year-old said she found the encampment after becoming homeless in 2017, when her mother died and she couldn't alone cover the cost of rent. She began moving around the city, sleeping at friend's homes, in shelters and on the streets. Then last December, she suffered a stroke that impaired her memory and made it difficult to stand for long periods of time. An affordable home of her own would be a fresh start.
"I didn't really see myself getting this far, especially with depression and everything that I go through and all that," Artison said. "[It] actually feels nice that I can do it in the right way."
350 vacant houses
The derelict houses on Westmont Street came under PHA stewardship at a time when Philadelphia was in a very different crisis. It was the late 1960s and early 1970s, and Philadelphia was losing residents and employers too, as middle-class whites fled to the suburbs and manufacturers began their own flight overseas. The housing authority bought at least a few of the homes through a federal program that gave $70 million to PHA to purchase 5,000 renovated vacant properties on scattered sites throughout the city, public records indicate. Due to poor stewardship and corruption, many of the scattered houses failed to see another worthwhile life cycle. Some even had to be demolished. Others stayed vacant because they were deemed too expensive to make habitable, Jeremiah said.
Some of these remain among the 350 uninhabitable PHA properties scattered throughout the city — eyesores for residents and wasted resources in a city confronting a dire shortage of affordable homes.
But on Westmont, the PHA homes have sat empty since the 1990s and 2000s, a time when the neighborhood was grappling with sinking home values and another exodus — this time, the Black flight Holllis recalls from his childhood.
The authority could not provide a reason why the homes were never reoccupied aside from limited capital funding for upkeep and repairs. Jones said the decades of vacancy created an opening for squatters and others who broke into the structures, sometimes doing drugs there.
Jeremiah and others at PHA acknowledge the toll such blight takes on communities. In recent years, the agency has been on a mission to rid itself of about 350 vacant properties it holds among its portfolio of more than 4,000 scattered sites, said Jeremiah. Since 2011, PHA has auctioned off more than 500 and used the proceeds to rehab about 1,800 others, the agency estimates.
Among those next to leave the agency's ownership: at least 25 properties promised to encampment organizers thanks to another agreement with leaders at Camp JTD on the Parkway.
During the summer, PHA agreed to a moratorium on its property sales until the completion of an independent study of the sales. Yet the moratorium doesn't mean the agency is stopping all work on getting property back in use. PHA recently launched the Community Choice Registration Program, which would allow nonprofits, community development corporations, and community land trusts to redevelop scattered site properties for affordable housing, community space, or economic development projects.
"Rather than just holding on to those units, our goal is to get rid of it from our portfolio and dispose of it," said Jeremiah. "So they can put it back into good use."
A spark for investment
Tonnetta Graham, a longtime community resident and president of the Strawberry Mansion Community Development Corporation, has fought against vacancy and blight for years.
Derelict properties tend to give an impression of neglect from neighbors and residents, which can contribute to crime including illegal dumping, she has seen.
Graham has worked with the city and her neighbors to paint the wooden panels over the doors and windows of the Westmont homes, to signal the properties are watched and cared for. But once actual doors and windows replace the boards, more resources to Strawberry Mansion ought to come, she said.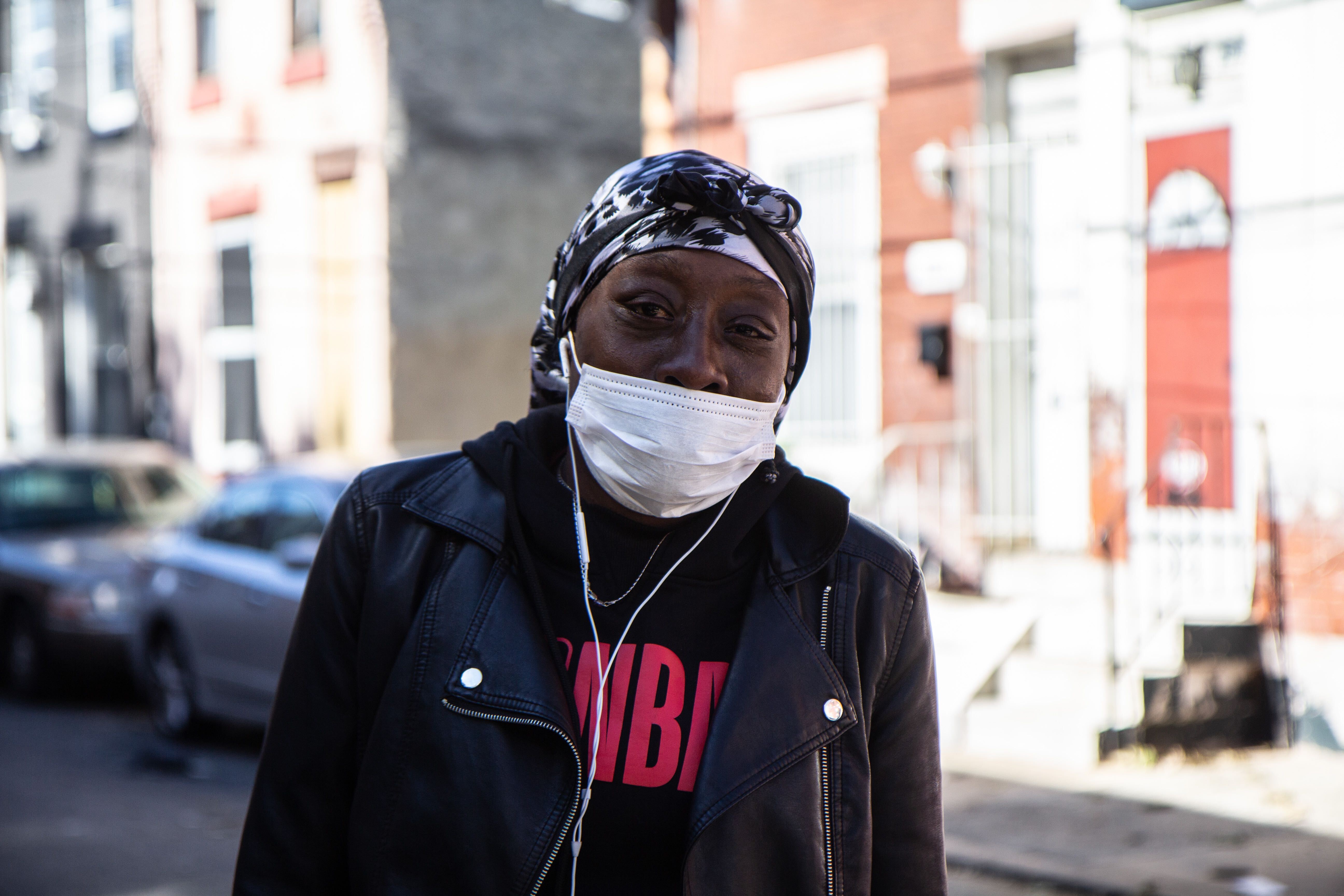 "Hopefully, this will kind of spark more investment in our community-based programs and community-based organizations, because these are people that are going to be provided services," said Graham.
In laying out the vision for the land trust, Bennetch also mentioned possible work programs for local youth and reserving board seats for longtime residents of Westmont Street, stressing the importance of respectfully integrating into the community.
"It's just as much about keeping the community strong and building community as it is about fighting homelessness and gentrification," Bennetch said. "It's just going to take time to build those relationships with people that just looked at us as the crazy protesters."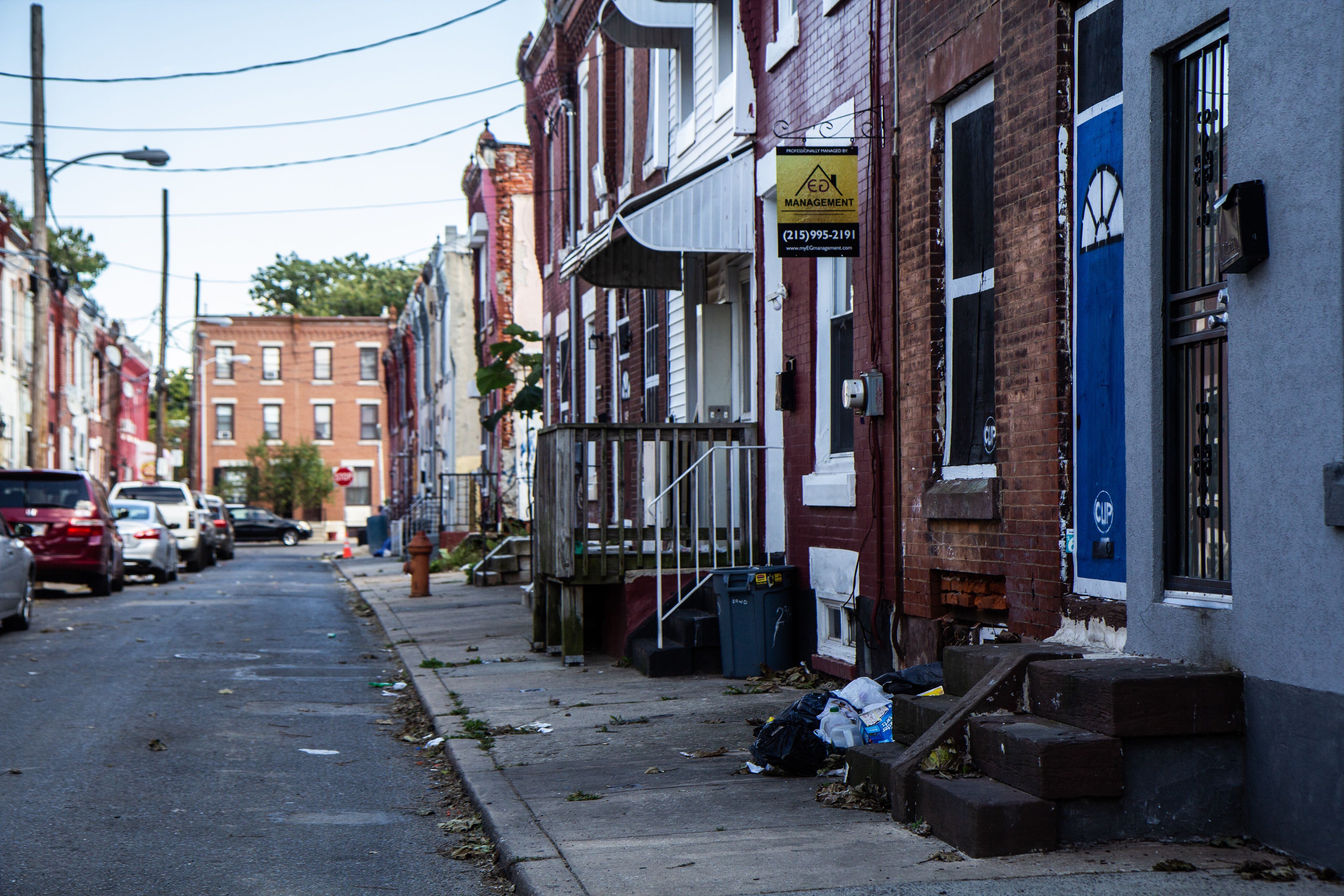 Hollis now lives in West Oak Lane, but that does not stop him from returning to Westmont Street "almost every day" to "get my mind together" or "reflect on how things used to be." Both Jones and Hollis have seen the street go from family-friendly to drug- and crime-infested, all while occupancy dropped. But with more attention from developers looking to cash in on low home values and proximity to Fairmount Park, Strawberry Mansion, and thus Westmont Street, is on the upswing. Home values, including Jones', have increased in recent years, despite the vacancies.
Should the land trust prove successful, in reactivating the vacant homes, low-income tenants will have the opportunity to partake in the rebound.
That's good news to Hollis.
"I'd rather somebody live in them so I can be able to tell them, 'Yeah, I used to live in that house,'" he said. "That's a nice story to tell somebody."

WHYY is one of over 20 news organizations producing Broke in Philly, a collaborative reporting project on solutions to poverty and the city's push towards economic justice. Follow us at @BrokeInPhilly.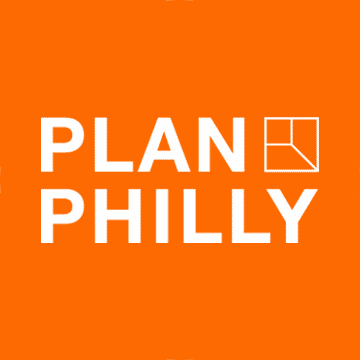 WHYY is your source for fact-based, in-depth journalism and information. As a nonprofit organization, we rely on financial support from readers like you. Please give today.