8th District police look for 7-Eleven robbery suspects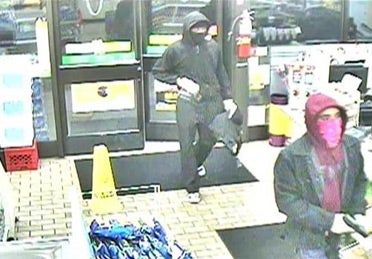 Two suspects are being sought for the May 18 robbery of the 7-Eleven at 9901 Frankford Ave.
They entered the store just after 4 a.m. carrying guns, and forced their way behind the counter. They fled in an unknown direction with $300 and a case of cigarettes.
Suspect No. 1 is a hispanic male between 21 and 23 years of age with a black jacket, jeans and gloves. He wore a red and white bandana over his face. Suspect No. 2 is a black male between 21 and 26 years of age with a thin build wearing jeans, gloves and black mask.
Anyone with information on these suspects' whereabouts can call the Philadelphia Police at 215-686-TIPS (8477), text a tip to PPD TIP (773847) or submit a tip online.