Miracle on Seventh Street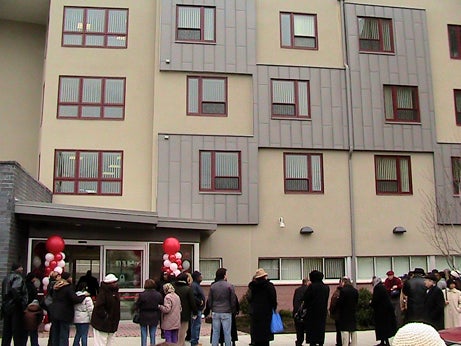 Jan. 10
By John Davidson
For PlanPhilly
The latest green-roofed, energy efficient, multi-story housing development in Northern Liberties isn't quite the high-end, multi-use commercial condo project typical in that section of the city.
Not quite, but almost.
It's a green-roofed, energy efficient, multi-story housing development for low-income seniors. Aesthetically, Mt. Tabor Senior Cyber Village fits right in with the growing number of new, "green" buildings going up in NoLibs, but the 55,094-square-foot, 56-unit development has a far different mission in the community.
Ten years ago, the eastern end of Girard Avenue around 7th Street wasn't exactly an up-and-coming area flush with new development. But back when the land adjacent to Mt. Tabor AME Church on the 900 block of 7th street was merely an empty lot in a struggling neighborhood, Mt. Tabor's Rev. Martha Lang wanted to create a facility that not only provided affordable housing to local seniors in need, but also helped create and foster community.
"Pastor Lang had a dream and a vision when she was a young girl growing up in Alabama, in Mobile, that she wanted to help seniors," says Rev. Mary Lou Moore of Mt. Tabor, who helped lead a service attended by more than 100 at the nearby church prior to Saturday's ribbon-cutting.
Myriad groups and agencies helped the church in its decade-long housing project, and many of them were represented at the service. "This dream started over ten years ago when, Ed Rendell was the Mayor of the City of Philadelphia and John Street was the President of City Council," said Rev. Moore.
The "Senior Cyber Village" attempts to live up to each aspect of its name, with a cyber café on the first floor, high-speed wireless Internet throughout the facility, and communal areas throughout—lounges, a fitness center, community events room and shared outdoor gardens and a 14,000-square-foot rooftop garden. Residents will also receive computer training and each unit comes with a laptop.
"Mt. Tabor Church asked us from the beginning of the project to really work on developing community—community in the neighborhood, community with the church, community for residents," said Brian Szymanik, an architect with DLR Group Becker Winston, which designed the building. "The biggest amenities for them were to include a large—and smaller scale—community spaces. There's a lounge on each floor, one will be a media center, a game room, a library, and there's a large community room on the first floor where the entire population of the building can gather."
The four-story building consists of two residential wings joined by common rooms and a lobby at the main entrance—a design meant to draw residents to shared spaces and foster interaction.
"We sought to tie the building back to the bigger community around us, and this is one point in the city where Poplar Street and Girard both sort of take off in different directions, so that's where the crack in the building developed," Szymanik said. "From there, we located the entry and all those community spaces in the hinge between the two residential wings and used that along with the window bays and façade to break down the scale and give a more residential feel to what is essentially a really big development."
Seventh Street Housing Inc., led by both reverends Lang and Moore as well as E. Larry Lang, is the owner of Mt. Tabor Senior Village. The project received assistance from Mt. Tabor Community Education and Economic Development Corporation, which plans to expand development on several nearby lots along 7th Street, including a garden to be planted in cooperation with a nearby charter school. Mt. Tabor CEED wants to establish a buddy program between students and resident seniors to further establish community in the development and throughout the neighborhood.
"It's exciting because this is the tip of the iceberg," Rev. Moore said. "This is the beginning of the miracle on Seventh Street."
Contact the reporter at jddavidson9@gmail.com
WHYY is your source for fact-based, in-depth journalism and information. As a nonprofit organization, we rely on financial support from readers like you. Please give today.