57 years ago today, the 'Ash Wednesday' nor'easter was lashing N.J.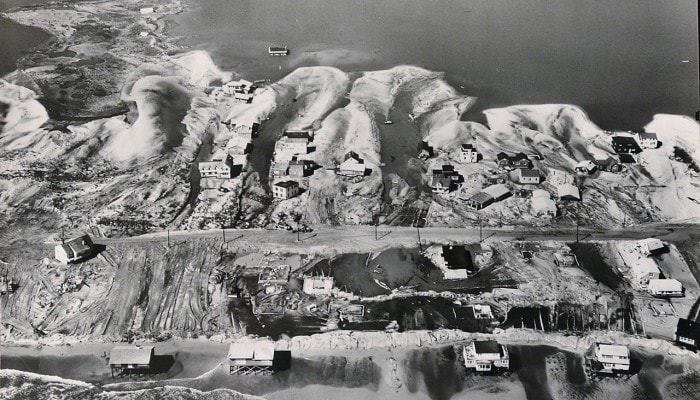 The Jersey Shore was in the grips of one of the most powerful storms to hit the state in recorded history 57 years ago today.
Dubbed the Ash Wednesday Storm of 1962, the nor'easter, classified as "extreme" by the Dolan-Davis scale, slowly moved through the mid-Atlantic region over the course of three days and five high tide cycles, killing 40 people and causing around $200 million in damage at tje time.
According to the National Weather Service, known at the time as the U.S. Weather Bureau, the storm destroyed or greatly damaged 45,000 homes in New Jersey.
Striking during a "spring tide" when the sun and moon are in phase, water levels were higher than average, and waves up to 40 feet high struck the coast, a National Weather Service storm summary notes.
An article in the May 1962 edition of the U.S. Weather Bureau's "Mariners Weather Log" noted that "[t]he erosive effect of wave and tidal action changed the face of the immediate coastline."
In New Jersey, the highest wind gust measured was 73 mph in Long Branch, falling just short of hurricane strength, but the greatest impact was the destruction along the coastline.
A massive storm surge over multiple high tide cycles lashed at the shore, causing multiple breaches in Long Beach Island that allowed the Atlantic Ocean to meet the Barnegat Bay. Eighty percent of structures in the area were damaged or destroyed.
With such severe destruction along portions of the Eastern seaboard, federal officials considered restoring the coast to its natural state. But the idea never gained traction despite fears that the real estate market would never recover.
In a 2000 Philadelphia Inquirer six-part series on the storm, Herbert Shapiro, a pioneering real estate developer on Long Beach Island, said he wondered if the island's housing market had disappeared.
Just months later, buyers had returned, looking for bargains, according to the article.