5 takeaways from Women's March on Philly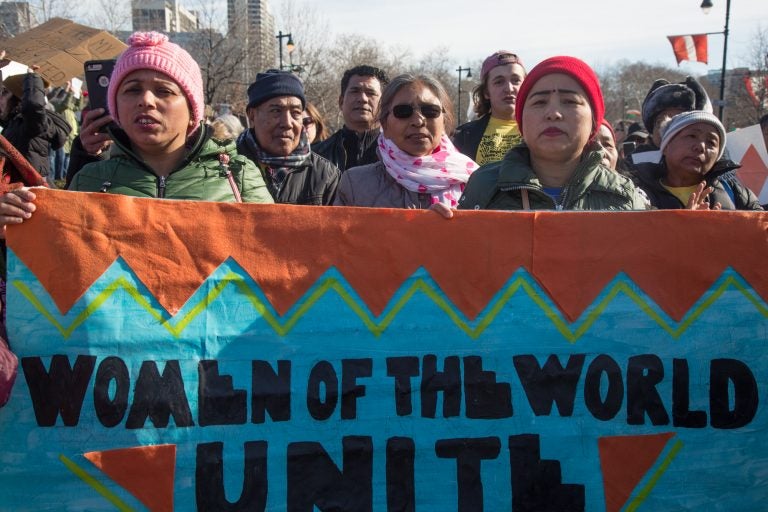 On Saturday, I participated in the second annual Women's March on Philadelphia. Just like last year, I attended alone, worked my way up to the stage area, and took notes on the speeches.
As before, the crowd of thousands was peaceful. I really could feel the powerful, positive energy in the crowd.
Listening to this year's speakers, I took away five themes, all of which are among the most pressing issues front and center in the news today. All five resonated with me, a self-employed mother of two.
1. Sexual harassment in the workplace will not be tolerated.
A representative for Philadelphia Mayor Jim Kenney noted that more than 50 percent of the top staffers in his administration are women. "We must endeavor to fight sexual harassment in the workplace," she said.
Rebecca Rhynhart, the first woman elected city controller, said to the crowd, "Philadelphia wanted a change. That is why I stand here today."
Rhynhart vowed to work for gender equality, "a diverse and inclusive society." She lauded the #metoo movement. "When we resist and persist, we rise."
2. U.S. relief to Puerto Rico and the Virgin Islands has stalled.
Philly radio personality Beatrice Caraballo delivered an impassioned speech on the plight of American citizens in Puerto Rico. Since Hurricane Maria hit Puerto Rico and the U.S. Virgin Islands, shortly after Hurricane Irma, an astonishing 1.5 million residents remain without electricity, are homeless, or are living in dilapidated structures. In the Virgin Islands, many still don't have drinkable water, power, or phone access. The death toll in Puerto Rico may be near 1,000.
"More people will continue to die, President Trump, unless you stop playing these games," Caraballo said.
3. Parenting today has greater challenges than ever.
March co-organizer Laura Arblaster, the daughter of a Cuban refugee, spoke as her 3-year-old daughter stood with her on stage. Arblaster is appalled by the way refugees in our country are treated. Specifically, she recalled her outrage a year ago when President Trump banned people from Muslim-majority countries from entering the United States.
She noted that parenting has changed over the past year in the age of social media. We feel we have to measure up to what we see other parents doing on social media. "We are expected to be perfect, and it's exhausting," she said. Pay inequality and a lack of paid maternity leave at most companies contribute to mothers' frustration and exhaustion.
4. Activism begins at any age.
Like last year, I observed many kids participating in the march, up and down the Benjamin Franklin Parkway, and on the sidelines. They seemed engaged and did not look like they were dragged there by their parents. I hope this is just the start of these young people speaking out for change.
Amy Gunzelman, a Spring Grove Area High School senior, serves as an opinion editor at the conservative school's student newspaper. Some of her articles have been burned in protest. Gunzelman has pushed the boundaries and not backed down.
The 17-year-old activist organized protests to remove Matt Jansen from her school district's board following his insensitive comments about minorities. Jansen stepped down from the school board in August.
5. More women are needed in political office.
State Rep. Madeleine Dean, D-Montgomery, described herself as an ordinary lawyer and La Salle teacher who woke up in her 50s and decided to run for office. In 2011, she was asked to run for township commissioner; then she ran for Josh Shapiro's seat and won. But just 19 percent of the Pennsylvania's state representatives are women, she said.
She said she's hopeful that this will change as more women fight back against intolerance. I, too, think this will change as I read about more and more women who are convinced that now is the time to get involved and have an impact on policies.
These themes are the right places for the women's movement to focus. The march made me think about how I can get involved in peacefully working for change. I hope that this event will continue every year, as more citizens realize we have to work together to fight injustice.
—
Since 2001, Erin Jay has been a writer and publicist for authors and small businesses in all types of industries. Most recently, Erin wrote for Care.com and CityWide Stories. Erin lives in the Hawthorne area of the city with her husband, two children, and two cats.
WHYY is your source for fact-based, in-depth journalism and information. As a nonprofit organization, we rely on financial support from readers like you. Please give today.