40th and Pine appeals begin | Amoroso's may move | Brooklynization on Frankford | Mt. Airy's cheery rain barrels | Mormon temple update | soda tax retry | Bourdain bonanza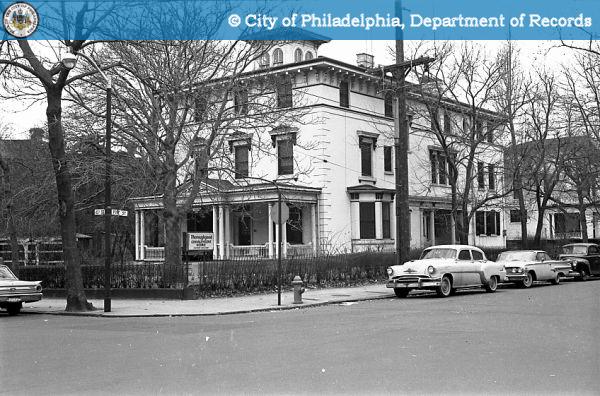 On Tuesday the L&I Review Board started hearings to appeal the Historical Commission's hardship decision which eneables the demolition of a Penn-owned Italianate mansion at 40th and Pine. PlanPhilly's Jared Brey reports that the hearing stopped abruptly as lawyers were debating whether the coalition of neighbors appealing the hardship decision has legal standing. Once that is established it's on to the facts of the hardship case. No word yet on when the hearing will continue.
Philly Deals is hearing from workers that Amoroso's is thinking about leaving its bakery in West Philly for the friendly confines of Camden County. This rumor comes as the bakery workers' union is negotiating a new contract for 150 workers at the facility on South 55th in Angora.
Naked Philly reports that Frankford Avenue is getting Brooklynier by the day, as Brooklyn-based barbeque joint Fette Sau has been recruited by Stephen Starr to set up a Frankford Avenue outpost next to Frankford Hall.
NewsWorks went hunting for Mt. Airy's 12 cheery new rain barrels installed at Germantown Avenue businesses, custom painted by the Mt. Airy Art Garage. Mt. Airy BID got 20 rain barrels from the Water Department to help capture stormwater runoff for use watering Avenue plants and hanging baskets.
Construction at the new Mormon temple at 17th and Vine was expected to begin by now, but excavation will likely begin in the fall. The Inquirer reports that design work isn't quite finished yet, all of the permits aren't in hand, and a contractor has not been selected for excavation and site prep.
The soda tax isn't dead yet, reports the Daily News. Mayor Nutter is still interested in passing that tax – will three tries bring him luck? In early 2012 Big Soda was the biggest reported spender on local lobbying.
In other food news, chef Anthony Bourdain is in town this week shooting an episode of his Travel Channel show The Layover. Before taking in the Muter, Barnes, Amis and Dirty Franks, Bourdain explored the Italian Market and liked what he found – from stinky cheese to celebrity chef street art. Sounds like a good day. Thanks for visiting, Tony.
The Buzz is Eyes on the Street's morning news digest. Have a tip? Send it along.
WHYY is your source for fact-based, in-depth journalism and information. As a nonprofit organization, we rely on financial support from readers like you. Please give today.