Philly wins two "great places" awards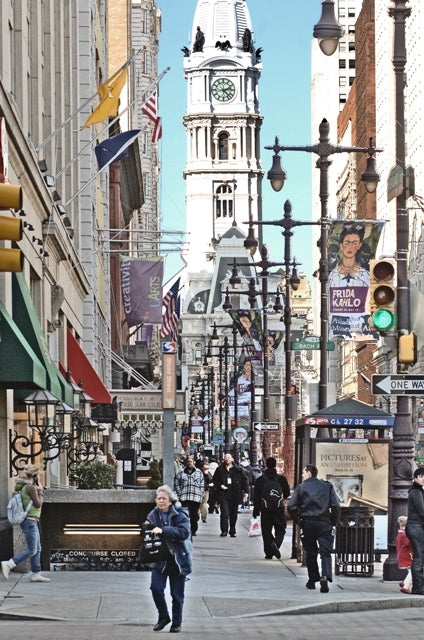 Credit for all photos:
Dick Gouldey, City of Philadelphia Department of Records

Oct. 8
By Thomas J. Walsh
For PlanPhilly

The American Planning Association has awarded the city of Philadelphia two honorary designations in its 2008 "Great Places in America" program.
Gary Jastrzab, acting executive director of the Philadelphia City Planning Commission, announced the awards at the commencement of the monthly meeting of the city's Zoning Code Commission early Wednesday morning.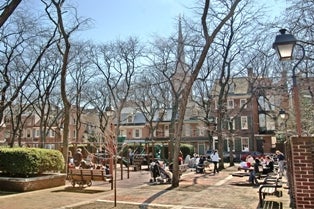 Three Bears Park
In the "Great Neighborhoods" category, Society Hill was a winner, and South Broad Street's Avenue of the Arts took a "Great Streets" award. Both were among 10 national recipients in each category, but Philadelphia was the only city to garner more than one prize, Jastrzab said.
"APA Great Places exemplify exceptional character and highlight the role planners and planning play in creating communities of lasting value," the organization said in a statement. The program recognizes unique characteristics in cities' streets, neighborhoods and public spaces.
Headhouse Square Shambles
The 325-year-old Society Hill neighborhood, named in honor of the Free Society of Traders, chartered in 1682 by William Penn, "provides a stimulating confluence of varying architectural styles, mixed uses, and social diversity in a downtown urban setting."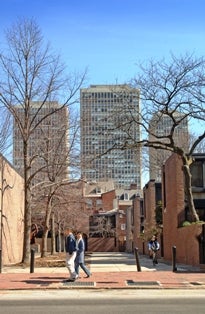 Bingham Court and Towers
"The award was a general recognition of both the historical character and planning and redevelopment history of this area," Jastrzab told PlanPhilly. "I don't think anyone would deny that this is one of the nation's great neighborhoods."
The APA also cited the city's Redevelopment Authority and Historical Commission, working in concert with the Society Hill Civic Association over the years, to enact a large-scale and "innovative revitalization plan" led by the late Ed Bacon during the 1950s and '60s.
The eight blocks of South Broad Street from City Hall to South Street, transformed during the past decade into the Avenue of the Arts, made the APA's "Great Streets" honor roll for "its historical character, focus on the arts, social vibrancy, and public and private redevelopment efforts." First developed in 1681, South Broad is one of the oldest planned streets in the country.
Kimmel Center
Historically a center of commerce and banking, "recent community action, private investment and over $100 million in public funds have turned the street into a center for arts and commerce," noted Paul Farmer, the APA's executive director, in a statement.
"The Avenue of the Arts has an established planning record and history of government, cultural institutions, and businesses working together to accomplish common goals," said Jastrzab. "Of course, South Broad starts with "good bones," but has also had high-level support from city and state government."
He added that the original South Broad Street vision from the late 1990s clearly identified implementation goals, and the plan won a national APA award for implementation several years ago.
The $100 million of public funds invested in South Broad's redevelopment has attracted an estimated $1.1 billion or more in private investment, officials say. That has allowed for streetscape improvements that complement the boulevard's 37 (and counting) performing arts venues, including the Kimmel Regional Performing Arts Center, the Merriam and Wilma theaters and the Suzanne Roberts Theater, along with new restaurants, shops and hundreds of new residents living in converted apartments and condominiums.
Best of the Rest
The nine other APA 2008 Great Neighborhoods are: Echo Park (Los Angeles); Greater Park Hill (Denver) ; North End (Boise, Idaho) ; Old Town Wichita (Wichita, Kan.); Downtown Salem (Salem, Mass.); Charles Village (Baltimore); Greater University Hill (Syracuse, N.Y.); Village of Mariemont (Mariemont, Ohio); and Downtown Sheridan (Sheridan, Wyo.).
The nine other APA 2008 Great Streets are: Mill Avenue in Tempe, Ariz.; Seventh Avenue in Tampa, Fla.; West Main Street in Louisville, Ky.; Commercial Street in Portland, Maine; Washington Street in Boston; Main Street in Annapolis, Md.; Summit Avenue in St. Paul, Minn.; South El Paso in El Paso, Texas; and Clarendon & Wilson Boulevards in Arlington, Va.
A third category, Great Public Spaces, was defined as "a gathering spot or part of a neighborhood, downtown, special district, waterfront or other area within the public realm that helps promote social interaction and a sense of community." The winners: Manhattan's Central Park; the Church Street Marketplace in Burlington, Vermont; Mellon Square in Pittsburgh; Pioneer Courthouse Square in Portland, Ore.; Santa Monica Beach in southern California; Union Station in Washington, D.C.; Waterfront Park in Charleston, S.C.; Waterplace Park in Providence, R.I.; Cleveland's West Side Market; and the Yavapai County Courthouse Plaza in Prescott, Ariz.
This year's Great Places are being celebrated as a part of the APA's designation of October as National Community Planning Month, "designed to recognize and celebrate the many residents, leaders, officials, and professionals who contribute to making great communities."
Contact the reporter at tom@thomasjwalsh.info.
ON THE WEB:
American Planning Association, and its professional institute, the American Institute of Certified Planners: at www.planning.org
National Community Planning Month information: www.planning.org/ncpm
APA's Society Hill page: http://www.planning.org/greatplaces/neighborhoods/2008/societyhill.htm
APA's South Broad Street page: http://www.planning.org/greatplaces/streets/2008/southbroadstreet.htm
.
WHYY is your source for fact-based, in-depth journalism and information. As a nonprofit organization, we rely on financial support from readers like you. Please give today.