3D artist Stephanie Boateng's new exhibit features vibrant painted portraits of happy Black women
"Smile" is an exhibition of three-dimensional, larger-than-life artwork featured at Delaware Contemporary in Wilmington, Delaware.
Listen
4:57
"Smile" is an exhibition of three-dimensional, larger-than-life artwork featured at Delaware Contemporary in Wilmington, Delaware. The oversized canvases feature vibrantly painted portraits of happy Black women with diverse features and elements. Stephanie Boateng uses color and texture to bring the women to life, showcasing unique facial features, headpieces, and the diversity of hues of the fictional subjects of her artwork.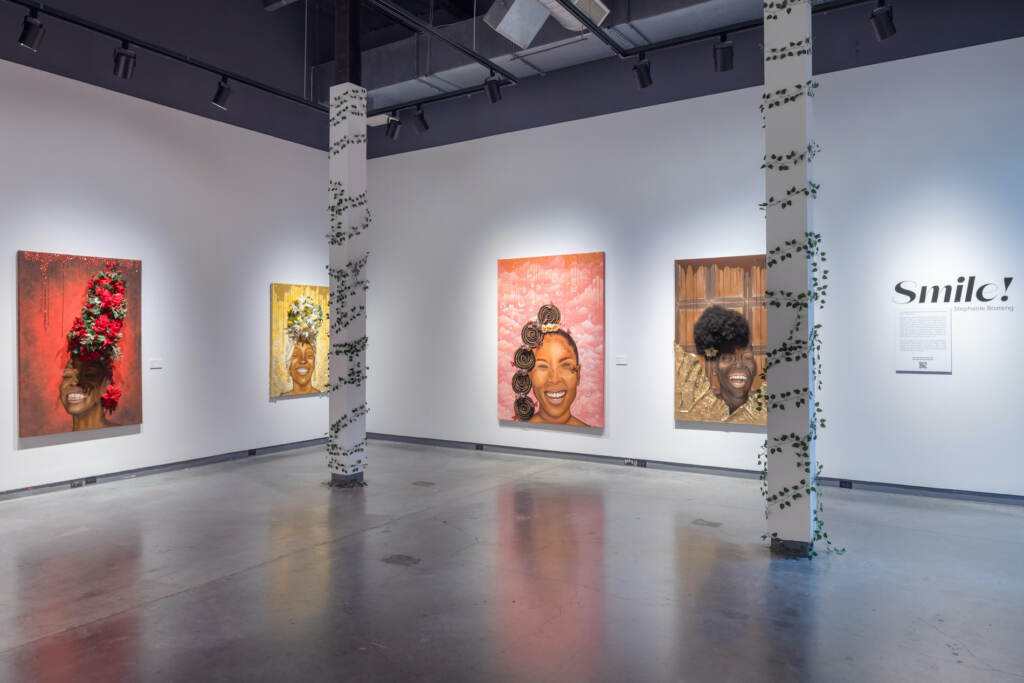 "I really wanted just a room full of beautiful, bright smiles," says Boateng, Artist in Residence at Delaware Contemporary, "and they're not perfect smiles, they have gapped teeth, some crooked teeth here and there, a gold tooth."
Boateng, 23, is the artist behind the vibrant face portraits, which she created over the past year. She spoke with WHYY host Cherri Gregg about her inspiration and journey into portraiture that began while she was in high school. The Williamstown, New Jersey native, born of Ghanaian immigrant parents took an art class as a sophomore and the love exploded.
"I took this one intro to art class because I've always really been into art, not so much painting because I really didn't have the resources to paint as much," she says, "and my teacher says you're really good at this."
Boateng says the rave review came after she took a project that required that she create a single, monochromatic portrait, and created four portraits of famous people on a three-foot by three-foot canvas. The project went so well that she ended up in AP Art the following year.
"That's where I really focused on learning more about portraiture and colors and really just finding where I fit in the portrait painting scene," she says.
Inspired by other artists on Instagram and Pinterest, Boateng began experimenting with three-dimensional elements like flowers and other items. Pretty soon, her portraits included bubbles, aluminum cans, plastic lemons, and other elaborate items she'd created.
"A lot of inspirations come from things I see, what other artists do, other crafters," she says.
Boateng went on to the University of Delaware. She secured an Emerging Artist Fellowship grant from the Delaware Division of the Arts. Her work is being featured across the state. In 2021, after graduating from college, she also earned a residency at the Delaware Contemporary, which provided her studio space perfect for her larger-than-life visions.
For the past few years, Boateng has also run her own company, selling her artwork online while taking commissions for portraits. She says she has a vision of taking her art much further. For now, with "Smile", she hopes to bring joy.
"There's a lot of crazy stuff going on right now," she says, "I just want people to appreciate the little things in life- like our smiles and to maybe smile for someone else too."
"Smile" is available for viewing at Delaware Contemporary through August 23.
WHYY is your source for fact-based, in-depth journalism and information. As a nonprofit organization, we rely on financial support from readers like you. Please give today.