Greenberger good fit for design crowds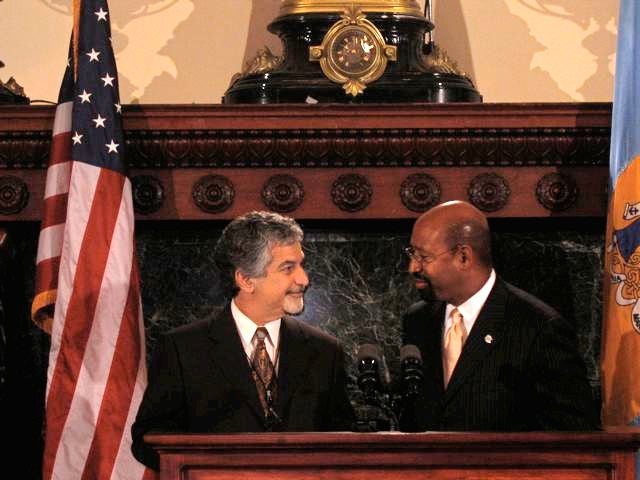 Aug. 15
By Thomas J. Walsh
For PlanPhilly
Mayor Michael Nutter formally introduced Alan Greenberger, a principle of MGA Partners and a longtime architecture professor at Drexel and Penn Universities, as the next executive director for the Philadelphia City Planning Commission. The Mayor's Reception Room at City Hall was overflowing with a crowd of 200 or more.
"This is an architect who throughout his work has shown an enormous interest in the full range of design scales, from the fittings out of an individual room to the design of cities," said David Brownlee, a well-known professor of architecture, city and regional planning and historic preservation at the University of Pennsylvania. "I do think we are living in a time when the integration of all design is a real part of most architects' lives.
"On top of that, it's also important that he comes from an excellent architectural firm," Brownlee said. "This is someone for whom the quality of design is highly important, and the approach to city planning that comes with that is an approach that I very much welcome.
"Economics and demographic indicators and political structures are terribly important, but at the end of the day, what people will remember as they walk around the city with their eyes open, is what it looks like."
"There's no way I'd be doing it without the mayor – it's his agenda," Greenberger told PlanPhilly early Thursday evening. "I wouldn't be leaving private practice if not for this."
That was a sentiment he repeated Friday morning. Greenberger said things came together pretty quickly, over the summer months. "I'm on the Commission and I'm aware that the mayor has mapped out a huge agenda for this commission. I thought about it, and I figured I was the right person for the job."
In fact, Greenberger was working closely with Deputy Mayor for Planning and Commerce, Andrew Altman, to undertake a national search for the next executive director. Greenberger thanked Nutter for not making the obvious joke equating him to Vice President Dick Cheney.
Altman was joined by the city's Managing Director, Camille Cates-Barnett, behind the podium.
"I don't think this is just the regular change of administrations in Philadelphia," Greenberger said. "This is really one of those once in a generation moments. When I saw the depth of commitment the mayor had to this, I thought I had to do this. This is a way to help change the way the city is going, in a really profound direction. This is a once in a lifetime opportunity," he said.
Greenberger said that the mayor's declaration, soon after his inauguration, that the Planning Commission would be developers' first stop was being realized. Nutter re-emphasized that, and said that all developers, no matter how long they have worked under various systems, would see the opportunity and sense of a straightforward and consistent process.
"The planning community throughout the world loves Philadelphia, but to be frank, they love it more for what it was than for what it is," Brownlee said. "They're often jealous of the richness, of the raw material that we have, and they're glad we are now taking advantage of it."
"I'm thrilled," said Andy Toy of the Logan Square Neighborhood Association, who has worked with Greenberger on the city's Design Advocacy Group. "I think he brings a huge amount of experience, an eye for design, and a pragmatism that is really important in that position. He knows a lot of folks in Philadelphia and he's not afraid to say what he thinks as well."
Greenberger is currently the vice chairman of the newly empowered commission, under chairman Altman. He is expected to leave his position at MGA to be the fulltime boss at the large PCPC staff.
Greenberger, a Brooklyn native, is a cum laude graduate of Rensselaer Polytechnic Institute in 1974 – the same year he joined his firm, then under a different name. He's been an adjunct professor of architecture at Drexel University since 1978 and has been a visiting instructor at the University of Pennsylvania planning department since 2003. He also taught at the University of the Arts for several years in the early 1980s.
"I think it makes a lot of sense," said Gary Jastrzab, acting executive director of the Planning Commission since Janice Woodcock stepped down at the end of the Street administration. Jastrzab was singled out, to great applause, by the mayor for his hard work and dedication to his interim post and for his 28 years on the Planning Commission.
"We've been working with him a lot, and he's been very approachable," Richard Redding, another longtime commission staffer. "I already feel like he's one of our own. It should be a pretty smooth transition."
Greenberger will stay with MGA for another two months, and then will sever his ties with MGA, financially, for ethical reasons. His first day as Planning Commission executive director is scheduled for Nov. 3. "My partners are incredibly supportive, and they are very proud. This is their moment too."
Several of those partners were in the audience, along with Greenberger's wife, Greta, who for 16 years has given tours of City Hall. Greenberger called her his "gateway to city government," and said she introduced him to Nutter years ago.
Contact the reporter at thomaswalsh1@gmail.com .
WHYY is your source for fact-based, in-depth journalism and information. As a nonprofit organization, we rely on financial support from readers like you. Please give today.