Temple U. Station gets a once-over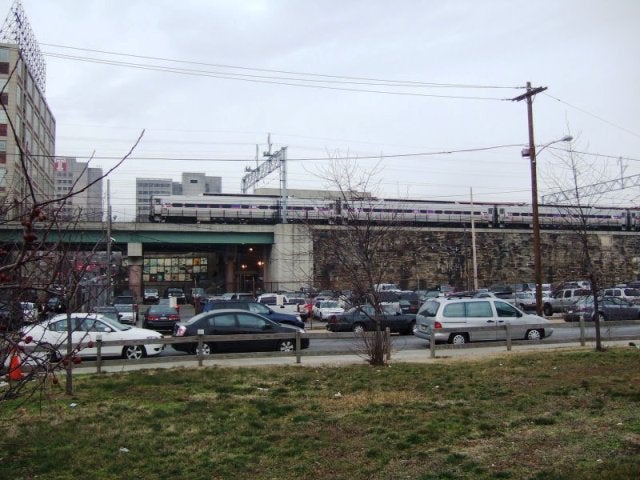 July 31
By Seth Budick
For PlanPhilly
On a hot and muggy Thursday evening in North Philadelphia, planners presented their ideas for the new Transit Revitalization Investment District (TRID) centered on SEPTA's Temple University Regional Rail station. Perhaps due to the weather, community turnout was light compared to a similar meeting held last week in West Philadelphia for the city's other TRID – the area around the 46th St. station on the Market Frankford Line (MFL). It should be noted that the low attendance didn't keep strong opinions from being expressed.
Both TRID planning studies have been funded by grants from the state and managed by the non-profit NeighborhoodsNow. Last night's meeting was hosted by Asociación Puertorriqueños en Marcha, a local Community Development Corporation that has been working with NeighborhoodsNow to support mixed income transit-oriented development (TOD) in Philadelphia.
Last night's presentation shared much in common with the one given a week ago in West Philadelphia. It's clear that Scott Page, Principal at Interface Studio, and Transportation Planner Frank Jaskiewicz, who were responsible for both TRID studies, believe that regardless of where they're located, transit friendly neighborhoods must meet certain universal standards such as having easily accessible stations. At the same time, differences between the two plans reflected the substantial variation between the neighborhoods, not least in the form of the transit that serves them.
While 46th St. station provides access to the heavy rail (subway and elevated) MFL, Temple University station is served by Regional Rail trains. Though each of these commuter lines runs far less frequently than the MFL, at least some trains on all seven Regional Rail lines stop at Temple. As a result, you can catch a train from Temple University station headed for Center City every 3 to 14 minutes between 8AM and 9AM, according to SEPTA's online schedule. During the same period, MFL trains arrive roughly four minutes apart. Despite this relatively frequent service at Temple University station, of the 35,000 potential riders within a half mile radius, Page said that only 4% use the station daily.
This discouraging statistic led him to one of the central questions guiding the TRID plan: "How do we build in a way that encourages people to use the station more than they currently do?" Page cited the fact that 60% of Philadelphians currently drive to work and stressed that the goal of TOD isn't to get every one of those people out of their cars, but that instead "We want to give people a choice in how they get to work."
Andre Mears, a local resident, offered one explanation for the current low ridership. As he put it, "the train is there, but we're just a block from the bus." In other words, with so many nearby bus lines whose routes parallel the Regional Rail into Center City, it rarely makes sense to walk several blocks to the station if you can catch a bus and pay a lower fare (if you don't have a weekly or monthly pass) by walking a shorter distance instead.
Jaskiewicz addressed this issue by saying that the TRID plan does not focus exclusively on the Regional Rail station, but could feature improvements to several modes of transportation. These might include new bus shelters with maps and timetables and even electronic signs with upcoming bus arrival times updated in real-time.
It's true though that Regional Rail service to Center City is largely redundant with other transit options in the neighborhood. A great advantage of the Temple University station, however, is the easy access it provides to the enormous number of stations that Regional Rail serves outside of Center City. Though this point did not come up during the meeting, it's clear that as the Philadelphia regional economy has become less focused on Center City, access to job centers outside of downtown Philadelphia has become an increasingly valuable asset.
Many of the prescriptions that the planners offered for a walkable and transit-friendly community echoed those from a week earlier, including creating clean and safe access to the station. This calls for such basics as improving lighting and dealing with that Philadelphia scourge, broken sidewalks. Increasing the station's visibility was also cited as a priority by the planners and that objective was endorsed by one community member at the meeting who said that for a long time he wasn't even aware of the station's existence.
As far as opportunities for development, Temple University station offers a very different picture compared to 46th St., according to Page. University related development to the west, and new housing to the east, have left a large gap immediately around the station. Two large lots, one city owned and the other belonging to Philadelphia Gas Works, sit directly adjacent to the station but are currently used for parking. According to Page, these represent a great opportunity for moderate density residential and retail development. In the short term, he suggested adding a café or other retail to the plaza directly beneath the station since right now "There's no commercial activity at the station at all."
At the same time, vacancy rates in the neighborhood are high, creating enormous opportunities for infill development, Page said. "There's a lot of space here. There's no need for us to be building anywhere where there's existing homes." Page would like to focus development on those vacant properties, rehabilitating existing structures when it makes sense. As a first step, Interface mapped all of the vacant property in the area and the resulting checkerboard makes for a startling image; east of the rail viaduct, the amount of vacant land is comparable to that which is occupied. To answer the question "Where do we start?" Page proposed initially concentrating development on Berks, Norris, and 9th Streets.
Like last week, when Page suggested installing a giant running track around a "superblock" near the 46th St. station, he again offered a novel and creative use of existing infrastructure. In this case he proposed creating a tree nursery on an unused part of the rail viaduct adjacent to the station. Community members seemed open to the idea as Page explained that "We could grow trees in the neighborhood and move the trees to the streets where neighborhood residents would like to see them planted."
The TRID planning team will be relying on community members to help winnow down the ideas presented last night. Page said that preliminary analysis indicates that the TRID would be able to capture $2.7 million in the form of tax incremented financing that could be used for installing and maintaining some of the many proposed improvements. But Marvin Lewis, Executive Director of the Ludlow Community Association, repeatedly emphasized that any changes coming out of this plan need to address the needs of the local community first and foremost.
Now that the two TRID plans have been presented to their respective communities, their feedback will be incorporated and the plans will be finalized in the coming weeks and months. At the end of the meeting, the plan did get a strong endorsement from Andre Mears, a community member who had seemed skeptical earlier in the evening. He said that if the end result matched what he saw last night, "I would walk over there just to walk around." As Page put it, "We're trying to build a community around a station in a way that encourages people to use that station." Over the coming months it should become increasingly clear how that goal might translate into reality.
Contact the reporter at sbudick@gmail.com
WHYY is your source for fact-based, in-depth journalism and information. As a nonprofit organization, we rely on financial support from readers like you. Please give today.