30 Democrats scramble for five Philly Council nominations
Trump-driven activism drives a surge in Philly Council candidates. It's the highest number since 1979, which was in response to Frank Rizzo.
Every four years, Democratic primary voters in Philadelphia get to pick five candidates for City Council at-large who will be on the general election ballot, all but assuring their election in this heavily Democratic city.
It can be quite a task for voters to try to sort through a ballot of a dozen or more candidates they likely know little about.
This year, the Democratic Council-at-large field has hit a 40-year high, with 30 candidates on the ballot (see list below).
"We're seeing a real increase in political participation, and especially in candidates for City Council at large," said Al Schmidt, a member of the City Commission, which runs elections in Philadelphia. "This is the highest number since 1979."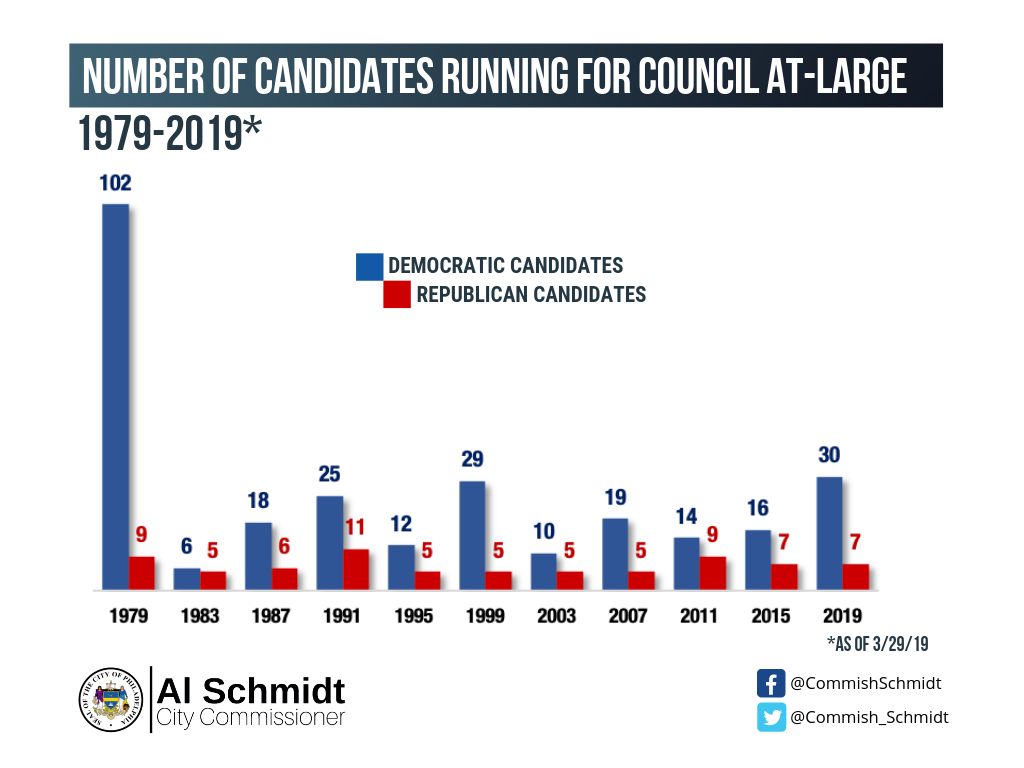 The surge in Council-at-large candidates this year follows a wave of Democratic congressional candidates last year, often attributed to activism spurred by the election of Donald Trump.
Still, 1979 stands out as an even more remarkable year, with 102 Democratic Council-at-large candidates on the ballot, more than three times the number in any election since.
If Trump inspired fury and activism among progressives in recent years, Frank Rizzo did the same in the 1970s when he served two terms as mayor.
Rizzo was a racially polarizing figure, widely reviled by black voters and liberals,  and embraced by a loyal base of conservative, white working-class voters.
After Rizzo was re-elected in 1975, two campaigns triggered mass activism against him.
A movement to remove Rizzo from office after he pushed through tax increases in 1976 spurred the collection of 146,000 signatures on recall petitions. The effort ended when the Pennsylvania Supreme Court declared the recall provision of the city charter unconstitutional.
After that, an effort by Rizzo's supporters to change the city charter so he could seek a third term prompted a broad coalition of progressive groups to mobilize a successful effort to defeat the charter change in a citywide referendum.
Veteran political consultant Howard Cain said all that coincided with the growth of the independent black political movement in the city, culminating in the 1979 mayoral candidacy of African-American attorney Charles Bowser.
"You had a rising expectation among African-Americans in Philadelphia, and they had a viable candidate on the mayoral ballot," Cain said in an interview.
Bowser lost the 1979 primary to Bill Green who served one term as mayor.
But the contentious battles of the late '70s churned up enormous interest in races of all kinds, and they contributed to the bounty of candidates on the 1979 Council-at-large ballot.
Separating from the herd
How do you distinguish yourself from a large field?
It isn't easy, and those in the Democratic class of 2019 have a variety of options open to them.
Three incumbent Council at-large Democrats are seeking re-election: Allan Domb, Helen Gym, and Derek Green. Council members Blondell Reynolds Brown and Bill Greenlee decided not to seek re-election, meaning at least two seats will be filled by challengers.
A fortunate five candidates will get the endorsement of the Democratic Party when the party's city committee, composed of its 69 ward leaders, meets Friday.
The city committee is expected to approve the recommendations of a 13-member policy committee, which interviewed candidates that sought the party's backing.
The policy committee recommended endorsing the three incumbents, as well as Sandra Dungee Glenn, a former chair of the now-defunct School Reform Commission, and Katherine Gilmore Richardson, former chief of staff for Reynolds Brown.
In theory, the five candidates endorsed by the party will be carried on the recommended ballots of all 69 wards on Election Day.
In truth, many wards will depart from the party endorsements for one or more of the at-large slots, choosing another candidate based on policy positions, political alliances, personal relationships, cash, or some combination of all four.
Historically, candidates have paid a minimum of $1,000 to be carried on a single ward ballot, with higher prices going to higher-turnout wards.
Candidates will also court labor unions and specific interest groups and make their pitches at civic associations.
There are several progressive organizations active in the primary season, including Reclaim Philadelphia, which grew out of the Bernie Sanders presidential campaign.
Reclaim has endorsed Isaiah Thomas, Justin DiBerardinis, Ethelind Baylor, incumbent Gym, and Erika Almiron for Council at-large.
Philadelphia 3.0, which spent substantial sums on candidates in the 2015 primary, has endorsed incumbents Domb and Green, and challenger Eryn Santamoor.
And the candidates can tell their story in public forums.
Twenty candidates appeared on stage last month at a Center City forum, sponsored by a coalition of progressive groups. They were asked to commit to a broad policy agenda and each was given one minute to make a pitch.
Those with money to get their messages out can use direct mail, digital ads, robocalls, and cable or broadcast television.
Big decisions are also to be made on Election Day field operations. Candidates want to have bodies on the street to distribute literature, staff polling places and get their supporters out to vote.
They can do that by recruiting volunteers, paying professional field operatives who vary widely in effectiveness or investing in the support of ward leaders willing to carry their names on their recommended ballots.
Many of these efforts are expensive, and campaign finance reports due Tuesday will offer a picture of their fundraising efforts.
One more entirely random factor can affect candidates' chances – their ballot positions, decided by drawing numbered balls from a coffee can at City Hall.
Here are the Democratic Council at-large candidates in order of ballot position:
1.     Adrian Rivera Reyes
2.     Deja Lynn Alvarez
3.     Helen Gym
4.     Ogbonna Paul Hagins
5.     Fernando Trevino
6.     Eryn Santamoor
7.     Joseph A. Diorio
8.     Hena Veit
9.     Billy Thompson
10.  Beth Finn
11.  Latrice  Y. Bryant
12.  Allan Domb
13.  Katherine Gilmore Richardson
14.  Erika Almiron
15.  Sherrie Cohen
16.  Bobbie Curry
17.  Isaiah Thomas
18.  Vinny Black
19.  Wayne Edmund Dorsey
20.  Edwin Santana
21.  Mark Ross
22.  Devon Cade
23.  Sandra Dungee Glenn
24.  Derek S. Green
25.  Janice Tangradi
26.  Wayne Allen
27.  Justin DiBerardinis
28.  Fareed Abdullah
29.  Asa Khalif
30.  Ethelind Baylor
WHYY is your source for fact-based, in-depth journalism and information. As a nonprofit organization, we rely on financial support from readers like you. Please give today.