$3.3M Maplewood Mall remake to break ground in 2019
Philadelphia's Department of Commerce is putting the finishing touches on a request for proposal for a $3.3 million remake of Maplewood Mall.
On a typical day, the intersection of Germantown and Chelten bustles with life as shoppers weave from stores to sidewalk, and honking cars navigate traffic.
But turn the corner, and you are in a different world.
Maplewood Mall is leafy, quiet, and paved with bricks. Instead of chain retailers and fast-food restaurants, a health food store sells vitamins and herbs, up the street from a vegetarian eatery, and a storefront where an artisan repairs rush and cane chairs.
"People who first come in are like, 'this is in my neighborhood? I've lived here my whole life and haven't seen this,'" said Miles Butler, co-owner of the Germantown Espresso Bar. "It's a very charming space. We've heard it described as kind of like Diagon Alley from Harry Potter."
It wasn't always like this. Many Northwest Philly residents remember the historic shopping district tucked between Greene Street and Germantown Avenue, W. Armat Street and W. Chelten Avenue, as a place to go for back-to-school shoes, or for date night at a jazz club. But today, about 50 percent of the storefronts sit vacant and many have been converted into apartments.
That's why Philadelphia's Department of Commerce is putting the finishing touches on a request for proposal for a $3.3 million remake of Maplewood Mall. New landscaping, fresh signs, and a facelift for the plazas at the entrance will make it more inviting — and more obvious that it's a place you can shop. City officials expect the RFP to be issued before the end of the year and construction to break ground in the spring. For Germantown residents, the work is a long time coming.
"When this is finally done, I think people will be amazed," said Emaleigh Doley, a Germantown resident who grew up shopping on the mall and now serves as corridor manager for Germantown United Community Development Corporation. "Yes, this is a single project on a single block, but … it fronts … the primary artery through the neighborhood. It's huge."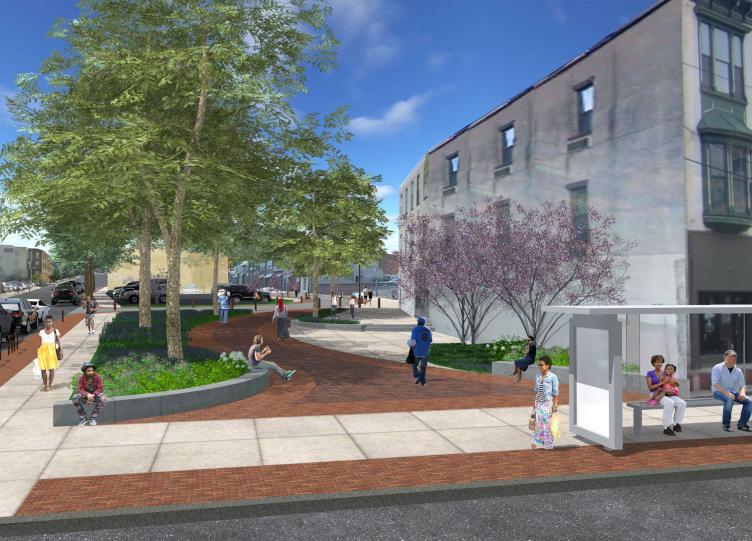 This is the city's second intervention on Maplewood. The first, in the 1970s, transformed what had been busy Maplewood Avenue into the hidden jughandle pedestrian mall of today. In the beginning, the experiment proved successful, offering storefronts for artisans — a shoe repair place and a cheese monger — as well as counterculture affiliated retailers like the Leaves of Grass bookstore, a kite shop, and the health food shop, Maplewood Nutrition. In the evening, you could hear live music at a small jazz club.
"It had a lot of boutiques, cafes, and there was a bar lounge back in the 1970s that was really hip," remembers Supreme Dow, founder and executive director of the Black Writers Museum. "You could go hear jazz or some really funky R&B and have some drinks. It was a destination place."
Even by the late 2000s, its glory days long behind it, the pedestrian mall was welcoming enough to seduce Dow into taking over one of the storefronts and turning it into a museum dedicated to the work of black literary figures.
"Maplewood Mall has a history as a street off of a street — it's an intimate space," said Dow, who, a few years back, moved his museum into the historic Vernon House in nearby Vernon Park.
But in the 1980s Maplewood's fortunes began to change, especially as the trajectory of Germantown itself continued to shift. Already struck by the twin blights of white flight and capital flight, the neighborhood continued to bleed population while the stores at Germantown and Chelten lost customers to the suburbs.
Shopkeepers on Maplewood Mall feel they sustained even greater economic damage because the secondary commercial corridor's transformation into a pedestrian mall removed them from the eyes of drivers and allowed their shops to fall into obscurity.
"People … didn't realize what was going to happen here when they put the mall in," said Albert Ciment, owner of Maplewood Nutrition, a shop his parents opened in 1963. "But it diverted a lot of traffic away from [our shops]. Foot traffic is still about the same, but the car traffic where people would notice you were here, that's been gone."
As many of the businesses on Maplewood Mall withered, cars crept back on to the supposedly pedestrian-only area. The signage on the plazas at either end of the street faded.
Meanwhile, the built-in customer base that could reach it on foot shrank. Between 1970 and 2010, this part of Germantown lost population while its poverty rates shot up. In 1970, only one of the census tracts neighboring Maplewood Mall had a poverty rate of over 20 percent. By 2000, all except one did.
"This ties into urban renewal aspect of central Germantown, a lot of the area got cleared out so you not only had the demolition of that built-in population but also the urban fabric around it that helped tie surrounding residential neighborhoods to Maplewood Mall," said Matt Wysong, the Philadelphia Planning Commission's senior planner for Northwest Philadelphia. "So, it ends up isolated as well as being internally facing."
City officials are well-aware that Maplewood Mall needs help. Over the last 10 years, they've organized dozens of meetings to get community input, coordinating with groups like Doley's Germantown United and the Germantown Special Services District.
Back in 2013, WHYY reported on a smaller multi-million dollar commitment the city secured. But five years later nothing has been done.
City officials and community leaders said this time will be different, noting that some delays were the result of unexpected infrastructure discovered beneath the street. This time, the $3.3 million commitment from the city is ironclad. Doley understands that some residents and business owners probably feel frustrated by the years-long wait they've endured.
"When a neighborhood has experienced so much divestment you really need to be able to see change in order to believe it," he said.
The latest plans include new signage and landscaping for the plazas that face Germantown Avenue and Greene Street as well as a new bus shelter for the popular 23 bus on Germantown Ave.
The city also plans repave the street, which currently bulges with bricks that have been displaced by tree roots.  Car-wrecking bollards known by at least one shopkeeper as "tank traps" will be removed. The old bricks will be kept on the plazas, while the roadway will feature concrete paving that will be harder to dislodge. All manner of traffic, including cars, will be welcome.
"I think this will revive and revitalize the charm that is already here," said Butler. "I'm excited."
And hopefully, it will bring him a few more customers too.
WHYY is your source for fact-based, in-depth journalism and information. As a nonprofit organization, we rely on financial support from readers like you. Please give today.