Foxwoods doesn't fit, Steinberg says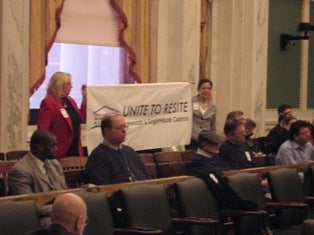 March 11
By Kellie Patrick Gates
For PlanPhilly
Foxwoods Casino, as it's currently designed, does not belong on its proposed waterfront site, said the executive director of the organization that guided the creation of the city's Central Delaware redevelopment plan.
For more than a year, PennPraxis, the practical arm of the University of Pennsylvania's School of Design, led citizen forums around the city to determine what residents want from the waterfront and translate those desires into a workable plan for the Central Delaware Waterfront. The non-profit organization was hired by the city do to this work. And throughout the process, Executive Director Harris Steinberg was regularly pressured to take sides on the casino issue.
Steinberg never did – he always said that casinos could be a reality on Philadelphia's waterfront, and so the planning could not ignore them. And in an interview Tuesday morning, Steinberg said he still has not taken a pro- or anti-casino stance.
The vision that Philadelphians put together for the waterfront " is not about use, but design," he said. "Our goal is that the vision be used as a yardstick for any development, not just casinos."
Foxwoods' current design "is incompatible with the dense, walkable urban boulevard" that the Central Delaware Plan would create. "It's really designed to ex-urban highway standards. There's no mass transit, there's no remote parking."
Foxwoods proposal is big and boxy, while the Central Delaware Plan calls for more human-scaled buildings. The plan also calls for the city to extend its street grid down to the river about every 500 feet, he said. But Foxwoods' building is much larger. A casino complex could be housed in a series of smaller buildings, more typical of traditional Philadelphia-style development, he said.
The casino's plan could have more public access to the waterfront than the Foxwoods proposal calls for, and the ground level of all the buildings could contain retail and other commercial spaces. Parking could be across the street. "Real cities don't function like suburban strip malls," he said.
Steinberg attributed a large portion of the problems with the current design to the process the state has used to bring casinos to Philadelphia. Instead of asking for site proposals from would-be casino developers, the state should have searched for sites that were ideal for casinos, he said. And he thinks the casino's design was based heavily on a desire to save money, since the state plans to heavily tax the profits.
"Ideally, the casino, the state and the city should enter some sort of conversation about how best to integrate a casino into the vision" for the Central Delaware, he said.
WHYY is your source for fact-based, in-depth journalism and information. As a nonprofit organization, we rely on financial support from readers like you. Please give today.