Indego Bike Share turns two, celebrates 1.2 million rides with new stations in Fishtown, South Philly and Center City
On Thursday, Indego celebrated its second birthday and was showered with a dozen new stations, 200 new bikes and a $930,000 grant from the William Penn Foundation to support community outreach programs over the next 30 months. The bike share program's haul of gifts wasn't as impressive as last year's, when a new membership program was unveiled alongside two dozen new stations and 300 new bikes, but that reflects a maturing bike share program.
According to Aaron Ritz, transportation systems manager for the Office of Transportation and Infrastructure Systems (OTIS), the grant "will be used to build connections deeper into communities and set the stage for [Indego's] long term sustainability."
The William Penn Foundation has been a major supporter of Indego, giving $1.5 million last year to help fund the program's physical expansion. This year, the new stations are largely located in neighborhoods where demand has been greatest: Center City, South Philly and Fishtown. As the stations are installed, the total number system wide will rise to 117 stations with about 1200 bicycles.
OTIS was still finalizing the exact locations of the dozen new stations when Ritz spoke with PlanPhilly, but at least one was set: The plaza at the intersection of East Passyunk, McKean and Broad Streets. Some neighborhood residents felt snubbed by the relative lack of stations south of Washington Avenue, given the area's high percentage of bike commuters.
As of April 2017, Philadelphians and visitors alike hopped on an Indego bike more than 1.2 million times. The vast majority — 77 percent — were monthly pass holders. Another 18 percent used their credit cards to walk up and ride. Another 3 percent of trips were Indego30 Access users — ACCESS cardholders who pay $5 a month instead of the regular $15 a month membership. According to OTIS, Indego has signed up around 1,100 Access passes so far, a year after the program was launched. Indego has more than 5,000 members.
Ritz credited the program with helping to make Indego's ridership more reflective of the city as a whole. In Indego's first year, 67 percent of riders were white. In 2016, that percentage fell to 55 percent, with 19 percent of riders black, 13 percent Latino, 7 percent Asian and 6 percent multiracial or declining to say.
One of the city's explicit goals with Indego is to offer an equitable amenity useful for Philadelphians of every social strata and background. That's difficult to do. Bike share programs, like other kinds of transit, operate best in densely populated areas. Those tend to be wealthier and whiter in most cities, Philadelphia included. To combat this, Indego has engaged in significant community outreach. Recognizing that online access and digital literacy presented a barrier to signing up for Indego, OTIS and the Better Bike Share program partnered with a half-dozen other agencies, including the Office of Adult Education, to offer the "Digital Skills and Bicycle Thrills" program – a multi-week crash course for adults on digital literacy and crash-free bike riding.
Indego also recently launched "IndeHero," which allows riders to earn points for performing various tasks towards free passes. (Riders may need to update their apps to see the update.) For example, Indego Riders who return bikes to stations that are running low on bikes, or checkout bikes from stations that are full, can earn points. Riders can check the app to see which tasks are available to earn points at any given moment. Ritz described the program as a subtle nudge to help the system work more efficiently — if just a few riders walk an extra block or two to take out or return a bike, it can make a large difference to the system as a whole.
Ritz also told PlanPhilly that Indego will soon offer a corporate pass — businesses will be able to offer discounted Indego memberships to their employees (it will be up to individual HR honchos whether the companies want to cover the membership costs or simply offer the discount).
On days with nice weather, Ritz said Indego provides over 3,000 rides — about three trips per bike. But it's the ridership in the dead of winter that Ritz said he was most excited about. In the middle of January, the system saw between 1,000 and 1,500 daily trips, excluding days when snow can shut down cycling citywide. Those dedicated riders are what the city wants to see and hopes will grow over time.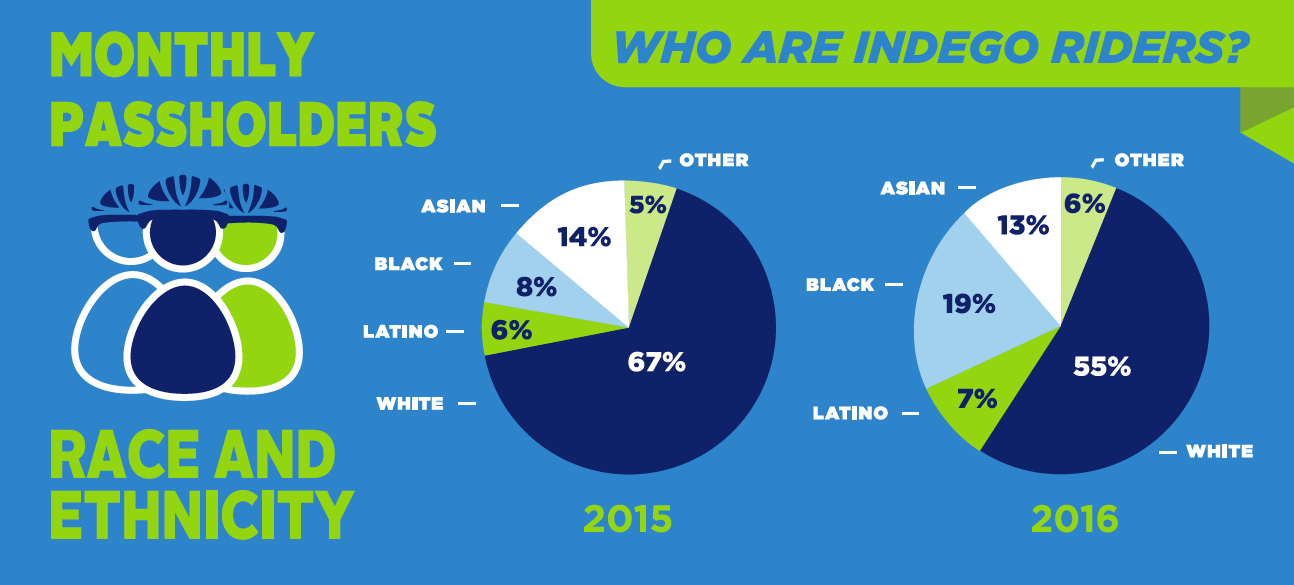 WHYY is your source for fact-based, in-depth journalism and information. As a nonprofit organization, we rely on financial support from readers like you. Please give today.