Feb. 8
By Kellie Patrick Gates
For PlanPhilly
The developers of Philadelphia's two proposed casinos should not take for granted any agreements reached with the former mayor's administration.
"I didn't agree to them," Mayor Michael Nutter said during a Friday interview with PlanPhilly. "As far as I'm concerned, we're back at Square One."
Nutter, who is no fan of the possibility of slots in Philadelphia, said he can't block the casinos from coming to the city. But he has ordered a complete review of all casino-related decisions made by the previous administration, which is now underway. And Friday, he said he intends for his team to have a say on everything about them, from location to design.
Planning and zoning issues were big in Nutter's campaign, and he began making changes shortly after taking office. He appointed a nearly entirely new Planning Commission and is searching for a new Executive Director.
Nutter said he wants his Philadelphia City Planning Commission and its yet-to-be-named executive director to have more say in which projects gets built or scrapped.
"The City Planning Commission used to be considered one of the best in the country. I want to return us to that level," Nutter said.
He also made sweeping changes to the Zoning Code Commission and Zoning Board of Adjustment, and created a new post – Deputy Mayor for Planning and Economic Development. Andrew Altman will also serve as Commerce Director.
"I think that the development of Philadelphia has to be done in a planned, manageable, transparent and easily understood fashion," he said.
Here's what else he said during a short interview squeezed into a busy day:
PlanPhilly: Previously, the Planning Commission seemed to have very little power. For example, former Executive Director Janice Woodcock had publicly said that she thought the casinos were poorly located, but her commission gave them the green light. She told Councilman Frank DiCicco that it was not her job to judge projects. Will the Planning Commission and its director have more power in your administration?
Mayor Nutter: "If you're going to have the best planning commission in the country, the planning commission director has to be top notch. We're still interviewing for that post. We've been very fortunate that some of the best people in the country have been willing to come work for us.
"Under the Home Rule Charter, the Planning Commission is an independent Commission. I expect Commissioners to exercise good judgment and say if a project is not a good project. If it's a good project, I want to know it, and why. If it's a bad project, I want to know it, and why."
PlanPhilly: Casinos are one of the biggest planning and zoning issues in the city right now. During your campaign for mayor, you said that you would prefer the casinos to be built somewhere other than the waterfront. What will you do to try to relocate the casinos? If it were up to you, would there be any casinos in Philadelphia?
Nutter: "I got elected mayor, not monarch. The General Assembly approved gaming in Pennsylvania, and two licenses in Philadelphia. I don't have the ability as mayor to overturn that decision. But I do want to exercise good judgment in where they are located. I'd like that to be looked at in the zoning and planning realm.
"If we were to have gaming in Philadelphia – and I said 'were' – I also want to make sure it's done properly – well designed, well thought out, and does not contribute to infrastructure costs as a result of its existence.
"If they are on the waterfront, they should not impair future development on the waterfront."
Only the gaming board can approve casino locations, Nutter said. "But it's my responsibility to make sure they don't negatively damage the city, and I will use every power and authority I have to make sure that doesn't happen."
Nutter said his administration has already taken steps in that direction.
(At a recent City Council meeting, legislation was introduced on behalf of Councilman Frank DiCicco – a proponent of casino relocation – that would give Foxwoods Casino the zoning it needs to operate at its chosen site.
Casino opponents felt betrayed, but DiCicco's staff said the legislation was necessary to keep the state supreme court from doing for Foxwoods what it did for SugarHouse: The court gave SugarHouse its zoning after ruling that the city had intentionally stalled.
DiCicco's proposal contains provisions that require Foxwoods to reach a community benefits agreement, make improvements to public safety and traffic congestion, complete an economic impact study for the surrounding area, and other requirements before construction can begin.)
"I strongly encouraged Councilman DiCicco to introduce the CED legislation in order to prevent what happened in the SugarHouse case" so that the City could retain control and make demands, Nutter said. "Inaction is not an option."
Nutter has more action in mind.
"The previous agreements regarding casinos – I didn't agree to them. As far as I'm concerned, we're back at Square One. Everything is back on the table, from where they are, what they look like, and all the agreements with the city."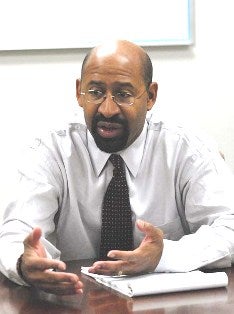 Media Credit: Daniel Schwartz DP Staff Photographer
PlanPhilly: But the casinos' plans have already been approved by the Planning Commission. Can you force them to change at this point?
Nutter: "There's not a shovel in the ground yet. I haven't seen the designs of either casino. I want to see them. It is not unusual for projects of the magnitude to go through several" revisions.
(Look for the casinos to say he has no right to revoke anything agreed to under the last administration. Nutter recently withdrew a permit issued before he took office that gave SugarHouse the right to build on submerged lands of the Delaware River. SugarHouse can appeal and have another Commerce Department hearing. The casino responded with a court filing stating that a new administration cannot simply undo what a previous administration did.)
PlanPhilly: You revoked a permit granted to SugarHouse by the previous Commerce Department that would have allowed them to build on the submerged lands of the Delaware River. Several state legislators have filed a lawsuit claiming only the legislature can grant these rights. But your administration agrees with the previous one that the Commerce Department has the right to issue such a permit. Is this something you're willing to fight over in court?
Nutter: The casinos do not agree with the legislators and this issue will be determined in court. "We are willing to go to the court and defend our rights."
PlanPhilly: So in the future, when developers want to build something on the waterfront that requires riparian rights, do you want the city to be the entity they come to for a permit?
Nutter: "Yes."
PlanPhilly: In his recent budget proposal, Gov. Ed Rendell includes a large amount of money for Philadelphia. Rendell wants the casinos to be built as soon as possible, as he has plans for revenue they would generate for the state, including property tax relief. Are you concerned that your position on the casinos has or will put a strain on your relationship?
Nutter: "The Governor and I talk on a fairly regular basis. I respect him and his perspective. This was his idea, and so he feels one way. As mayor of Philadelphia, I see things differently. He invited me to his budget address on Tuesday. We have to be mature enough in this city to at least respect differences of opinion. And actually, we get along very well."
Contact the reporter at kelliespatrick@gmail.com