Seattle Green Plan cut through red tape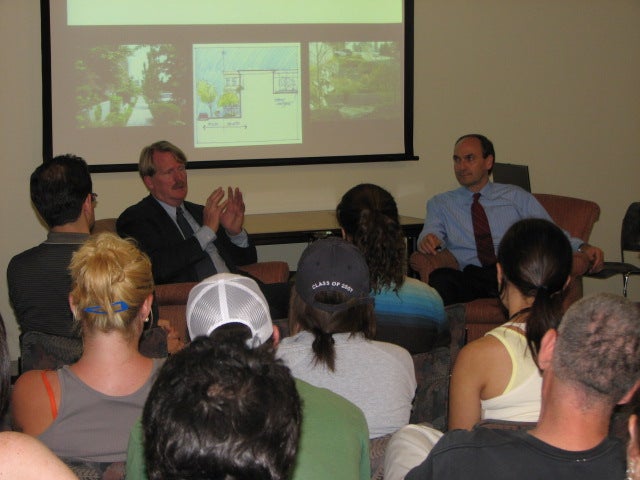 Oct. 09
By Alan Jaffe
For PlanPhilly
A rainy Northwest city may have a lot to teach a currently dry Mid-Atlantic city about going greener. And it doesn't require more rain.
In fact, Seattle doesn't get more rain per year than Philadelphia; it just gets it more often.
The lessons offered by Steve Moddemeyer, senior strategic advisor for the Seattle Department of Planning and Development, were about managing what we have, not acquiring more.
The Tuesday evening program, "Black, Red and Green: Bottom Line Thinking for a Sustainable City," was one in a series of Green Source seminars hosted by the Pennsylvania Horticultural Society. About 80 members, area conservation group leaders, and students came to hear Moddemeyer explain a municipal zoning measure that has taken root in his city and has reaped environmental, economic and social rewards.
Moddemeyer began by deflating the myths about Seattle's rainfall. The birthplace of Starbucks gets 36 inches of rain per year, compared toPhiladelphia's 40.3. "It rains a little bit every day" through much of the year, he explained.
But that rain produces twice as much as is used by the city's residents, so "that's a huge waste product we could be using."
Questions arose about "how to harvest the rain water," said Moddemeyer, who worked for the Seattle Public Utilities before moving to the planning department.
Seattle looked to Australian models of natural asset management to explore how best to invest in systems that balance costs with ecological and economic benefits. And the Seattle planners began exploring alternative green projects that could be used instead of traditional approaches.
The city saved $100 million the first year it began "consciously thinking about services we provide" and the comparative costs of alternatives.
Seattle's other model was Berlin, Germany, which had begun considering watershed planning in terms of cities in addition to rural areas, and "returning ecological values back to dense urban areas."
After Moddemeyer moved to the planning department, the city jumped into the environmental approach with both feet. Seattle took the Berlin "green factor" and turned it into a zoning requirement that calls for 30 percent of every commercial lot to be covered in green factors. The flexible landscaping ordinance says they can be landscaping and plantings, tree-lined right-of-ways, added drainage, rain gardens, pervious surfaces, green walls or green roofs, or any combination thereof.
Developers found that the price of the 30 percent requirement was four-tenths of a percent of their construction costs.
Seattle has taken its green approach to residential communities, including the High Point subsidized housing neighborhood. That community was in need of a new street system, so the city applied the "green factor" to the new grid, adding natural drainage, landscaping, and traffic-calming approaches.
In other parts of the city, as long as the green factor was accompanied by "what the community thinks is important," the changesare met with "benign acceptance."
But for the most part, the driving force in adopting Seattle's first substantial zoning revision was "a progressive constituency," Moddemeyer said. Politicians then followed their lead, and the development community "found it has better success when neighbors like what they're doing."
Moddemeyer said Philadelphia can follow the same logic. "Build a constituency of educated citizens" who support sustainable landscapes, and "elected officials will hear about it."
The next step involves convincing the bureaucracies, which he likened to a pyramid, that the green proposals can work. "The top of the pyramid may come and go, but the rest is hard to move. My goal is to move the pyramid a half-inch," Moddemeyer laughed.
The way to convince government agencies to take similar actions is to "do the math," taking an asset management approach that shows the benefits will outweigh the costs.
Glen Abrams, urban watershed planner with the Philadelphia Water Department, noted that the city may be entering the right climate for the adoption of a "green factor." He noted the appointment of a new Zoning Reform Commission tasked with rewriting the city's land use
regulations; GreenPlan, a new roadmap for creating sustainable open space throughout the city; and the PennPraxis Vision Plan for redeveloping the Delaware waterfront.
WHYY is your source for fact-based, in-depth journalism and information. As a nonprofit organization, we rely on financial support from readers like you. Please give today.