2 Jersey Shore counties under state of emergency after major flooding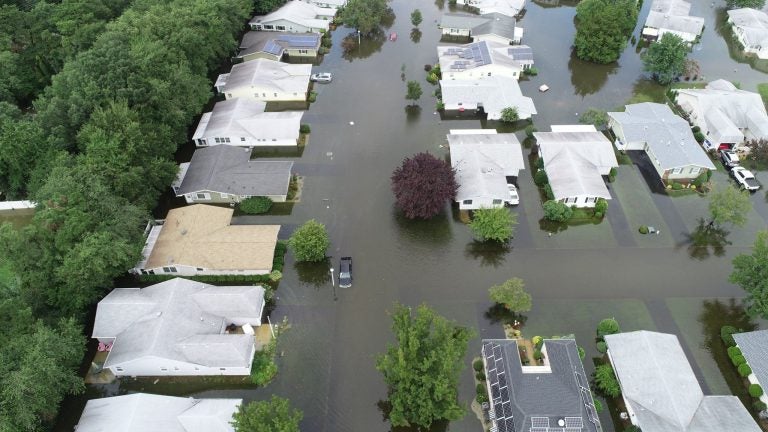 New Jersey Gov. Phil Murphy has declared a state of emergency in five counties after a weekend of heavy rain and flooding.
Murphy signed an order declaring emergencies in Bergen, Essex, Monmouth, Ocean and Passaic counties.
"There is no doubt that parts of our state have received nothing less than historic amounts of rain, and some communities received an entire month's worth in just a few hours," Murphy said in a statement. "[The state of emergency] will allow us to focus resources into the most impacted areas, as necessary."
At the Shore, torrential rain fell over portions of Ocean and Monmouth counties on Monday, surpassing the expected rainfall for all of August in some areas.
Nearly eight inches of rain fell in northwestern Brick Township and six in Howell Township's Southard section. Officials in both towns declared a local state of emergency on Monday.
105 homes in Greenbriar I, a retirement community in Brick, was flooded, forcing the evacuation of residents. The residents in the impacted homes can't return until the structures are inspected, police said.
The deluge and subsequent flooding were also responsible for a road collapse in Howell.
Around five inches of rain fell in the coastal towns of Sea Girt and Spring Lake. Officials opened a floodway from the overflowing Wreck Pond into the Atlantic Ocean to minimize the impact on structures and houses.
Please stay away from this area. Drainage from Wreck Pond to relieve the back log of water run off from the west. The sand has been dug out and is unstable. DO NOT attempt to climb in and around the mounds of sand @SeaGirtPolice @SLpolicenj @SpringLakeBeach pic.twitter.com/l8McwlhUWX

— Sea Girt Lifeguards (@SGLifeguards) August 14, 2018
Murphy urged residents to reach out to their county offices of emergency management if they need assistance and to report storm damage.
"Our job as public officials, first and foremost, is to ensure that everyone is safe, especially since we may not be out of this weather pattern yet and more rain may still fall on already saturated ground," he added.
The governor says impacted residents and business owners should carefully document all property damages caused by the flooding.
---
The Associated Press contributed to this report.