Breaking news: Mock casino voting underway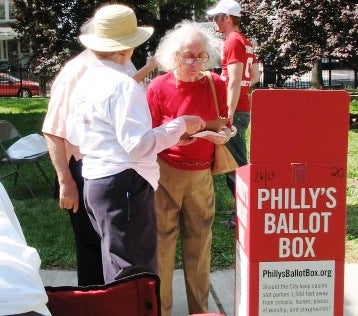 Volunteer Margaret Ullman explains the ballot to voter Shirley DiGironimo

May 15
By Kellie Patrick
For PlanPhilly
When Francine Baiocco, 73, voted this morning in her Girard Estate neighborhood, a State Supreme Court-ordered sticker covered up the referendum that City Council had voted to put on the ballot.
The ballot question would have read: "Should the City of Philadelphia keep casino slots parlors 1,500 feet away from schools, residential neighborhoods, playgrounds, and places of worship?"
But Baiocco voted on the very same question, folding her answer into a sealed envelope that she slipped into a red and white ballot box outside her polling place at the Donatucci Branch of the Philadelphia Free Library.
"It's high time that the little people get a chance to voice their opinion," said Baiocco, who voted yes on the question.
That box was provided by the anti-casino activist group Casino-Free Philadelphia. The organization has posted ballot boxes around the city, and is also running a telephone hotline and website where votes can be cast. For more information, see www.PhillysBallotBox.org.
Spokesmen for both Foxwoods and SugarHouse casinos have called the vote a publicity stunt.

And the results of this unofficial vote are not legally binding.
But Casino-Free Philadelphia spokesman Daniel Hunter says it is "politically binding." He thinks city and state politicians will find it difficult to ignore the results.
And some politicians have taken notice. Last week, City Councilman Frank DiCicco, in whose district Foxwoods and SugarHouse want to build, submitted legislation with the same language as the ballot question. But he said he would push for a vote only if the non-binding ballot question passed.
"This has been amazing … phenomenal," said Hunter in an 11 a.m. telephone interview. "Our phones are ringing off the hook, and out on the street, people are coming up to us and saying they want to vote."
Early this morning, a glitch made the on-line ballot unreadable with some internet browsers, but the problem has been fixed, Hunter said.
All of the ballot box locations will be closed by 8 p.m. – check the website for a map of locations and hours. On-line and phone voting will continue until 10 p.m. At that time, unofficial results from phone and internet voting will be available.
Casino-Free Philadelphia does not plan to have its official count until this weekend, however. Ballot-box votes must be counted by hand, and every vote will be vetted against the city's voter registration rolls to check its legitimacy, Hunter said.
At Baiocco's poll, ballot box voting was slow but steady. More than 100 people had cast their ballot by 11 a.m., volunteers Margaret and Dick Ullman estimated.
The Ullmans live in Society Hill. They oppose the casinos, but Dick Ullman said the referendum issue goes beyond that for him. "What the supreme court did was obscene and extremely undemocratic," he said.
Margaret Ullman said the casinos certainly do not need to go up on the riverfront. "I want the riverside to be a beautiful, charming, exciting area," she said.
About half of the people who came to vote between 10 and 11 a.m. also decided to cast a ballot.
Of that half-dozen or so, all who were willing to talk about it said they voted in favor of the referendum to restrict where the casinos could be built.
But not all of them oppose casinos in general.
"There is nothing wrong with casinos. If people want to gamble, let them gamble," said Anthony DiGironimo, 70. His wife Shirley, who declined to give her age, said that her vote against the current proposed locations was really a vote against increased traffic congestion.
"You can't get out on Columbus Boulevard now," she said.
WHYY is your source for fact-based, in-depth journalism and information. As a nonprofit organization, we rely on financial support from readers like you. Please give today.