Trenton arts festival had been on the verge of being shut down before gunfire
Police investigate the crime scene outside the Historic Roebling Wire Works building on the corner of Dye Street and S. Clinton Avenue in Trenton, N.J. A suspect is dead and 22 people are injured after a shooting at an all-night arts festival being held there. (Natalie Piserchio for WHYY)

A police officer stands guard outside of the Historic Roebling Wire Works building on S. Clinton Avenue in Trenton, N.J. following a shooting at an all-night arts festival being held there. (Natalie Piserchio for WHYY)
Updated: 5:57 p.m.
—
Authorities say a number of fistfights broke out at an all-night New Jersey arts festival and the event was on the verge of being shut down when gunfire erupted, killing a suspect and injuring 22 other people, some critically.
Mercer County Prosecutor Angelo Onofri says it appears that several Trenton-area gangs had a dispute at the venue, and multiple suspects began shooting at each other.
Onofri says the suspect who was killed, 33-year-old Tahaij Wells, was recently released from prison and was on parole since February 2018 on homicide-related charges.
He says another suspect, 23-year-old Amir Armstrong, is in stable condition and charged with a weapons offense. It was not immediately known if Armstrong had an attorney who could comment.
Onofri says three of the four critically injured people have been upgraded to stable condition; the one remaining critically injured man "is believed to be a suspect in this matter."
The three suspects opened fire around 2:45 a.m. during the Art All Night Trenton festival that showcases local art, music, food and films. Onofri said he believes police killed Wells.
Irvin Higgenbotham, a Trenton resident who said he comes to the event every year, was shot in the leg. He told WHYY he was "just hanging out, having a good time" looking through the art galleries.
"And then, all of a sudden — bam, bam, bam, boom — and there it was," he said.
At first, Higgenbotham didn't realize he had been shot. "And then, I see the blood leaking out my leg," he said.
Then, he said "a wonderful young lady" came to his aid. "She said, 'Irvin, you going to be ok … Just be still.'
"I wish I knew who she was because she really helped me out so much," he said.
All around him, Higgenbotham said, people began running, "scared for their life."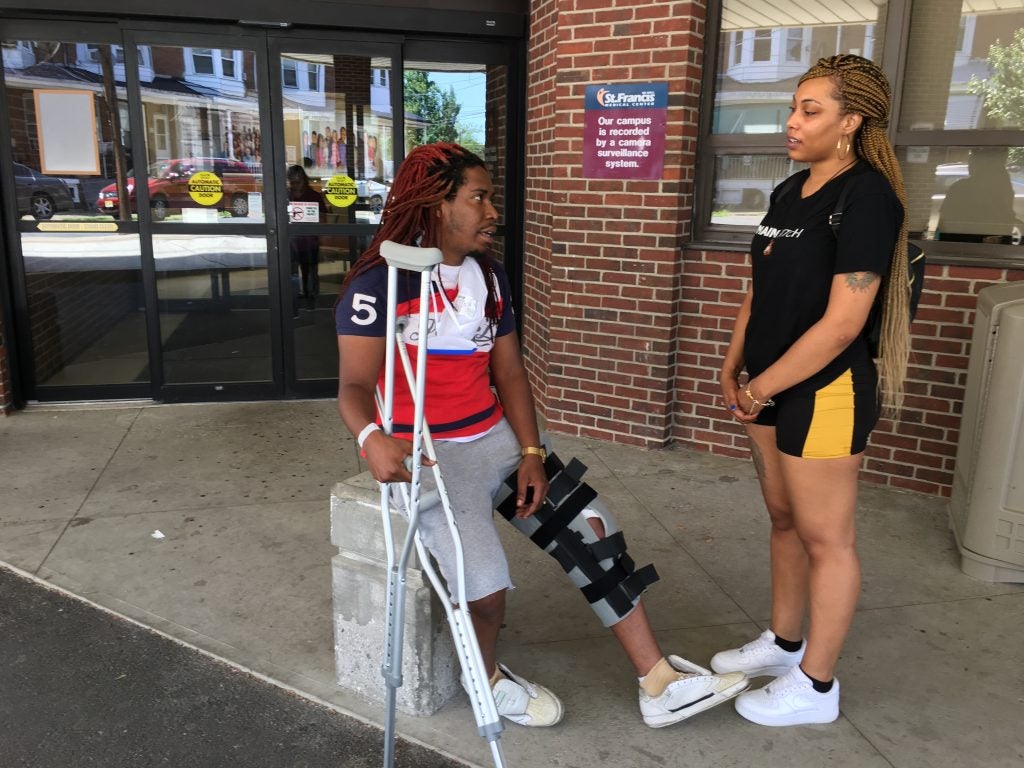 Law enforcement and the venue estimate there were about 1,000 people in the area when the shooting started.
"It reminded me of a Vegas situation where it was just shooting and no one really knew where it was coming from, but people just knew they had to get away," Dioh Williams told WNYC.
Williams is a hip-hop artist who attended the festival for several years, and said his knee was injured when he fell after being trampled by the crowds running to leave the building.
On Sunday, there was crime scene tape surrounding the site of the old warehouse that now shares a parking lot with a supermarket, bank, and laundry facility.
Gennie Darisme was at the festival when the shooting occurred, getting ready to leave around 2:45 a.m. when she heard shots and saw people running.
"There were people trampling other people, cars hitting other cars," she said.
When she was walking back to her car after the shots ceased, Darisme said she saw someone bleeding on the ground, in handcuffs.
"People were running to him, trying to see his face, to see if he's a family member or a friend," she said.
Ernie Rivas has owned a shop near the site of the shooting for 17 years and said he came back from the beach Sunday morning when he heard what happened.
"I've never seen this happen. It's bad, I feel bad, especially on Father's Day," Rivas said.
Theresa Brown said she's been volunteering at Art All Night for 12 years and has never seen or heard of violence like this. She said she was leaving her volunteer shift around 2 a.m. and heard "pop, pop, pop."
"I thought it was a car backfiring," she said.
She returned to the scene around 7 a.m. and saw the police.
Art All Night Trenton began Saturday afternoon and was scheduled to conclude Sunday afternoon. The remainder of the festival has been cancelled.
"We're very shocked. We're deeply saddened. Our hearts ache and our eyes are blurry but our dedication and resolve to building a better Trenton through community, creativity and inspiration will never fade. Not tonight. Not ever," festival organizers posted on social media Sunday.
Trenton Mayor Eric E. Jackson said the violence can't be "discarded as just random violence; this is a public health issue."
__
WHYY's Bobby Allyn, WNYC's Karen Rouse, and Associated Press writers Mike Catalini, Ron Todt, and Christina Paciolla contributed reporting.
WHYY is your source for fact-based, in-depth journalism and information. As a nonprofit organization, we rely on financial support from readers like you. Please give today.