Exhibit takes deep dive into constitutional debates that formed Civil War-era amendments
At Philadelphia's National Constitution Center, exhibit touches on amendments abolishing slavery, guaranteeing citizenship and voting rights for men.
Listen
1:52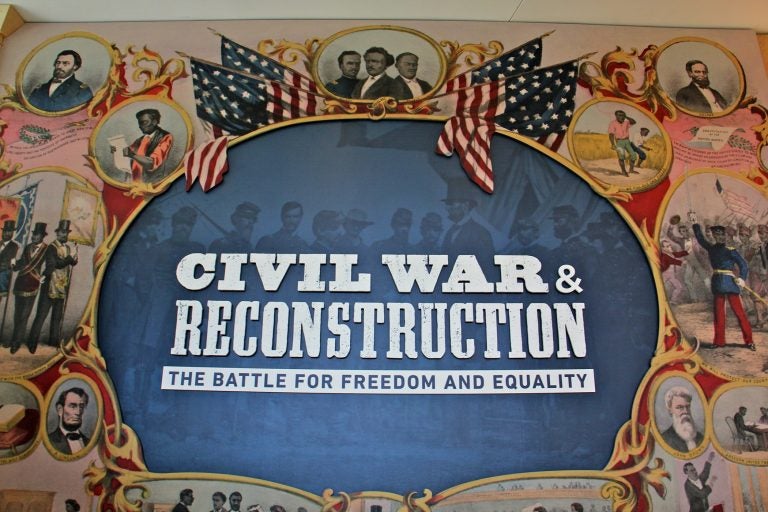 Tom Donnelly, senior fellow for constitutional studies at the National Constitution Center, pointed to a weathered page with cursive writing. At the bottom of the 1846 document, an X represents the signature of Dred Scott.
Scott, who was a slave at the time, was suing for his freedom.
"One thing that's really important, and we love to highlight, although it was a Supreme Court case, although it ends up helping to inspire the rise of the Republican Party and precipitate the Civil War, it began as the story of a husband and a wife, of Harriet and Dred Scott, who simply wanted their freedom to live their lives," Donnelly said Wednesday, as he kicked off a tour of a first of its kind exhibit in the U.S.
Opening Thursday, "Civil War and Reconstruction: The Battle for Freedom and Equality" focuses on the constitutional debates around slavery in the time before the Civil War and period of Reconstruction after the war's end.
Donnelly ended the Dred Scott portion of the tour with the reminder that U.S. Supreme Court Chief Justice Roger B. Taney wrote African-Americans, "had no rights which the white man was bound to respect; and that the Negro might justly and lawfully be reduced to slavery for his benefit."
With more than 100 artifacts from that era, the exhibit includes copies of the 13th Amendment, which abolished slavery; the 14th Amendment, which guaranteed all people "born or naturalized" in the United States full citizenship; and the 15th Amendment, which gave all men the right to vote.
Jeffrey Rosen, president and CEO of the National Constitution Center in Philadelphia, said these amendments make the Dred Scott decision one of the most overturned decisions in Supreme Court history.
"The freedom and equality promised in the Declaration of Independence was thwarted in the original Constitution, resurrected by Lincoln at Gettysburg, and, after the bloodiest war in American history, finally enshrined in the 13th, 14th, and 15th Amendments to the Constitution," Rosen said.
The exhibit consists of three parts. There's the buildup to the Civil War, which includes stories of  Harriet Tubman, Sojourner Truth and other slaves escaping to freedom.
Then there's the actual Civil War, where people can read letters from soldiers and see weapons from the time.
Finally, there's Reconstruction, which brought about the three amendments that helped overturn the Scott decision.
To help people understand the push and pull of the amendment process, Rosen and his team have created interactive exhibits that show the different drafts of each amendment and the arguments legislators made for using certain language.
Civil War artifacts from both sides of the battle are displayed side by side. (Emma Lee/WHYY)

National Constitution Center President Jeffrey Rosen demonstrates one of the interactive exhibits in the center's new show, "Civil War and Reconstruction: The Battle for Freedom and Equality." (Emma Lee/WHYY)

African American scholar Henry Louis Gates Jr. stops to look at Dred Scott's petition for freedom during the opening of the National Constitution Center's Civil War and Reconstruction exhibit. (Emma Lee/WHYY)

Dred Scott's petition for freedom (1846) was signed with an X because enslaved people were prohibited from learning to read or write. (Emma Lee/WHYY)

An actress portraying Frances Ellen Watkins Harper, a key African American figure from the Reconstruction era, delivers an address that Harper delivered in Philadelphia, "The Great Problem to be Solved." (Emma Lee/WHYY)

The pass carried by Frederick Douglass as he recruited black troops in 1863 was necessary in order for Douglass to move freely through the country. (Emma Lee/WHYY)

A Ku Klux Klan robe and hood, ca. 1866. Such costumes were used to terrorize African Americans as they fought for equality. (Emma Lee/WHYY)

A Civil War surgeon's kit. (Emma Lee/WHYY)
Recasting Reconstruction
Donnelly said Reconstruction is usually taught as a time of darkness and abuse.
"What we're trying to do here is to tell a different story," he said, describing how African Americans laid claim to the unfulfilled promises of the Declaration of Independence. "Again, we don't hide or shy away from the complicated aspects of this narrative, the backlash against Reconstruction."
A replica Ku Klux Klan hood is on display and stands in counterpoint to a small ballot box for "colored" voters in Virginia's 1867 election.
"This box is a repurposed cereal box, there's an ad on the back for Jamaican ginger," said Sheldon Gilbert, vice president for content and development and senior fellow for constitutional studies at the center. "It's then been carefully coated with beautiful green paper, hand-stitched lid, and it's been marked as 'colored' to collect the votes of African Americans in Virginia for the first time in history."
Adjacent to the box are framed portraits of Hiram Rhodes Revels, Blanche Kelso Bruce and other black men who held public office, thanks to those carefully cast votes.
An interactive heat map shows where African Americans held office during Reconstruction.
"You can click on it and find out some of the extraordinary individuals who in less than a few decades went from enslavement to holding political office and representing their communities," said Elena Popchock, exhibition developer.
Popchock said people often pass over Reconstruction.
"That Reconstruction just brought all the states together, that was all, and then we're in the Gilded Age," she said. "That's just speeding ahead, and I really wanted to have that chance to delve into every detail that is just so promising about Reconstruction."
WHYY is your source for fact-based, in-depth journalism and information. As a nonprofit organization, we rely on financial support from readers like you. Please give today.