America's Test Kitchen 20th Anniversary Giveaway Recipes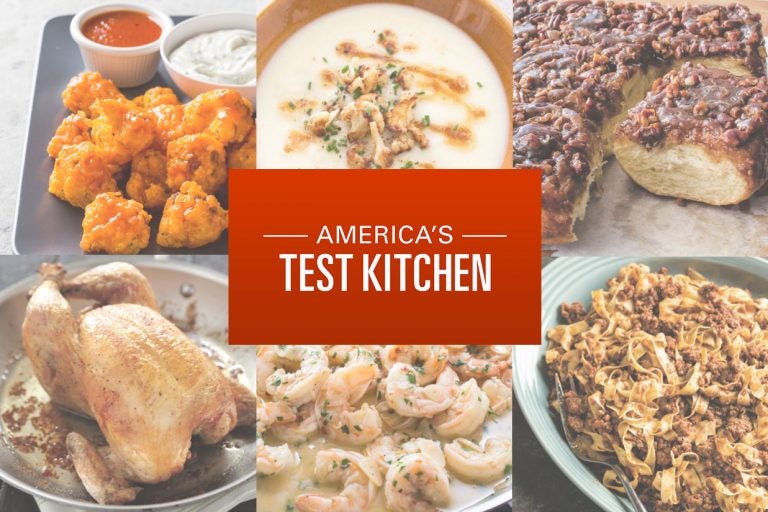 Below are 5 of our favorite dishes from America's Test Kitchen! Click on each recipe to view or click here for all 5 recipe downloads.
Serves 4 to 6
Deemed "better than wings" by our tasters, these crunchy, tangy, spicy, and just plain addictive cauliflower bites will be the new star of your game day table.
Get the recipe: Vegan Buffalo Cauliflower Bites
Serves 4 to 6
There are many different ways to interpret what "real" Bolognese sauce is. But no matter what the ingredients are, the sauce should be hearty and rich, but not cloying, with a velvety texture that lightly clings to the noodles.
Get the recipe: Ragu alla Bolognese
Serves 4
Our shrimp scampi recipe uses a few test kitchen tricks to ensure flavorful and well-cooked shrimp along with a cohesive, garlicky wine-and-butter sauce.
Get the recipe: Shrimp Scampi
Makes 12 buns
Many recipes for sticky buns call for a firm, dry dough that's easy to manipulate into the required spiral, simple to slice, and sturdy enough to support a generous amount of topping. But firm, dry sticky buns aren't very appealing. To make a softer, more tender and moist sticky bun, we added a cooked flour-and-water paste to the dough.
Get the recipe: Sticky Buns
Makes about 22 cookies
Our ideal molasses cookie recipe would produce a charmingly crackled and crinkled cookie with an uncommonly moist, chewy interior and a spicy flavor with undertones of dark, bittersweet molasses.
Get the recipe: Soft and Chewy Molasses Spice Cookies