Why put carpets in cars, when they're so hard to clean?
Leaves, paper, crumbs and other bits of trash cling to auto carpets — don't even mention the liquid stains and smells.
Listen
7:23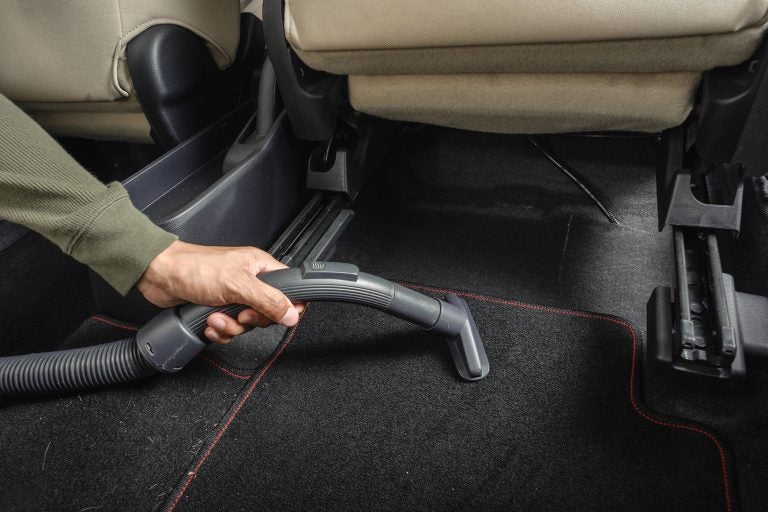 Why do most cars have carpets? 
Jason Torchinsky, senior editor of the car website Jalopnik.com, has been wondering that for a while.
"Carpet is unforgiving. Carpet holds on to crap and dirt and filth and carpet can get stained. It's just not something that deals well with the filthiness of the outside world."
Torchinsky says yes, carpet feels good, it makes a car ride quieter, so that's nice, and provides a homey feel … but:
"For the most part, we keep our shoes on in our cars, you're not luxuriating your toes in the thick pile of your carpet," he said.
Instead of carpet, Torchinsky says there are better alternatives. One of his six cars, is a 1973 Volkswagen Beetle, and it comes with a rubber floor.
"Vacuuming off a rubber mat is no big deal, like all kinds of stuff just goes up," Torchinsky said. "But carpet grabs … bits of leaves, and bark and bits of paper."
"It's just nobody's really had the guts to go through and make a mainstream passenger car with something other than carpet, at least not recently," Torchinsky said. "I feel like so much of what stops people from doing that are these ideas that rubber is not premium enough, like I don't know when we all decided we were royalty worthy of being coddled in every product we have, and everything that we encounter has to be the absolute best, but it doesn't always. Sometimes the best isn't the most luxurious; sometimes it's the thing that just does its job the best."
At car shows, Torchinsky says some of the future designs that companies show off  have bamboo floors, and the new Volkswagen bus might ship with hard flooring.
To get some answers, I took a road trip to Bloomsburg, Pennsylvania, to visit a factory owned by the auto supplier, Autoneum, where I got to see how the company manufactures carpet.
Jim Nemeth, the director of human resources, showed me around. He explained, broadly speaking, there are two kinds of carpet in cars.
The nicer, more high end, cars, like a Cadillac or a Mercedes, typically have something called tufted carpet. This is more like your carpet at home.
Imagine a sewing machine with thousands of needles all in a straight line, and each of those pulling a line of yarn. The needles punch through a base layer, then a row of knives cut the thread so you end up with thousands of bit of yarn sticking up vertically.
It should be easier to clean because the holes between the fibers are bigger, so you can use a vacuum cleaner to suck up crumbs and dirt.
But in the past few years, some car makers have moved to a different kind of carpet, made from ground-up, and dyed recycled plastic bottles.
The factory gets giant bales of this ground-up plastic. It's soft but also wiry, a little like clumps of cotton.
This plastic is put through rollers that make it really flat, then thousands of barbed needles stab this flat layer to tangle the fibers (the process is a little like felting), and you end up with what's called a needle punch carpet.
It's dense and the holes between the fibers are much smaller, so if crumbs and leaves and dirt gets trapped in there, it's going to be really hard to get out.
John Michalakis is the director of research and development at ConForm Gissing International, another company that makes carpet for cars. He says cheaper carpets are one way to save money in the manufacturing process.
"It's okay to put this lower-performing carpet in a vehicle because nobody really cares," said Michalakis.
While some industry watchers are waiting for car makers to ditch carpeting, outside the industry, there is a sector that's already making the shift: public transit. Both the Metro in Washington, D.C.,and the Bay Area Rapid Transit in San Francisco have ripped out their carpets in train cars in recent years and replaced them with hard floors that will last longer, don't soak up liquids, and perhaps most importantly, are much easier to clean.
WHYY is your source for fact-based, in-depth journalism and information. As a nonprofit organization, we rely on financial support from readers like you. Please give today.