'Trial by Jury' puts us in the courtroom to deliberate hot-button issues
Imagine being on a jury and deliberating cases on controversial topics that dominate our daily conversations. Would your views change in the jury room?
Listen
5:24
The N-word. Deportation.
Imagine being on a jury and deliberating the outcome of cases on controversial topics like these that dominate our daily conversations. You might have your own views coming in, but will they change in the jury room?
On Dec. 2, television producer Kyle Bowser brings his "Trial by Jury" series to Philadelphia before a live audience to deliberate "A Case of Deportation" and "The Case of the N-Word." Each screening and mock trial is followed by a panel discussion and a jury deliberation among the audience. The event is being presented in partnership with the University of Pennsylvania and WHYY.
The Philadelphia native and entertainment executive produced the series almost 20 years ago for the United Paramount Network and has since taken it on the road to engage people from all walks of life in dialogue. Bowser said that the lessons he learned growing up in Philadelphia have helped him navigate the 25-plus years he's been in Hollywood.
WHYY spoke with Bowser about "Trial By Jury," how he decides what topics to pursue, and what he's learned from audiences.
Jasmine M. Ellis: Why did you start the series?
Kyle Bowser: I believe that we are living in times that are much like an echo chamber. We all tend to gravitate toward the media sources that reinforce or affirm our current belief system. What I wanted to do was to try and create a public forum where people could gather in a room, people who may not share the same views, but could hear each other out and could share ideas respectfully.
And in the end, ultimately they're required to make a joint decision. And that decision may not necessarily coincide with their innermost beliefs. But that decision may be dictated by the parameters of law. So the law might mandate that given certain circumstances as a juror, you must find in this way. I wanted to create an alternative approach toward dispute resolution. When I say "alternative," I mean alternative to the way in which we currently are using the media.
JME: How did you come up with the idea?
KB: I am a proud graduate of Widener University's School of Law. And before going into law school, I was already well into my career as an entertainment operative. I'm originally from Philly, so I worked with a few entertainment-based companies in the Philadelphia area — Philadelphia International Records, NFL Films, and my family for a period of time owned the Uptown Theater on Broad Street.
Following law school, I relocated to Los Angeles and began working in television, first for FOX for a couple years, and then for HBO. But I always wanted to take advantage of the legal education that I received, the credentials that I earned for myself. I'm an attorney and I wanted to put that credential to use. And so I set out to come up with an idea for how to merge TV and the law. And "Trial by Jury" is what came out.
JME: How do you choose the topics?
KB: I just kind of keep my antenna up and try to make an assessment about: What are issues that people are grappling with? What are issues that people might want to gather together to discuss? There are some subjects that I think would make for a good episode for "Trial by Jury," but they may not attract a live audience.
JME: What have you learned from audiences?
KB: Every time I present the program, I'm learning something different. There are certainly regional differences in the way people process certain issues. So that's interesting to take note of. There are demographic differences in the way people process, generation gaps that separate different ideology. But then I'm always surprised when I see exceptions to what one might assume to be a general rule. One of the cases that we've done under this latest generation of "Trial by Jury," we tackle the N-word.
Generally speaking, I think that people assume that older generations have less tolerance for the use of the word and that younger generations tend to be a little more accepting of its use. But every time I present the program, I see exceptions to that rule. I'm hearing from younger people who have no tolerance with use of the word. And I'm hearing from older people who may feel, "You know what, it's just a word. We have bigger things to focus on. Let's just let that go and move on to more important things."
So it's always interesting to see those exceptions. But also it's difficult for people to address these larger issues without at some point sharing some anecdotal information about their own life journey. And that, I really think, is the ultimate point of "Trial by Jury."
JME: What has been the outcome of the series?
KB: I've traveled to many cities, and I've presented the cases to audiences that have very different profiles. I would say that the N-word case generally attracted a large African-American audience. But I have presented in certain venues that are extremely diverse. And in that particular instance was that non-African-Americans were very vocal about their opinions regarding the word and its usage. I anticipated that they might be a little bit more reserved and perhaps feeling they lack eligibility to weigh in on the subject. But I was surprised to learn that they felt very qualified to speak on the word either because they were able to analogize [it] to their experience or because they felt that they had as much exposure to the word than anyone else and therefore felt like they could weigh in.
The deportation case obviously is intended to apply to anyone who has thoughts about our immigration policy and how it should be handled. And that obviously would involve so many different immigrant communities. However, there's a very acute interest on the part of the Latino community about that particular subject. And their attendance has demonstrated that.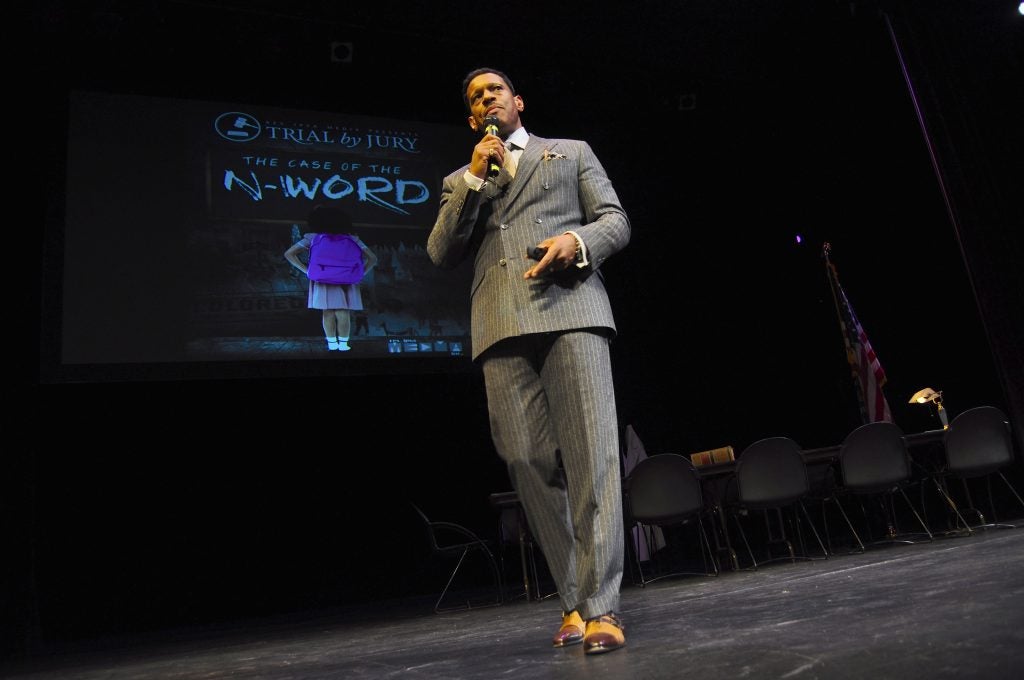 JME: How did growing up in Philadelphia inspire your career path?
KB: I think Philly has caused me to take a "sky is the limit" approach towards life. I never considered there to be a cap on my potential, on my ability to reach that potential. And I think that's a lesson I learned while living in Philadelphia.
—
To register for "Trial By Jury: A Case of Deportation" (Dec. 2, 3 p.m.) or "Trial by Jury: The Case for the N-Word" (Dec. 2, 7:30 p.m.), go to whyy.org/events. Admission is free.
WHYY is your source for fact-based, in-depth journalism and information. As a nonprofit organization, we rely on financial support from readers like you. Please give today.