Top public defender says 'automatic detainers' are illegal, swelling Philly jail population
In a confidential memo, Philadelphia's top public defender accuses the city's court system of systemically depriving thousands of people of their due process rights.
Listen
2:54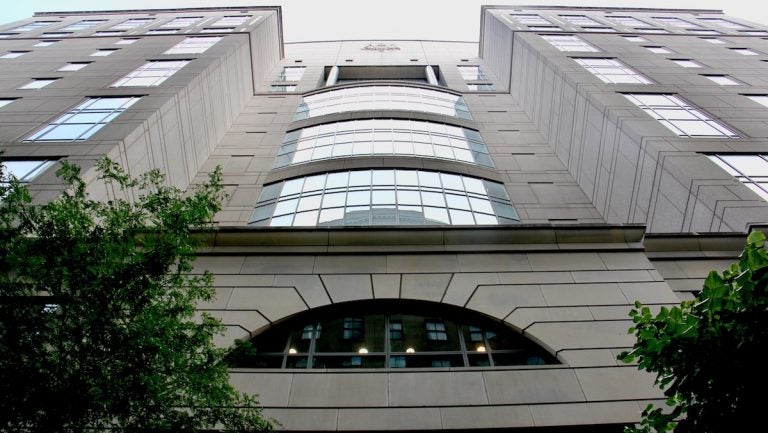 Philadelphia's top public defender is accusing the city's court system of systemically depriving thousands of people of their due process rights by locking them up for probation violations without proper hearings, saying the courts have been operating under a norm that is illegal and swelling the local jail population.
In a confidential memo setting the stage for what is likely to become a key legal battle in addressing one of the largest drivers of the city's jail population, Philadelphia Chief Public Defender Keir Bradford-Grey wrote to President Judge Sheila Woods-Skipper that current probation procedures are causing many on state supervision to be "needlessly incarcerated," which, in turn, is placing stress on an "overburdened prison system."
The memo (embedded below) was sent late last year and recently obtained by WHYY by someone close to the talks after the Defenders Association of Philadelphia repeatedly refused to turn over the document.
According to the memo, probation officers are lodging "automatic detainer requests" without a judge's approval when probationers considered high-risk violate the terms of their probation, like committing a new criminal offense. But these "wanted cards" are also being issued over less serious slip-ups, such as missing a meeting with a probation officer or falling behind on paying court fees.
"Most people are under the assumption that the judge has to be notified first and authorizes the detainer," said defense lawyer Carina Laguzzi, who has these kind if detainers filed against clients. "That usually isn't the case."
Once those probationers are picked up, they are denied bail, often waiting for months in jail before they're given a full court hearing on whether there is enough evidence to show the alleged violation occurred.
"The elimination of automatic detainers is not only legally required, but is also good policy," Bradford-Grey wrote the judge.
Over the years, this "automatic detainer" policy has played a significant role in expanding the number of people sitting behind bars in local jails. City figures show that probation and parole violations are the reason why 31 percent of the local jail population is incarcerated. And when city and county detainers of all kinds are included, the figure jumps to more than 50 percent of Philadelphia's jail population, an unusually high percentage compared to other large cities.
Temple University law professor Jules Epstein said what lines have to be crossed before a detainer is filed is not always obvious, especially when it comes to so-called technical violations.
"You're on probation and you have five requirements: Don't get arrested; don't submit a dirty urine; pay restitution at $50 a month; try to get a job; and see me once every three weeks," Epstein said. "So which one of those five, if you violate, should trigger a detainer? Or how many failures to pay? Or should failure to pay ever trigger a detainer?"
Detainers are often discussed in the context of unauthorized immigrants. Namely, if someone is suspected of being in the country illegally, a federal authority can request that the person be detained. The detainers in question here are different. They are filed when a probation officer believes someone on court supervision has not followed the rules and needs to be re-incarcerated.
The first hearing the probationer is given for an alleged violation is not public and is not in front of a judge. Instead, a trial commissioner oversees what is basically a scheduling hearing from prison.
Bradford-Grey says that setup is unconstitutional. Not providing the probationers with a speedy hearing in front of a judge to justify the alleged probation violation, she argues, runs afoul of the rights all criminal defendants are guaranteed.
"The automatic lodging of a detainer based on an arrest," Bradford-Grey wrote, "violates state law and due process."
Bradford-Grey is asking the city's highest criminal judges to instruct the Probation and Parole Department to stop issuing automatic detainers for people who allegedly break the rules of their probation without the blessing of a judge.
She is also asking the courts to allow probationers to have a full hearing in front of a judge within seven days of the arrest. And before that, she is requesting that the courts give defense lawyers advance notice about what initiated the violation, so they can be prepared to adequately represent their clients by presenting evidence and calling witnesses.
While the memo does not explicitly threaten a lawsuit, sources say that if the court ignores the recommendations, the Defender Association will be taking legal action.
The issue of how probation detainers are clogging local jails has sparked debate before.  The topic gained new urgency after the city secured a $3.5 million MacArthur Foundation grant aimed at shrinking the city's jail population.
Philadelphia District Attorney Larry Krasner hopes to continue the grant-assisted strides already made in reducing the number of people behind bars by relying less on cash bail and stepping back prosecutions of low-level offenses.
Yet without major reforms to procedures around probation violators, it may prove difficult to meaningfully free up space in the city's jail.
"This is going to be a crucial bargaining point or battlefront in the efforts to reduce mass incarceration," Krasner said.
Mayor Jim Kenney's office echoed that sentiment. In a statement, Julie Wertheimer, the mayor's chief of staff for criminal justice, said: "We know that probation detainers are one of several drivers of our jail population, and we are continuing to work collaboratively with all of our criminal justice partners to reform our system and safely reduce our jail population."
It's unclear whether the courts are seriously considering making changes to its procedures. Martin O'Rourke, a spokesman for the First Judicial District, said "changes will be made if and as appropriate after the review process has concluded."
Not all longtime observers of Philadelphia's criminal justice system are jumping on the bandwagon for probation detainer reforms.
Former Philadelphia District Attorney Lynne Abraham, whose law-and-order philosophy stands in stark contrast to Krasner's approach, said probation officers are already overworked and dealing with a challenging group of people. Taking away their ability to detain someone would defang them and potentially be bad for public safety, she said.
"You'll have a bunch of defendants, some of whom hit you over the head or took your mother's purse, walking around and you'll never be able to find them," Abraham said. "How many times are you going to jerk the probation officer around before probation becomes a joke?"
Laguzzi, the defense lawyer who is also a former prosecutor, questions whether requiring judges to sign off on every detainer will result in fewer of them. Judges, she said, can be held responsible for those under their supervision.
"The first thing that happens if someone is arrested on violent crime, everyone will say, 'He was on so-and-so's probation, why did that judge let him out?'" Laguzzi said. "Judges also have a responsible to society."
That said, in Philadelphia, there are some 44,000 residents are on local probation, many for long periods. That makes Laguzzi wonder if seemingly endless post-incarceration court supervision is setting probationers up to fail, a system nearly guaranteeing they will wind up back behind bars before their probation is complete.
"If you look at anyone's life, there are going to be hiccups along the way," Laguzzi. "But after you've come out of custody, to have 10, 15 years of probation, is that really necessary?"
WHYY is your source for fact-based, in-depth journalism and information. As a nonprofit organization, we rely on financial support from readers like you. Please give today.