Say anything: Inside a writing assignment gone right in North Philadelphia
A second-year English teacher in the Olney section of North Philadelphia gave up control and gave her students the space to open up. To their own surprise, they did.
Listen
3:08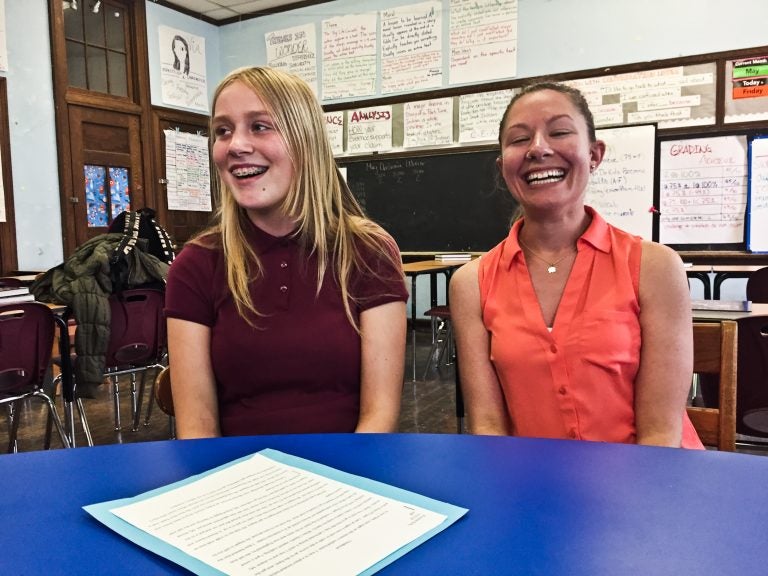 Monique Trauger was nervous. So were her students at Thomas K. Finletter Academics Plus School in the Olney section of North Philadelphia.
The assignment was personal and open-ended and all sorts of uncertain — the kind of thing that makes teachers and teenagers squirm.
"At first I ain't wanna do it because it was, like, deep," said Jasir Jefferson.
Earlier this spring, Trauger, an eighth-grade English teacher, ditched the usual writing prompt for something a little different. She asked her students to write about a time they started to care about something bigger than themselves.
It was, essentially, an invitation to write about anything.
Kristina Kelly recalls her initial reaction: "I said it was stupid."
Stupid, and a little uncomfortable.
"For real for real, when she said we would have to do a narrative or something, I thought she would give us a topic."
Trauger, a second-year teacher, dreamed up the prompt after attending a conference at the University of Pennsylvania and seeing a similar project completed by students in suburban Maryland. Still, she wasn't sure how her students would react or how she would turn this nebulous attempt at self-discovery into an actual assignment.
"How can I end up grading this," she wondered. "And how can I present this in a way that doesn't seem like complete chaos?"
It took some prodding, and some patience. But soon the stories started pouring out: weird stories, funny stories, difficult stories. As one student opened up, it prompted another to do the same. Eventually, the students shared their essays and art projects inspired by those essays at a public exhibition at the nearby recreation center.
It was a moment of contagious classroom magic. Even the kids can't totally explain it.
"I didn't think I could write all that, but then, like, I just kept writing and writing," said Alijah Scott.
Kristina thinks she opened up because, deep down, she wanted to. All kids want to.
"Kids do care," she said. "It's not like we come to school and act out to act out. It's because, there was a reason for it. That's the way I know how to get it off."
Below we've excerpted some of the essays. It's a little window into the world of teenagers growing up in North Philadelphia.
---
Name: Alijah Scott
Essay: "Disapproved"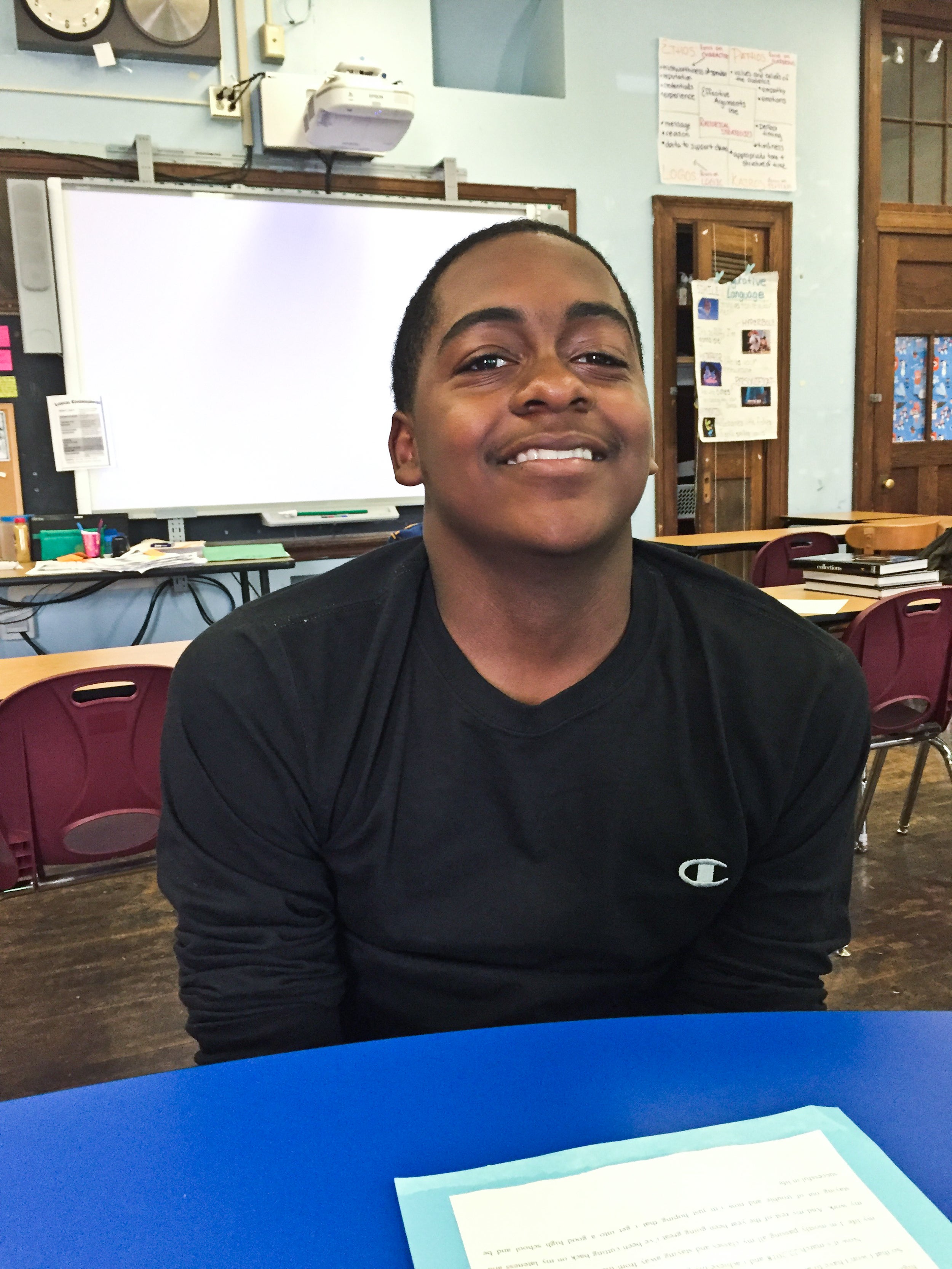 Alijah Scott started to slip when his older sister graduated from Finletter. She used to rouse him in the morning and pester him about homework.
When she left for high school, Alijah started sleeping in. The absences piled up. By the time eighth grade started, he'd developed a reputation as a kid who didn't care — with the straight-F report card to prove it.
For his essay, Alijah decided to write about the moment his academic slide hit bottom, the moment when everyone in class started checking to see if they'd gotten into their preferred high schools.
On january,17,2018 I was in ms. trauger's class and i realized everybody was checking their high school application status. When I checked mine it said, "disapproved" on all my high schools. That's when I started to care about my life and wanted to make a big improvement. So that I won't have to at my neighborhood school — Fels — and learning nothing.
---
Name: Courtney Johnson
Essay: "Fitting the Description"
When Courtney Johnson heard about Trauger's assignment she perked up.
"People are going to actually listen to my story," she said "And I can get this down."
She wanted to tell the world about her older brother, Nasir, and the day a cop pulled over a group of his friends. Nasir was the only black teenager in the car, Courtney said, and the only one searched.
Nasir is usually a really chill and calm person, but tonight he was a little heated. Being the good little sister I was, I asked,
"What's wrong?"
Silence was my first response, then he said,
"We got pulled over by the police, we was just chilling and they asked me to step out. They took my ID and then asked what I was being searched for, they said I fit the description. His voice was rude and then I asked what description. And he said a tall dark African american male."
---
Name: Kristina Kelly
Essay: "Childhood"
"I didn't wanna open up," Kristina recalled.
She thinks most school assignments are corny, and she didn't think Trauger's experiment would be any different. But as other people started sharing their hardships, Kristina's demeanor shifted.
"I didn't know we could really get this deep in something that was involved with school," she said.
Kristina was about 10, she said, when her parents asked her to act as a go-between in a drug deal. The deal went sour, and she watched a man shoot and kill an acquaintance.
Late at night I was told to walk to the wawa, to go to the back, and get the money. Then i was told to give him the bag. I protested doing it until I was put to shame. My parents told me I didn't want to help my family. When I finally started walking, I got a weird feeling I will never forget. I walked to the back of the store and was frightened by the tall man. He had a deep voice and handed me money rolled up in a medicine bottle. I then handed him the bag and as I turned to go I heard a loud click. He told me to turn around. He began to tell me he wasn't stupid.
---
Name: Jasir Jefferson
Essay: "Racism"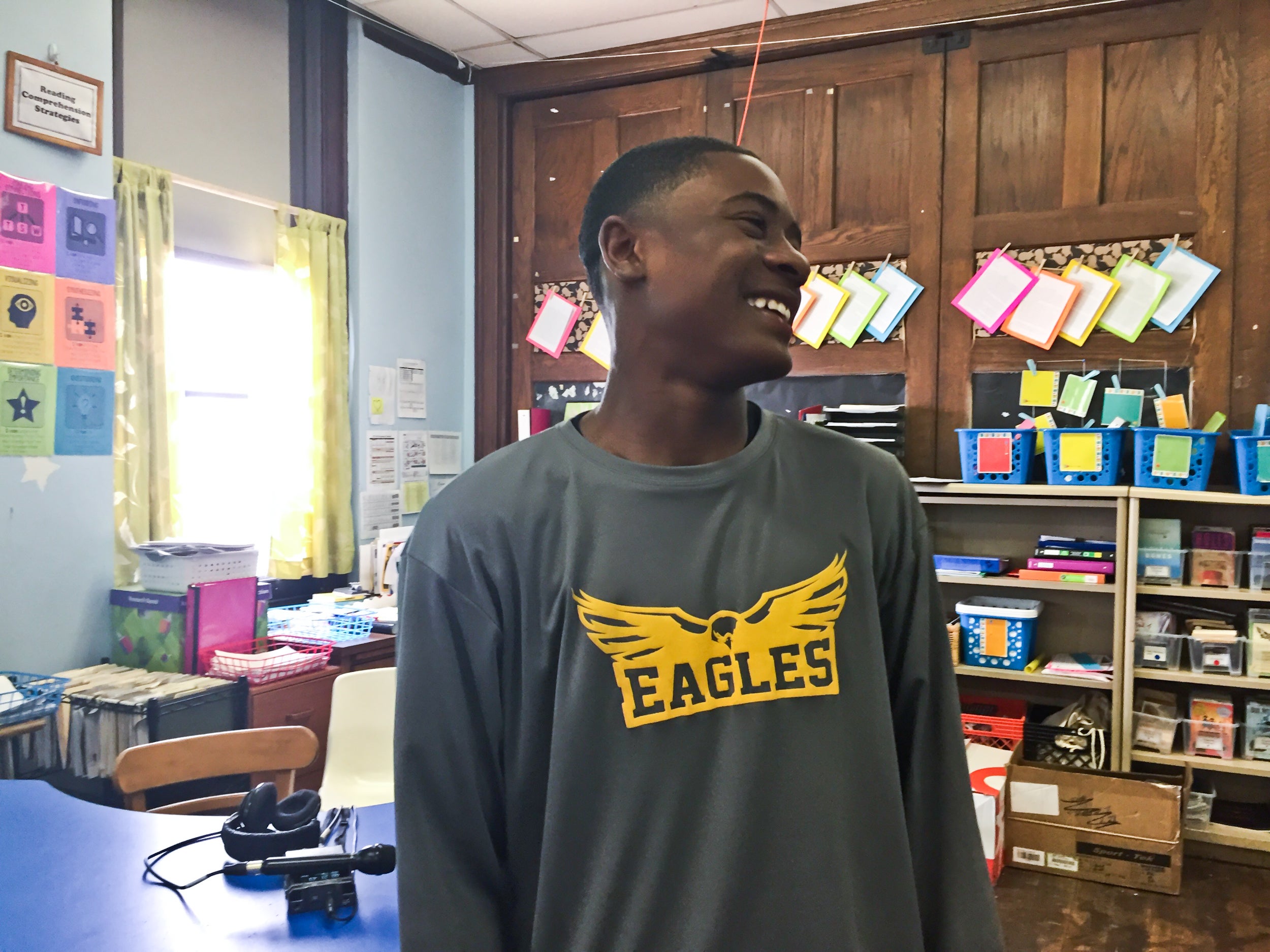 Jasir Jefferson was 8 when police pulled up outside his house and arrested his father. His dad spent two days in a holding cell, and, before Trauger's assignment, Jasir hadn't told anyone about the incident.
He didn't think his peers would take it seriously. And he didn't think adults would care.
"They think we just like in eighth grade, we not, like, old enough to know what's happening," he said.
My mom tells me to go in the house, and I didn't move. Then my dad says "both of yall go in the house. I still didn't move, I couldn't move or talk. My mom pulls my arm until we get into the house. While she was pulling my arm, I hear the officer saying "come on nigga."
---
Name: Serenity Chey
Essay: "A Clumsy Tumble"
Students shared all sorts of personal stories with Trauger, and not all of them serious. Serenity Chey decided to pen a cheeky story about being late for school.
Unless she has a doctor or dentist appointment, Serenity always gets to class on time. But one day the alarm clock never went off, and she found herself rushing up the staircase in a race against time. Then, she fell.
Strange. Where did this cracking sound come from? My bones? Definitely note. I wouldn't even be standing by now. But suddenly I realized where else this cracking sound come from. Quickly running my tongue across my two front teeth, It was cracked.
In the end, i was rushed to the dentist's…So much for always being late because of dentist appointments.
WHYY is your source for fact-based, in-depth journalism and information. As a nonprofit organization, we rely on financial support from readers like you. Please give today.