Princeton University hosts artists, scholars from Puerto Rico
Listen
4:18
More than 10 months after the devastating storm, buildings at University of Puerto Rico campuses are still damaged, libraries are moldy, and much of the island is still without power.
So, some Puerto Rican artists and scholars having difficulty working under those conditions have accepted an invitation from Princeton University to spend some time in New Jersey.
One of them is composer Alfonso Fuentes who teaches at the Puerto Rico Conservatory of Music in San Juan. He lives just outside the city, in the mountains of Trujillo Alto.
"I am surrounded by the marvelous night insects who sing all the time," he said. "One of the reasons I am there is because of that sound. I love that sound in the night."
When Hurricane Maria hit in September, it wiped out all the forests. Just about every tree lost all its leaves, turning the verdant green island a dismal brown. Many trees fell. Fuentes says it looked like the forest was raked.
It became very quiet.
"No sound. No insects, no birds, no leaves," he said.
Two weeks after the storm, strapping on a headlamp for light and playing a small, battery-operated keyboard, he began to write "Oda para los árboles caídos" ("Ode to the Fallen Trees"), a concerto for clarinet, as a melancholy tribute to his beloved forest.
"It was an inspirational torrent. I made it without thinking," he recalled. "It was a communication with my inner heart. No intellectual thought. That was very fast, in two weeks."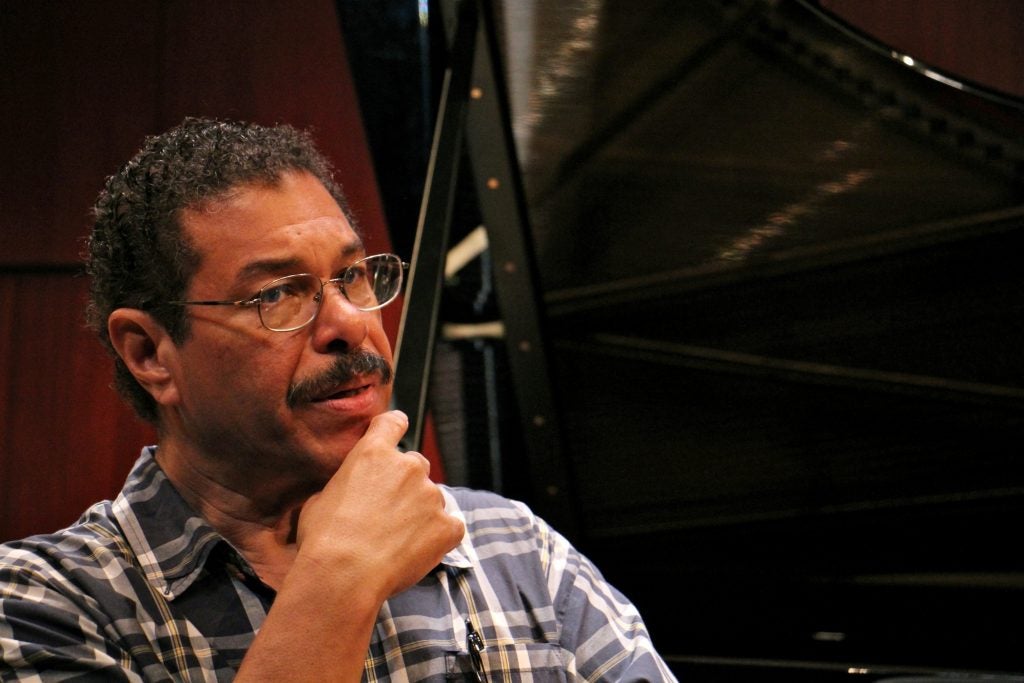 That first part of the composition — the sad part — came easily. The second part about resiliency and hope for the future has proved more difficult. Fuentes is writing it with full orchestration, and it was supposed to be ready by April for a premiere in China.
Fuentes was having a hard time finishing it in Puerto Rico, where much of his time and energy are spent on the basics of living — securing food, power, transportation — leaving little time to write music.
At Princeton, he has the time and resources to focus on the music.
"This is a great opportunity," he said. "I have a studio. I have new friends, which is very important to me."
Princeton University has many opportunities for visiting artists and scholars, but the new Visiting Scholars and Artists from Puerto Rico program — or VISAPUR — was created to be more nimble and responsive. Using a faster and looser application process, Princeton invited 13 scholars to spend a few weeks over the summer with no teaching demands.
"We focused on proposals that focus on what happened on the island and the crisis," said Gabriela Nouzeilles, the director of the Program in Latin American Studies at Princeton. "Ways of understanding the social, economic, cultural impact of the two hurricanes."
Hurricane Maria, landing in Puerto Rico just two weeks after Hurricane Irma, was the U.S. territory's most destructive storm on record.
Work resumes on Princeton campus
The visiting scholars include Erika Fontanez-Torres, a law professor researching the historical, legal, and philosophical underpinnings of property ownership and eviction, and how that manifests in government policy. After the storms, FEMA has granted emergency aid only to those who could prove they own the properties that had been damaged.
José Caraballo-Cueto, an assistant professor of economics, is researching the effects of racial discrimination on health care in Puerto Rico.
Laura Bravo Lopez, an art historic professor, is researching the manifestation of post-storm migration in contemporary art.
Marla Pérez-Lugo is part of a multidisciplinary team working on the future of the island's electrical grid, destroyed in the hurricane. A sociologist, she said rebuilding the electrical grid is both a technical challenge and a sociopolitical one.
"It has a physical layer composed of the posts and cables and generators, but it also has a cultural layer — the attitudes, beliefs, and values that influence our behavior," she said.
A few members of the VISAPUR team came to Princeton to regroup after the storm, including Pérez-Lugo's husband, Cecilio Ortiz Garcia, an associate professor of political science. Together they have been thinking about the past, present, and future of Puerto Rico's electrical grid since 2004.
"There's going to be blood," he said. "There's going to be a fight — a political fight — to determine the future transition in terms of electricity in Puerto Rico."
Pérez-Lugo and Garcia co-founded the National Institute for Energy and Island Sustainability. They are working on a book proposal, a sociopolitical history of electricity in Puerto Rico from the 19th-century grids built privately on sugar plantations, to 20th-century public mismanagement, to current ideas of rebuilding the broken grid with environmentally sustainable power.
"I am interested in how narratives of power dominate the way we are rebuilding the grid," said Garcia. "Sometimes those narratives are mythical: 'We are a blank canvas.' 'We are a blank slate.'
"That's not true. There's a society there," he said. "There's no blank slate."
Garcia said being in Princeton allows them to not only temporarily escape the turmoil of living on the island right now, but build relationships with scholars in other disciplines. That's something not available to them at the University of Puerto Rico.
WHYY is your source for fact-based, in-depth journalism and information. As a nonprofit organization, we rely on financial support from readers like you. Please give today.