Philadelphia revs up for first celebration of World Laughter Day
The annual event grew from the laughter yoga movement, a kind of exercise that combines improvisational play with yogic breathing and meditation.
Listen
2:20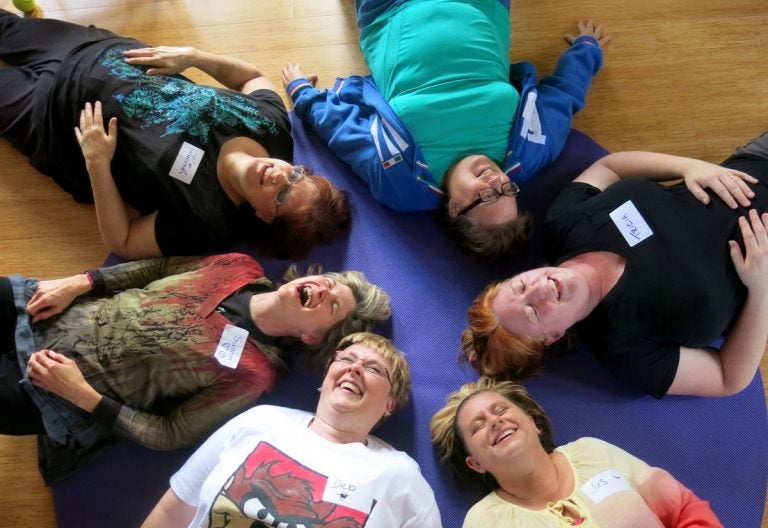 You're almost certain to hear people laughing out loud Sunday in the vicinity of Fairmount Park's Smith Memorial Playground. They'll be taking part in Philadelphia's first official celebration of World Laughter Day.
The annual event grew from the laughter yoga movement, a kind of exercise that combines improvisational play with yogic breathing and meditation.
"Laughter yoga is laughter exercise," said Alexa Drubay, who organized the event. "We incorporate the four elements of joy — laughter, singing, dancing and play."
All four were on display at Drubay's Monday night class at the Media Borough Community Center. Over the course of an hour, participants shouted in gibberish, drove imaginary cars, danced to the "Pink Panther" theme song and ran shrieking under a smiley face parachute.
There were no poses or stretching — but the class did include deep-breathing breaks, and it ended with silent meditation.
Drubay and other proponents of laughter yoga say the practice can have positive effects on mental and physical health.
"It boosts everything in our body," Drubay said. "It adds more oxygen, it creates positive endorphins, oxytocin levels are boosted. You just feel so good."
Laughter yoga, which emerged in India in the mid-1990s, was formalized into a routine by physician Madan Kataria.
Research is limited, but some studies have shown that laughter yoga can reduce blood pressure and stress levels, as it improves mood. That's even true when the laughter isn't real.
"Fake it till you make it," said Jackie Hines, who helps lead the Monday night class. "Your body cannot tell the difference between real laughter or simulated or fake laughter."
A recent study by University of Auckland researcher Mikaela Law backs that up.
"We actually found that fake laughter causes a greater exercise effect," Law said. "So, by that I mean, a greater increase in heart rate and decrease in heart rate variability. And these are similar effects that we see when people exercise."
Law said that's partly because people are able to generate fake laughter for longer periods and at greater intensity than real laughter.
And that laughter yoga can be a good option for people who aren't able to do other kinds of exercise.
"So, for example, the elderly who can't go out for a run," she said. "But everyone can sit on a chair and just laugh."
Other studies have shown benefits for those with specific illnesses. One out of California State University found benefits for patients with Parkinson's disease.
"Their enthusiasm went up, their energy levels went up, and their mood improved," said researcher Jodi Brown. "Muscle relaxation improved, and mental relaxation improved. And their ability to laugh without reason improved."
Hines, who will help lead Sunday's event, said laughter yoga has made a major difference in her everyday mood.
"I was very much a type A, very stressed out," she said. "I would just feel my blood pressure rising when things would not necessarily work out."
But after a year and a half of laughter yoga, Hines said she's mellowed out.
"Now, I just take a beat — and I laugh."
Philadelphia's World Laughter Day celebration is set for Sunday from 1 to 3 p.m. at Smith Memorial Playground. Visit the event page for more details.
WHYY is your source for fact-based, in-depth journalism and information. As a nonprofit organization, we rely on financial support from readers like you. Please give today.