Overwhelmed on the front lines of opioid crisis in Congressman Tom Marino's backyard
Like many places in Pennsylvania and across the country, Lycoming County has been stung by the opioid epidemic. A watershed moment came over the summer.
Listen
4:27
Katie, a mom of three from Lycoming County, insists that her story of drug addiction and recovery is not unique.
"There are lots of people just like me in our community. They're anonymous. They're living their life sober and clean, and they are going to work everyday and they're taking care of their kids," said Katie. "I'm not special."
We're only using Katie's first name because of the stigma that's attached with addiction.
She first dabbled in prescription opioids at a party in college.  The effects, she says, gave her energy.
For about five years, while balancing a part-time job and college classes during the day, she'd use at night. As prescription pills became harder to buy off the street, she switched to heroin.
"Once I started using heroin my addiction really took off," said Katie. "At first it's a choice, but after you're addicted it's no longer a choice.  You have to do this to survive."
It wasn't until she was caught and charged with multiple felonies in 2010 — including possession of drugs –  that her life began to change.
Instead of serving time in prison, Katie was recommended for a drug treatment program that eventually landed her in Lycoming County drug court.
Like many places in Pennsylvania and across the country, Lycoming County has been stung by the opioid epidemic.  In 2017, there have been more than 30 opioid deaths, on track to surpass the number from last year.
A watershed moment came over the summer, when 51 people overdosed in two days.
"To say that we're overwhelmed by this opioid crisis is really an understatement," said Drug Court Judge Nancy Butts, who testified at a hearing in October about the state of the epidemic in Pennsylvania.
Butts keeps naloxone in her chambers, an antidote drug to block the effects of opioids when a person overdoses.
"Almost every week, somebody that we see is affected by opioids, in fact, either comes into court under the influence of a controlled substance or overdoses outside the courthouse," she said.
Last month, the county was propelled into the national spotlight when Pennsylvania Republican Congressman Tom Marino, (PA-10), withdrew his bid to become President Trump's drug czar following a damaging joint investigation from The Washington Post and "60 Minutes."
The story depicts Marino as in the pocket of the pharmaceutical industry to the detriment of his constituents. Whistleblowers inside the Drug Enforcement Agency say a bill he co-sponsored made it harder for them to curb the illicit large-scale distribution of prescription opioids to rouge doctors and pharmacies running "pill mills."
Since the publication, Marino has faced harsh criticism in his district, leaving many to question his motives.
Training wheels
On a recent afternoon, barely five-feet tall with dark curly hair, Judge Butts was perched on her bench in a packed courtroom of more than 30 people.
She called each person, one-by-one, to the front of the courtroom to stand face-to-face before the judge. She reviewed each person's progress report and then asked about friendships, parenting, meditation, and even a trip to the dentist.
The atmosphere was more like a group therapy session than a courtroom, and that's her intention.
"I'm training wheels," said Butts. "The hope is that when the training wheels come off and you ride away you have enough tools in place that if you slip, stumble, or fall that you can pick yourself up and know where to come back to restart."
Those training wheels are what Katie says saved her life.
"It gave me the stepping stones to stay in long-term recovery today. I wouldn't have continued with meetings or counseling as long as I did," said Katie. "It held me accountable."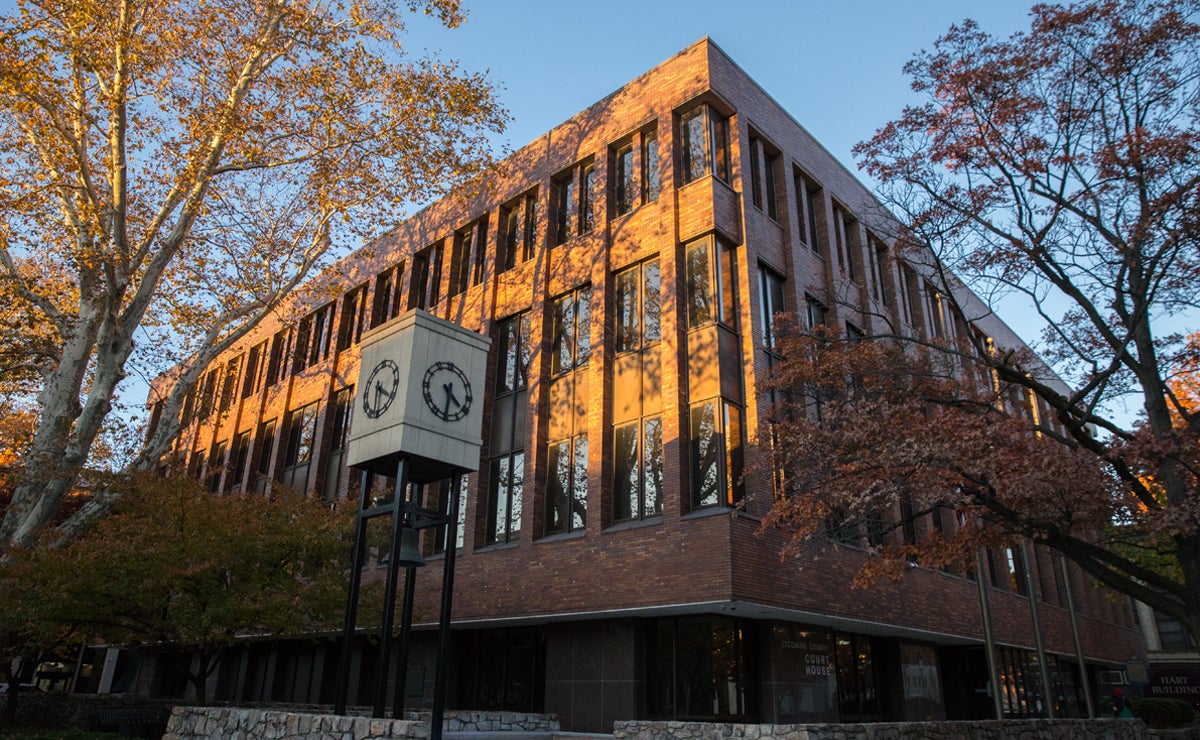 Judge Butts started drug court in Lycoming County about 20 years ago, when Congressman Marino was the local district attorney.
"I can only speak about what I knew of him then, and he was incredibly supportive," said Butts.
Marino, also a former federal prosecutor, defends the now heavily-criticized legislation. He says the DEA's aggressive tactics to limit the availability of prescription opioids left those truly in need of pain relief with fewer options.The bill sailed through congress in 2016 and garnered President Obama's signature without fanfare.
He calls the "60 Minutes"/Washington Post report a "hatchet job."
Marino says one way to combat the opioid crisis is to focus on getting people treatment.
"We need to be looking more at serious prevention and treatment and putting the bad guys in prison, but putting the person who is addicted in prison is not going to solve the problem," said Marino.
For Katie, though, the reports about Marino take her back to the time when she first got hooked on opioids, when prescription pain pills were widely available on the black market.
"Why were there so many prescription pain killers on the street? How did that happen? It's still my fault because it was always my choice, but thinking back now, how was it possible that so many people had so many prescriptions for these pain killers and they were selling them?" asked Katie.
She doubts Marino will be re-elected in next year's midterm.
"We put trust in politicians that they're going to do the right thing, and something as serious as this is horrible," said Katie. " It just makes you angry."
These days, Katie sits in the back of the courtroom.  Not to appear before Judge Butts, but as a certified recovery specialist steering her peers toward a pathway to their own sobriety — using her own experience in drug court to help them through.
Despite Katie's success story, Judge Butts says the court is in need of even basic resources: more parole officers, training about new drugs and trauma-informed care, and even some money to get bus passes for people to get to required meetings.
Marino says he plans to advocate for more funding on the federal level, but didn't give specifics.
On a statement on his website, Marino lauded President Trump's recent decision to declare the opioid crisis a national public health emergency. The move doesn't commit new resources to the crisis, but allows federal agencies more flexibility in how they allocate existing dollars.
"Decisive action like this will further enable all the available resources at the federal government's disposal to be mobilized and optimized to best serve each community's unique needs," he wrote.
Leaders in the Senate have called for $45 billion over 10 years to combat the national opioid crisis. But public health experts say that would be a drop in the bucket.
WHYY is your source for fact-based, in-depth journalism and information. As a nonprofit organization, we rely on financial support from readers like you. Please give today.