On front lines of opioid crisis, recovery houses slowly accepting contested treatment approach
Patients using medication-assisted treatments slowly being accepted into group recovery homes.
Listen
6:14
Cristina Rivell has been struggling with an opioid addiction since she was a teenager — going in and out of rehab for five years.  The most recent time, her doctor prescribed Suboxone, a low-dose opioid that curbs cravings and prevents symptoms of withdrawal.
Rivell, 22, said it helped stabilize her — made her feel like she could get her life together, go back to school, look for a job without the distraction of constantly seeking a fix.
"People think, like, you feel something or you're high, but when I take it, I just feel normal. I don't have my cravings," she said.
During previous relapses, Rivell thought it was because she was trying to stay sober without any support.
"When you're by yourself, you kind of feel lonely," she said.  "It's easy to get in your head, and it's easy to say to yourself, 'Well, one day, I'm just not gonna take it, and I'm gonna get high for one day."
She figured if she combined her daily dose of Suboxone with a supportive living environment, she'd have a better chance. She wanted to move into a recovery house, where groups of people who are battling addiction eat together, go to meetings together, and support each other as they go to therapy.
With her time in rehab running out, Rivell started calling around to see who had room for her. But that proved a challenge.
"I would say, like, 'I'm Cristina, I'm on Suboxone, I'm just looking for an open bed,' and they're like, 'We don't take people on Suboxone,' and they'd just hang up on me."
'Part of the problem'
Rivell's experience illustrates a debate that has garnered more attention as the devastating effects of the opioid crisis continue.
Although a growing body of research supports the efficacy and safety of medication-assisted treatments such as Suboxone, methadone and naltrexone for drug recovery, the usage is frowned upon by most recovery house owners, who demand 'cold turkey' sobriety.
But as many specialists and government agencies now consider the treatments to be the standard of care for opioid addiction, some are concerned that recovery houses with these rigid rules are pushing more users into homelessness.
After Rivell called around for a few days, she began to worry that would be her fate. Her mother told her she couldn't come home. Rivell said her therapist suggested she try going off Suboxone to have an easier time finding housing.
But she feared she would relapse again, and she didn't want to go through forced withdrawal.
"I was scared because I thought I was going to go back through the cravings and be sick again," she said.
A few days later, though, she found an unlikely ally.
Barbara Williamson, 30, opened her first recovery house in Southeastern Pennsylvania in 2014 when she was 25, having been sober just a year herself. When she started, she did not allow people using Suboxone or methadone to live in her houses. To her, it seemed like a crutch.
"I tried heroin when I was 15 years old. I quickly was doing it every single day. I ended up homeless in the streets," said Williamson, who credits the recovery house she lived in with saving her life.   "I was 98 pounds and willing to do anything for the next fix. I just thought if someone like me could get sober, why couldn't someone like you – without medication."
And there were logistics to consider. Methadone is administered daily at a clinic, meaning that recovery house operators need to arrange for daily transportation for residents to get their dose. Suboxone comes in pill form, and patients usually take it daily on their own. Although it is a very low-dose opioid, it does have the potential for misuse.
Williamson was wary.
But then, one day last November, Williamson was struck by something she saw online.
It was a Facebook post from a community activist named Brooke Feldman, who she knew only from her social media circles. The post called out recovery house operators for refusing to accept people on medication-assisted treatments, arguing they had  misconceptions about what's known as MAT.
"If you refuse to house residents who utilize maintenance medications or do not provide this option in your treatment programs because of personal opinion or you believe this will 'jeopardize the recovery of people not using medication,' your misinformed blindness is part of the problem," Feldman's post read.
Williamson took the post personally. She felt that by opening recovery houses, she was a part of the solution, not the problem. So she set out to do some research — and prove Feldman wrong.
She took some trainings and talked to a lot of doctors. And the more she learned, the more she began to realize that the evidence pointed in the other direction.
Ultimately, Williamson said, it was the number of overdose deaths among young people that pushed her to try something new.
"What do I have to do to not have morgues calling parents of 18-, 19-, 20-year-old kids?" said Williamson, who has had a number of her residents overdose after they left her housing.  "It's anything — I will do anything. So if the doctors and the facts are saying that MAT helps, then I will do my part to facilitate that need."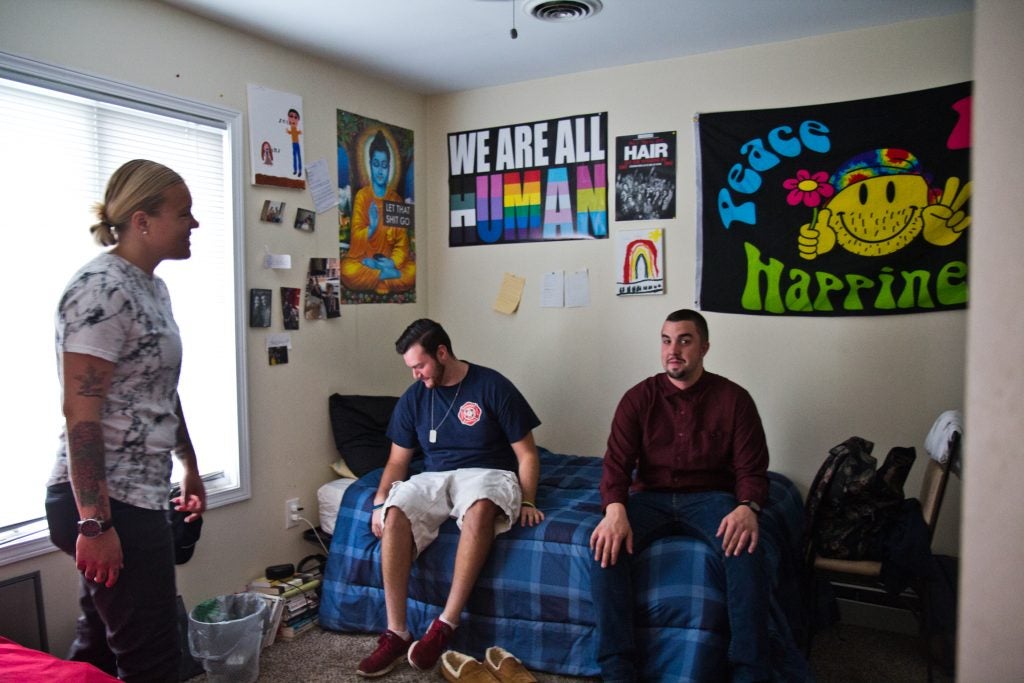 Change of heart
Williamson opened her first house for residents on MAT five months ago in Delaware County.
She's since opened three more in the area — three for men and one for women in total. She decided to create housing exclusively for those on MAT, rather than integrate them into her other housing to avoid complications. She was worried that people on MAT would feel pressure to get off if they were around people who were not using maintenance medication. If people who weren't on MAT were in a house where Suboxone was being stored, even securely, she worried about the greater potential for its misuse.
In part due to these liability concerns, allowing people on maintenance medications to live in recovery housing is still unpopular. Statewide, Fred Way of the Pennsylvania Association for Recovery Residences estimated that out of the 200 houses he certifies, only about seven admit people on MAT.
Much of the resistance stems from an ideology surrounding addiction, he said. A lot of recovery house operators are closely aligned with 12-step programs, many of which count methadone or buprenorphine —technically opioids — as a violation of their abstinence-only rules.
"Recovery house operators in this new millennial world are more apt to go with MAT," said Way. "The old school operators, the ones that came up with, you know, you had to use a toothbrush to clean the floor — the hard line, they're hard to change. Because they see MAT as an individual still using."
But clinicians including Renee Calhoun say MAT saves lives. Calhoun runs a clinic that offers methadone treatment and therapy in Bucks County. Because housing options for her patients are slim, it's common to treat them while they live in their cars or environments where others are still using, she said. And that makes them much more vulnerable to relapse. Without stable housing, methadone or buprehorphine treatments are simply less likely to work, Calhoun said.
"If they don't have access to clean air, water and food, how could our folks ever get where they need to get?" she said.
Williamson's new houses aren't the only sign that the tide is starting to change. Earlier this year, Philadelphia began requiring that the 18 recovery houses the city funds begin accepting people on MAT.
The National Association of Recovery Residences is also working on a policy guide to educate recovery houses on how to best offer treatment.
The approaches that recovery houses make remain scattershot though. While operators like Williamson can seek out best practices and follow regulations provided by the Pennsylvania Association for Recovery Residences and other networks, recovery houses are not monitored or certified by any overarching oversight body. All regulations are piecemeal.
While some counties and states have formed their own oversight bodies, it is voluntary. Beginning in 2020, the state of Pennsylvania will begin regulating recovery houses.
Soon after Williamson opened her first house, she wrote a message to Brooke Feldman, the woman who got her thinking about all of this in the first place.
"I introduced myself, because she had no idea who I was. I explained how I hated her guts and she consumed me," Williamson remembered.
"She was really clear that she was upset with me," Feldman said with a laugh.  "But that recovery had taught her to take a look at herself, and what started out as an attempt to sort of prove me wrong, ended up being an enlightening experience for her."
In the message, Williamson thanked Feldman for opening her mind and allowing her to help more people.
"She was right," said Williamson. "I have to say that."
WHYY is your source for fact-based, in-depth journalism and information. As a nonprofit organization, we rely on financial support from readers like you. Please give today.