'Nothing's wrong if it's funny': Black comedy taps a longstanding coping tool
Sarcasm, trading insults, in-jokes continue a tradition that began when the first enslaved Africans arrived here back in 1619.
Listen
7:00
This story is from The Pulse, a weekly health and science podcast.
Subscribe on Apple Podcasts, Stitcher or wherever you get your podcasts.
---
Many Black Americans believe they can laugh at anything.
Rod and Karen Morrow, of "The Black Guy Who Tips" podcast, stand by this statement. They're a comedic duo and married couple, and their show's motto is, "Nothing's wrong if it's funny."
"If you've been around enough Black people, you'd know they joke when people die, they joke when babies are born, they joke at funerals … And a lot of these things are very sensitive topics, but we just have found a way to take our pain and make it humorous," Karen Morrow said.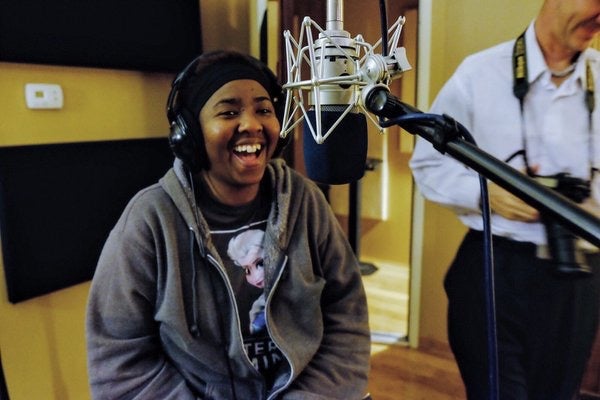 The Morrows carry this tradition of Black humor into their podcast, joking about everything from coronavirus to police brutality.
"Someone being harassed by the police is sad. But if we also decide that the absurdity of racism and the irony is funny, then it is also funny. And our show is a lot of that," Rod Morrow said.
Finding humor in fraught topics isn't anything new for Black Americans. It's a method of coping that stems back to 1619, when the first enslaved Africans were brought to U.S. shores.
Corliss Outley is a professor at Clemson University and co-author of the 2020 paper, "Laughing While Black: Resistance, Coping and the Use of Humor as a Pandemic Pastime among Blacks."
"Historically, we've used humor since we arrived here. … As enslaved individuals, humor has been a way to not only connect us. It was a way of hiding things from the master. All in plain sight," Outley said.
She went on to describe "everyday forms of resistance" among enslaved Black people, like embedding secret jokes about slave masters in spirituals, using clever sarcasm to avoid doing work, and lovingly trading insults about one another.
Insult trading as a game is commonly referred to by Black Americans as "The Dozens." It's an interactive verbal game that not only relies on input from two participants but an audience around them.
The Morrows incorporate a similar kind of call-and-response nature into one of their segments, called "Guess the Race."
It's a game show-style segment that begins with a "Double Dare" sounding intro song.
"It's the No. 1 game show going across all of podcast land, where we read and play news articles from all over the globe and we ask our contestants to guess the race. And of course everyone playing is racist," as Rod Morrow introduces the segment in his best game show announcer voice.
Essentially, the hosts read a news article, and their live chat room audience writes in and guesses the race of the perpetrator.
"We talk about, like, sometimes horrific crimes," Karen Morrow said.
A "Guess the Race" installment from early 2020 started off with an article about a New Jersey man who stabbed his stepson in the chest over unwashed dishes. The chatroom responded with answers like, "Black man with a Newport hanging from his bottom lip Black," and "'But, Daddy, do I have to?' white."
"I think over the years it's one of those segments that I'm glad we kept doing because I mean, if not, the show just becomes, like this preachy thing," Rod Morrow said. "We're saying we are messy, complicated human beings and we find humor in the dark places."
According to Karen, the segment was inspired by a typical reaction Black folks have when watching reports about crime on the news.
"I've heard my mom and them say this since I was a child. They'd be describing it, and somebody goes, 'I hope they not Black.'"
Joking, but also reclaiming power
In-joking among Black Americans can serve multiple purposes. Outley and her colleagues examined this phenomenon in her research paper.
This year, she said, Black Americans have used humor as a discourse. "To really not only cope, but also … a way to reclaim power, to control narratives that were out there about us and to speak our truth, all while cultivating this ideal of collective identity as Black people."
The need for Black Americans to foster a collective community to cope and reclaim power has been especially present in 2020. Disproportionate COVID-19 deaths and high-profile incidents of police violence have put a spotlight on the many ways in which systemic racism eats at Black Americans day in and day out.
"This year has been bonkers," said Janicia Francis. She co-hosts the podcast "Tea with Queen and J.," and is a fan of Rod and Karen Morrow's show.
"Especially in this period of isolation for a lot of people. I enjoy when I hear podcasters laughing together. … So I do be in my apartment here laughing, like cackling aloud to myself," Francis said, just before letting out a room-filling laugh.
New York mental health counselor Akua Genfi said that might be Francis's mirror neurons at work. Those neurons fire when we do an action and when we see someone else do that same action.
"I've used this in session with clients and starting just a fake laughter. Just like, 'Ha ha ha ha.' And just like that," Genfi said, "the mirror neurons in your brain are firing to mimic what I've just shown you. So I laugh, and then you laugh."
Black humor lends itself to additional shared laughter with inside jokes, slang and common experiences.
"People all the time don't get it, especially if they're not part of the community. There's a whole genre of researchers that actually look at it as the secret language in terms of linguistics," Outley said.
Yet according to Diamond Stylz, there are instances when humor is harmful and not communal.
Stylz is host of the "Marsha's Plate" podcast and executive director of Black Transwomen Inc., a nonprofit addressing concerns facing that community. Sometimes, Stylz said, she feels like she's made to be the butt of the joke.
"When comedians use, like, trans folks as punch lines, when they use gay people as punch lines, when they use women as punch lines. It's almost trivializing these types of really serious situations," Stylz said.
She alluded to Dave Chappelle's 2019 standup comedy special "Sticks and Stones."
"Dave Chappelle called the LGBT people 'Alphabet People' … I didn't hear anybody call [them that] before his standup special."
Now, Stylz sees the phrase "Alphabet People" in digital spaces associated with anti-LGBTQ rhetoric, and she said Chappelle kind of created a slur.
Despite that, her engagement with Chappelle's body of work is nuanced.
"So, I am a Dave Chappelle fan," she said matter of factly. "I'm gonna watch his specials because I find him hilarious. Even the problematic jokes. But that's me. I myself, not in public, make problematic jokes."
The key, according to Stylz, is being aware of your impact and the setting in which you tell jokes.
"Everybody who is a comedian or uses comedy as a tool in their work, I think it is your job to actually push our whole culture forward, not add to the burning flames."
Personal responsibility or not, it can't be refuted that humor is a tool. It can be used to punch down and inadvertently create slurs. It can be used to punch sideways and embrace inside jokes from the comfort of your favorite podcast.
What does it look like to use humor to punch up? In 2020, Outley said, it looked like Black people were shaking the table.
"Black people were using humor … to confront systems of power. Getting individuals, particularly whites, to be discomfortable."
In the tradition of Black humor, here's a bit of discomfort: Stylz's response to what the funniest aspect of 2020 has been thus far …
"I think all this COVID shit is funny for me."
Stylz herself has lost six loved ones to COVID-19. The pandemic has disproportionately killed Black Americans and has left already-vulnerable trans Americans at a higher risk for economic instability and lack of access to medical care.
Yet she still finds irony in how the pandemic has spurred privileged identities to see the struggles that marginalized populations like trans, Black and disabled people face all the time.
"How long have disabled people rallied for us to create jobs for them to do at home? I've lost three jobs, and it changed the trajectory of my life. And I had to figure it out without any stimulus checks," she said, letting out a hearty laugh.
"We been doing this. Get used to it."
WHYY is your source for fact-based, in-depth journalism and information. As a nonprofit organization, we rely on financial support from readers like you. Please give today.